Cosmetics for skin prone to rosacea
The vascular network is a reason to choose specialized care for sensitive skin.
We all love gentle signs of attention. And they are especially loved by skin prone to rosacea - when a characteristic vascular network and red stars appear on the face, looking through the skin. Women suffer from such a problem more often than men, and especially those with thin, light, dry skin.
A number of factors can provoke the development of rosacea:
- Problems with blood vessels
- Excessive sun exposure
- Excessive consumption of coffee or wine
- Taking hormonal drugs
- Sudden temperature changes
- stress
- Diseases of the internal organs
Here are 5 basic rules for skin care,
prone to couperose and rosacea.
1. Intense hydration and recovery
A damaged skin barrier needs intense hydration and repair. Choose creams with oils and fatty acids - they work well to restore the lipid mantle of the skin.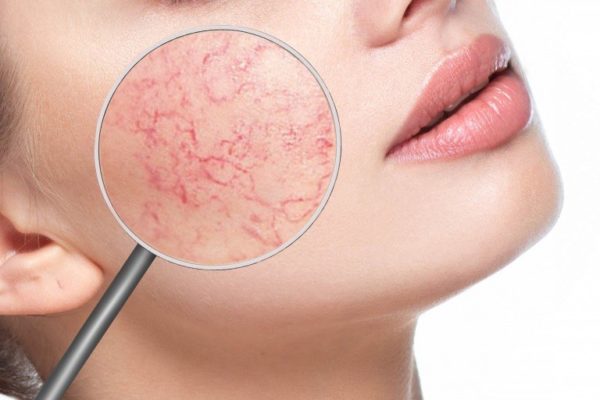 Pearl-like and incredibly luxurious, AXXZIA Beauty Force Moist Rich Cream EX is an updated version of one of the brand's most famous creams. The new formula contains 6 additional marine and botanical ingredients to further hydrate the skin. For example, mussel extract is rich in glycogen, which retains moisture and smoothes the skin. The hydrolyzed conchiolin found in pearl oysters gives the skin a youthful appearance. And the kelp extract returns the skin's natural strength and elasticity.
The main component of Homeo Beau Lotion moisturizing lotion is NMF, an ingredient that is originally present in the stratum corneum of our skin. If NMF is not enough, the skin becomes dry, dull and does not retain water. The component returns the natural hydration to the skin. The lotion also contains fullerene - a powerful antioxidant that slows down premature aging of the skin, removes age spots and wrinkles.
For smoother, more radiant skin, look no further than AXXZIA's new LisBeau range, designed for young women in their 20s and 40s. AXXZIA LisBeau Pur Lotion contains white lily extract, a vitamin complex of niacinamide and a vitamin C derivative, polyphenols and a complex of intensely moisturizing ingredients. The lotion is smoothly absorbed into the skin, reaches the stratum corneum, making it soft and tender.
If you don't like strings of jars and tubes, choose the ICHI Premium Moisturizer 3 in 1 NanoCeramide. This is a lotion, and milk, and serum - and most importantly, with a luxurious composition. Natural extracts + rose and thermal water + nanoceramides = perfectly hydrated skin with perfect radiance.
2. Gentle cleansing
With rosacea, dermatologists recommend washing with warm water only. And then do not rub your face with a towel, but just blot it with a thin paper towel, or even let it dry on its own.
Another important point is that it is necessary to cleanse the skin without mechanical action, which means that you have to forget about scrubs and soap.
You will need non-aggressive products that do not dry out the skin. Soaps, harsh degreasing gels and scrubs will not work. Gentle cleansers should appear on the shelf. And make-up is best removed with hydrophilic oil.
The soothing scent of orange will envelop you every time you use Attenir Skin Clear Cleanse Oil. Contains 5 high quality cosmetic oils. They not only remove even waterproof makeup, but also take care of the skin. Soften the keratinized layer, smooth the texture, give a healthy shine and a velvety feel.
Hydrophilic oil OBAGI Active Base Clear Cleansing contains an extract of Asian centella and brown algae. The product removes make-up without clogging pores and promotes cell renewal within a 28-day cycle.
3. Strengthening blood vessels
With rosacea, it is important to strengthen capillaries and blood vessels, this will reduce the severity of the vascular network.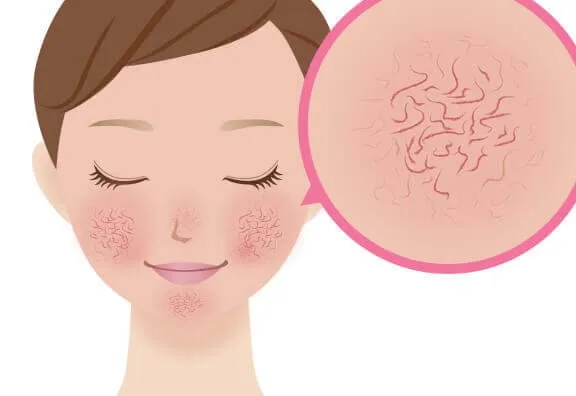 It is good if the composition of cosmetics contains the following components:
Vitamin A - normalizes metabolic processes in the skin.
Vitamin C - strengthens collagen fibers.
Vitamin E - accelerates cell regeneration, has an antioxidant effect, rejuvenates.
Vitamin K - makes the capillary walls more dense.
Vitamin P - reduces the fragility and permeability of capillaries.
Vitamin C normalizes capillary permeability and maintains their elasticity, takes part in the synthesis of collagen and acts as a powerful antioxidant (protects the skin from UV exposure). The quintessence of vitamin C is La Sincere Essence SE No. 6 Vitamin C, a multi-component concentrate of vitamin C and a complex of extracts. It can be used as an independent remedy, as well as added to creams and masks.
4. Restoration of the skin barrier
To relieve irritation and restore the skin barrier, pay attention to cosmetics containing ceramides, centella extract, allantoin and panthenol.
The balanced ingredients in La Sincere La Sincia Clear Rich R Bio-Gel for dry skin effectively increase its protective properties. Panthenol, hyaluronic acid, vitamins E and B12, brown algae and egg keratin optimize lipid metabolism in the skin, and also form a protective film on its surface that prevents moisture from evaporating.
Rehabilitation gel for rosacea-prone skin is La Sincere La Sincia ATP LIPID GEL. It restores the structural elements of the skin, protects lipids from oxidative stress and promotes their replenishment, eliminates dryness and irritation. Ingredients: bioceramides, shea butter, squalane, rose water, vitamin E and other skin-friendly ingredients.
Emulsion with the texture of a light cream AXXZIA THE B MAISON Emulsion protects the skin qualitatively, forming a barrier to the negative effects of the environment. Contains a unique complex based on euglena algae extract and glycerin, as well as a Haroxyl complex with peptides (especially good for improving resistance to aggressive environmental factors). Plus 5 types of oils soften the skin and make it radiant.
5. Don't Forget SPF
At any time of the year, even in impenetrable winter, you need to use a cream with an SPF of at least 30. This reduces skin reactivity and vascular fragility. On vacation, give preference to products with maximum protection.
If you don't feel like applying SPF alone, opt for OBAGI Active Surge Platinized UV Essence SPF 37/PA+++. The OBAGI platinum series contains platinum colloid - with prolonged use, the skin will radiate a natural radiance like a noble metal.
CORECO Perfect CC Cream CC cream with natural extracts SPF 50+PA++++ is suitable for lovers of CC creams. Can be used as makeup base, concealer, foundation, powder and sunscreen. Plus fights enlarged pores and dull complexion. Additionally contains placenta extract and hyaluronic acid - for moisturizing and regeneration.
Another rejuvenating facial sunscreen inspired by the depths of the sea. RECORESERUM BIJOU DE MER Rejuve Face Renewal Bright Up UV Shield contains a new technology that protects not only from ultraviolet radiation, but also from near infrared rays - the cause of photoaging, redness and pigmentation. A special complex of oligopeptides Pureoxin protects the skin from redness, makes the face supple and glossy.
Goods
Remedies from pigmentation on face
1