Sakura flowers in cosmetics, gastronomy and vitamins
You can not only admire sakura, but also use all its amazing properties to achieve beauty and youth.
Cherry blossoms in Japan are an awe-inspiring sight, a cultural phenomenon, and a reason to plan your trip from late February to late May. The cherry blossom period largely depends on the climate, so in different parts of the country, trees are covered with aerial petals at different times. The further south, the earlier such beauty appears. For example, in Okinawa, sakura can bloom at the end of January, in Tokyo - from mid-March to early April, in Sapporo from late April to May 1. For the Japanese, this is a special event, which even has its own name - Hanami, or Cherry Blossom Festival.
However, sakura can not only admire. Japanese cosmetics, food and vitamin brands have long used sakura in their product formulations. And we are not talking about a deliciously smelling fragrance, but about a real component that has useful properties.
Sakura in cosmetics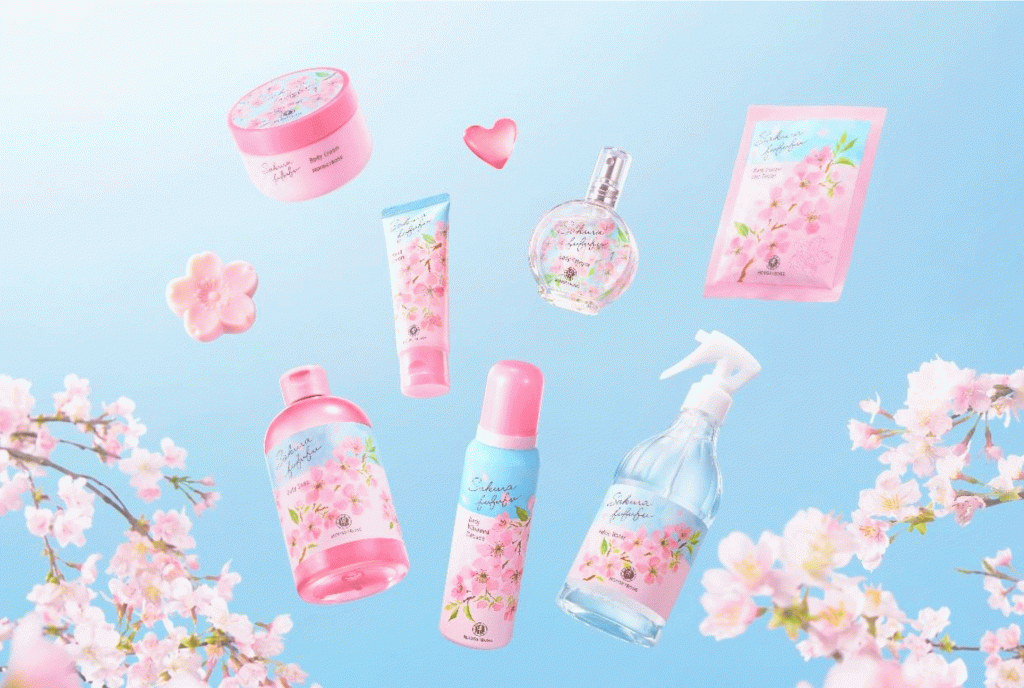 Back in the days of the Japanese samurai, sakura leaves and petals were actively used in medicine and cosmetology. Even then, the positive effect of sakura on the skin and hair was noticed. Modern research has confirmed the observations of ancestors.
Sakura extract contains a high level of antioxidants and has anti-inflammatory properties - ideal when you need to reduce redness and irritation. May brighten and even out skin tone and improve texture by boosting collagen production. After applying cosmetics with sakura, the skin is instantly moisturized and becomes more even. Plus, metabolic processes inside the cells are accelerated, which has a positive effect on the quality of the skin.
Sakura is used in hair care products. Sakura extract helps to soothe dry and itchy scalp, strengthen hair and increase elasticity, making it less brittle and still soft and manageable.
The sweet floral aroma of sakura plays an equally important role. It helps to relax and relieve stress.
An illustrative example of the use of sakura in cosmetics is the Sakura Cleansing Gel. Sakura extract is the main component of the foam. When washing or removing makeup, not only deep cleansing of the skin occurs. Sakura regulates the sebaceous glands, tightens pores, fights pigmentation, moisturizes and tones. Also in the composition of the foam there are soy isoflavones, effective against age-related changes.
Another find is the ICHI Premium Cleansing Oil "Aqua Blend" Bi-Phase Facial Cleanser. It consists of 70% oils, actively softens the skin and nourishes it. Additionally, it contains extracts of seaweed and sakura that are beneficial for the skin, which improve metabolic processes inside cells, eliminate peeling and redness.
VIONEE Sensitive Protect Serum rejuvenating intimate area serum is a bright novelty from VIONEE. It contains an impressive list of useful components to give elasticity and firmness to the delicate area. Ingredients: stem cells of two types of rose, 5 types of peptides and ceramides, centella extract, fullerene, sakura extract and other useful components.
And let's not forget the hair. Horse Oil Sakura Conditioner contains natural horse oil, which has a healing and moisturizing effect. Fat is extracted from mushrooms of healthy, live horses. The sakura extract included in the composition is also here for a reason: it restores elasticity to the hair, enhances healthy shine, gives volume, strengthens and restores.
Sakura in vitamins
The antioxidant properties of sakura are the reason to use this extract in vitamin supplements. Sakura is high in flavonoids and polyphenols, which help neutralize free radicals and prevent oxidative stress. Antioxidants help maintain overall health and also have an anti-inflammatory effect.
For well-being and beauty, you can add NAMA SAKURA ROSE Sakura and Rose Aromatic Essence vitamins with Damask rose oil and sakura extracts to your diet. Vitamins are especially good for the female reproductive system, they are useful for pain before and during menstruation, to relieve postpartum stress. They act as an antidepressant, help with nervous conditions, anxiety, apathy, and when you need to focus on work. They have shown their effectiveness in migraines and headaches, spasms of cerebral vessels, weakness and dizziness.
Sakura in gastronomy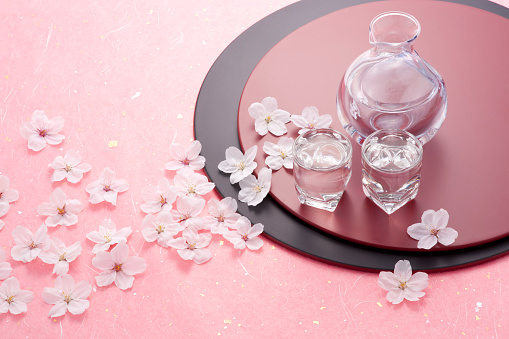 Sakura is a popular ingredient in Japanese gastronomy. The unique taste and aroma allows the use of sakura in various dishes and drinks. One of the most popular examples of the use of sakura in gastronomy is sakura mochi, a traditional sweet treat made from glutinous rice flour. There is a tea with sakura that has a delicate floral taste with a hint of sweetness. Sakura is used to flavor drinks, both non-alcoholic and alcoholic. Rice wine infused with sakura petals is popular, it has a delicate fruity taste. This wine is drunk during cherry blossom parties.
In Japanese cafes, you can order sakura tempura, when cherry flower petals are covered with dough and deep-fried. The dish is distinguished by a delicate taste and crispy texture.
Very often, sakura is used in desserts to add flavor. Ice cream, cake, chocolate - during the flowering period, especially many new products with sakura appear.
Goods
Japanese vitamins for women
1