Product description: WELLSPO Rerakuvy EMS device for neck muscle relaxation
WELLSPO Rerakuvy is a new neck massager that will not only relax your muscles, but will also maintain beautiful posture and keep your neck and shoulders toned!
Modern people tend to slouch due to excessive use of smartphones. This puts stress on your neck and shoulders and your posture gets worse. The WELLSPO Rerakuvy device uses EMS for muscle stimulation, as well as heating and vibration functions for the additional effect of reducing strain on the neck and shoulders. By correcting your posture, you will change the way you feel about your own body!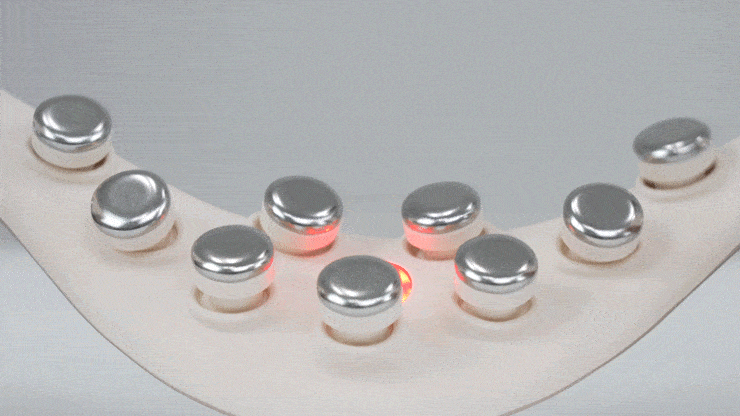 The device is easy to use - just put the main unit around your neck and turn it on! Its action consists of electrical stimulation of muscles combined with heat and vibration, which relieves tension and fatigue, while simultaneously tightening the skin of the neck and lower third of the face, improving its oval. Your neck and shoulders will feel truly rested, and your posture will noticeably improve!
EMC - Nine electrodes are triggered alternately depending on the mode, so that you cannot get used to the stimulation. 6 levels and according to your preferences.
Soft heating function - has 3 heating levels. You can also turn off the heating function for comfortable wearing all year round, regardless of the season.
LED therapy - can be selected at 4 levels. When the function is enabled, the red LED works.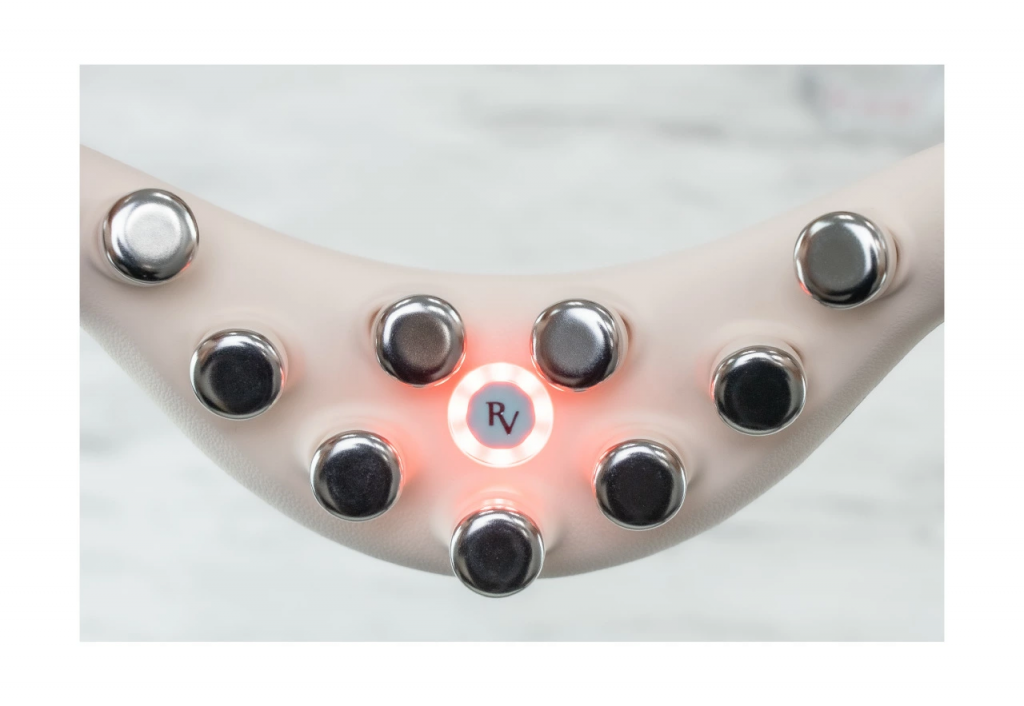 Lightweight design for comfortable wearing. Even while working at home or using your smartphone, you can wear the EMS device and exercise your neck to achieve better posture. It is lightweight and will not interfere with your usual activities.
Modes:
Training mode - the electrodes are activated one after another, actively stimulating the muscles.
Refre mode - longer vibrations for gentle, relaxing care.
Tapping mode - imitation of the tapping movements of a massage therapist.
Multy Mode - provides a wide range of care using rhythmic vibrations.
How to use: You can use the device with the logo facing up or down. When worn with the logo facing up, it will target the muscles of the lower neck, stimulating the area from the base of the neck to the shoulder blades, maintaining beautiful posture. When worn with the logo facing down, it will work the muscles of the upper neck and base of the head. This is suitable for those who are concerned about facial sagging.
If you set the multi-mode, you can train your neck (about 10 minutes) with comfortable movements.
Package includes: Main unit, charging cable, power adapter, instruction manual (warranty included)
Dimensions: W: 132 mm x D: 154 mm x H: 89 mm
Weight: about 170g
Manufacturer: Couleur Labo
Country of Origin: China for Japan
There are 4 delivery methods:
- SURFACE MAIL - sea mail (from 2 months).
- AIRMAIL - urgent mail (from 14 days to 2.5 months). Orders over 2 kg are shipped in multiple parcels.

- EMS - courier home delivery (from 7 days).
The shipping cost is calculated automatically by the site.

Delivery times are approximate, and may be increased due to circumstances beyond the control of the store - due to force majeure, the workload of transport companies, customs clearance and other reasons. 36best Kawai does not accept any responsibility for international shipping delays. Thank you for understanding!
Shipping costs
for postage from Japan can be found
here
.

Available delivery methods by country, see the table.
If you do not find your country in the list provided, please contact our consultants, we will try to offer you an alternative delivery method.