Product description: RECORESERUM BIJOU DE MER Beaute invariante Golden Radiance Pack Rejuvenating mask with precious metals and minerals, 100 g
Inspired by the depths of the sea, BIJOU DE MER cosmetics are natural beauty without injections or preservatives.
RECORESERUM BIJOU DE MER Beaute invariante Golden Radiance Pack - Rejuvenating Precious Metal Mask is an advanced treatment for mature skin that delivers amazing smoothness, firmness and radiance from within.
One of the main causes of early aging is modern life, full of stress and emotional tension. The use of the Golden Radiance Pack mask results in glossy, full firmness and elasticity of the skin, allowing you to forget about age.
The uniqueness of this sparkling mask is precious metals and minerals - gold, diamond, tourmaline, amethyst, silver, jade, ruby ​​- all of them are in this luxurious mask!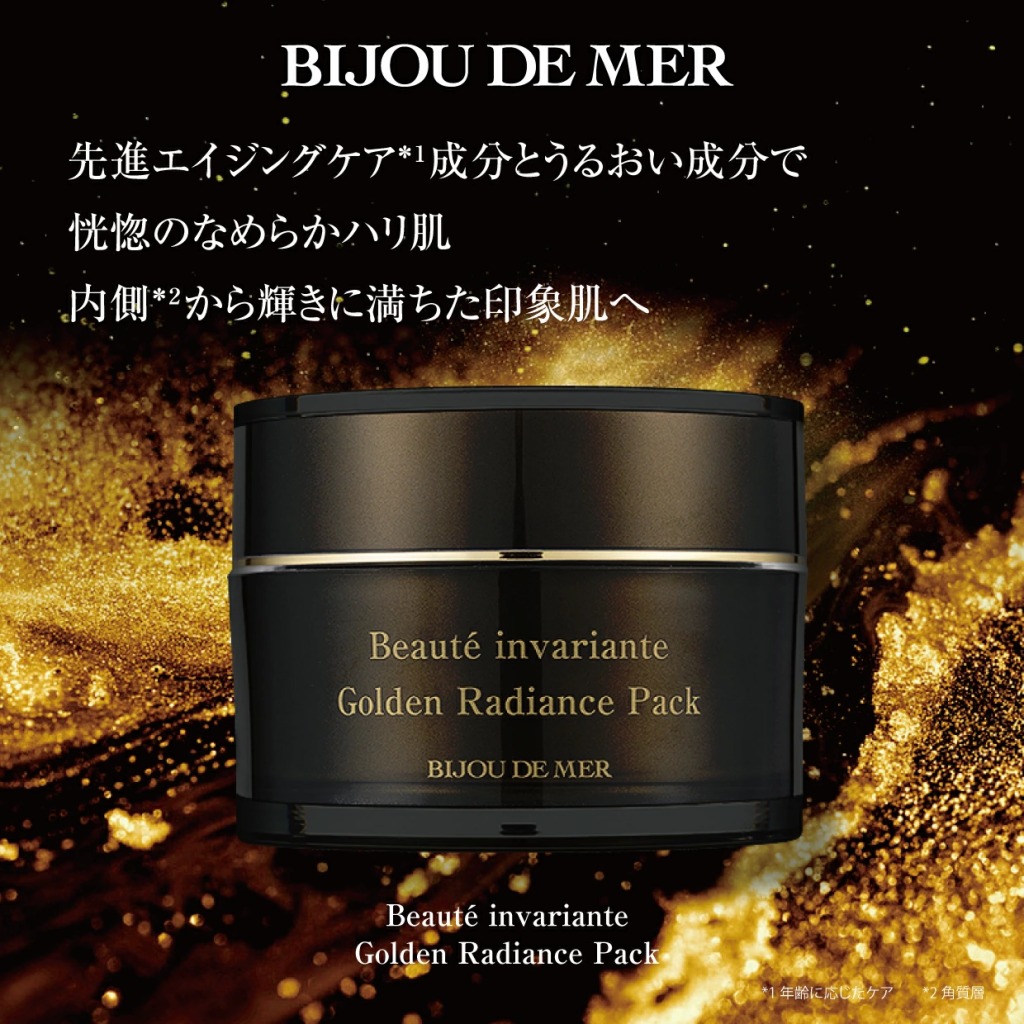 Effects:
- Normalization of biological current. The biological currents that flow through our bodies are blood and lymph. Gold, silver improve microcirculation, promoting cell renewal.
- Antioxidant effect - prevention of cell oxidation
- Bactericidal action - removal of inflammation, irritation, peeling caused by pathogenic bacteria on the surface of the skin.
- Gemstones have an excellent level of absorption, so when in contact with active anti-aging ingredients, they can penetrate deeper into the skin, making anti-aging products more effective.
Truffle extract is also a unique component of the mask. It contains many amino acids, vitamin C and other antioxidants. Truffle fatty acids seal the cracks between cells, which helps keep the skin beautiful and smooth and hydrated. It also prevents dark spots, leaving skin brighter and more even.
Telesence Breeztel™ Complex is a marine enzyme from micrococci collected off the island of Tonga, Fiji that helps prevent the effects of emotional stress on the skin. It modulates the release of cortisol, preventing biological aging of cells by shortening telomeres and relieving stress from the skin, restoring the emotional balance of the epidermis and dermis. Wrinkles are reduced by 19% in 1 hour!
Ocean clay and ectoine adsorb sebum, moisturize the skin, giving it shine and elasticity.
GOLDEN C - a special derivative of vitamin C, has a powerful whitening effect, enhancing the penetration of ascorbic acid, has high antioxidant properties and enhances the ability to synthesize collagen.
Application: After cleansing, evenly apply the required amount of the mask to the entire face, avoiding the area around the eyes, eyebrows and lips. Rinse gently with water after about 15 minutes. It is recommended to use it twice a week.
Ingredients: Water, glycerin, BG, ethanol, dimethicone, synthetic fluorophlogopite, titanium oxide, isodecyl neopentanoate, pentylene glycol, copolymer, 1,2-hexanediol, PEG-40 hydrogenated castor oil, mica, carbomer, xanthan gum, truffle extract, PCA menthol, Tin Oxide, Bacillus Enzymes, Micrococcus Solution, Ectoin, Sea Silt, PG, Gold, PEG-20 Hydrogenated Castor Oil, Sorbitol, Water Soluble Collagen, Hydrolyzed Collagen, Sodium Hyaluronate, Hydrolyzed Hyaluronic Acid, Hydrogenated Lecithin, Propanediol, Phytosterols, Caprylyl Glycol, Diamond Powder, Ceramide NP, Ceramide NG, Ceramide AP, Amethyst Powder, Cellulose Gum, Tourmaline, Jade Powder, Coral Powder, Pearl, Ruby Powder, Sodium Bicarbonate, Succinate, Ascorbic Acid, Colloidal Gold, Glutathione, Silver, Crosspolymer, Iron Oxide, potassium hydroxide, fragrance, tocopherol, lauric acid, citric acid, sodium citrate
Volume: 100 g
Manufacturer: RECORESERUM BIJOU DE MER
Country of origin: Japan.
There are 4 delivery methods:
- SURFACE MAIL - sea mail (from 2 months).
- AIRMAIL - urgent mail (from 14 days to 2.5 months). Orders over 2 kg are shipped in multiple parcels.

- EMS - courier home delivery (from 7 days).
The shipping cost is calculated automatically by the site.

Delivery times are approximate, and may be increased due to circumstances beyond the control of the store - due to force majeure, the workload of transport companies, customs clearance and other reasons. 36best Kawai does not accept any responsibility for international shipping delays. Thank you for understanding!
Shipping costs
for postage from Japan can be found
here
.

Available delivery methods by country, see the table.
If you do not find your country in the list provided, please contact our consultants, we will try to offer you an alternative delivery method.
Popular with this product