Product description: AXXZIA THE B MAISON Sparkling Mask Alginate carboxy mask for instant skin improvement, 10 applications
A new line of products from AXXZIA - THE B MAISON - translated as "House of Beauty" and is designed to care for skin with signs of aging, aimed at awakening the source of beauty. Each tool is not only effective, but also as pleasant as possible in terms of texture and sensations.
Make your daily skincare experience a special moment with carefully selected cosmetic ingredients and an invigorating light fragrance.
All products in the line contain:
- a unique complex based on euglena algae extract and glycerin, which is rich in nutrients and gives the skin elasticity.
- Haroxyl complex with peptides (hydroxysuccinimide, cricin, palmitoyltripeptide-1, palmitoyltetrapeptide-7) restores density and elasticity to the skin, and also moisturizes and improves the barrier function in terms of resistance to aggressive environmental factors.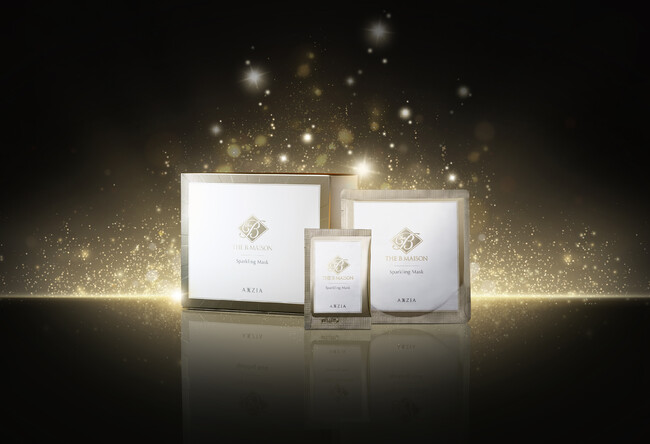 AXXZIA THE B MAISON Sparkling Mask - carboxy mask with CO2 mask, high-quality salon care at your home! Created as convenient as possible for self-use - it does not need to be washed off, it is removed in layers, as the gel gradually hardens into an elastic jelly, keeping carbon dioxide inside for maximum skin care effect. The warming effect of carbon dioxide improves blood circulation, instantly giving the face a fresh look, and the key components of the line - euglena extract and Haroxyl peptide complex penetrate into the stratum corneum of the skin, moisturizing and smoothing.
The high concentration of carbon dioxide in Sparkling Mask helps the beneficial ingredients penetrate deep into the skin and is widely used in the beauty industry to instantly improve appearance, such as before important events. It has the effect of moisturizing, softening, smoothing the skin, toning and giving elasticity.
Advantages:
- Convenience and ease of use. It seems to many that carboxy masks are inconvenient and troublesome to use at home. But in THE B MAISON Sparkling Mask, everything is thought out to the smallest detail and everyone can handle it! The specially designed mixing bag can be conveniently placed by joining the ingredients with a branded spatula, no need to use additional utensils. The mask has a viscous texture, is applied evenly, does not drip off the face after application. The impressive volume allows not only to cover the entire face, but also to use the excess for the care of the neck and décolleté.
- Luxurious thoughtful composition, carefully selected cosmetic ingredients.
✤ Euglena extract contains many healing ingredients that work on hydration and elasticity.
✤ Peptide complex - gives density to the skin, fights dryness due to environmental stressors.
✤ Hydrolyzed silk - purified conchiolin found in smooth silk threads. It retains moisture in the cells, maintains the shine of the skin and makes it smooth.
✤ Carambola leaf extract promotes collagen production and makes the skin supple and elastic.
✤ Rosemary leaf extract prevents inflammation, fights harmful microflora on the skin surface
✤ Fullerene is the best antioxidant that rejuvenates and brightens aging skin.
✤ Free of parabens, synthetic fragrances, synthetic colors, surfactants, ethanol, silicone, mineral oils, UV absorbers
How to use: Open the large sachet of gel, pour in the contents of the small sachet and mix quickly with the included spatula. Apply the gel evenly on the skin of the face, avoiding the area around the eyes, and leave for 10-20 minutes. Then remove the layer of the mask and wash with warm water. Follow up with AXXZIA THE B MAISON Cream.

Volume: for 10 applications (10 sachets of 4 g granules x 10 sachets of gel 40 g)
Compound:
1st package: gluconolactone
2nd Pack: Water, Propanediol, Glycerin, Sodium Alginate, Pentylene Glycol, Cellulose Gum, Sodium Bicarbonate, Calcium Carbonate, Euglena Extract, Palmitoyl Tripeptide-1, Palmitoyl Tetrapeptide-7, Hydrolysis Silk, Carambola Leaf Extract, Rosemary Leaf Extract, N-hydroxysuccinimide , chrysin, steareth-20, sodium hyaluronate, fullerene, hydrolyzed collagen, BG, PVP, phenoxyethanol
Manufacturer: AXXZIA
Country of origin: Japan
There are 4 delivery methods:
- SURFACE MAIL - sea mail (from 2 months).
- AIRMAIL - urgent mail (from 14 days to 2.5 months). Orders over 2 kg are shipped in multiple parcels.

- EMS - courier home delivery (from 7 days).
The shipping cost is calculated automatically by the site.

Delivery times are approximate, and may be increased due to circumstances beyond the control of the store - due to force majeure, the workload of transport companies, customs clearance and other reasons. 36best Kawai does not accept any responsibility for international shipping delays. Thank you for understanding!
Shipping costs
for postage from Japan can be found
here
.

Available delivery methods by country, see the table.
If you do not find your country in the list provided, please contact our consultants, we will try to offer you an alternative delivery method.