Product Description: CocochiCosme AG Ultimate Facial Cream Mask
The CocochiCosme line of face masks is incredibly popular in Japan and has earned an excellent reputation. Their unique design with two jars in one bottle pleases with thoughtfulness and intensive care.
After years of research, CocochiCosme has developed its own component, Orimos™. It is a multi-botanical complex of tencha tea extracts, tea leaf extract, loquat leaf extract and rosemary leaf extract. This complex provides intensive care and hydration for your skin.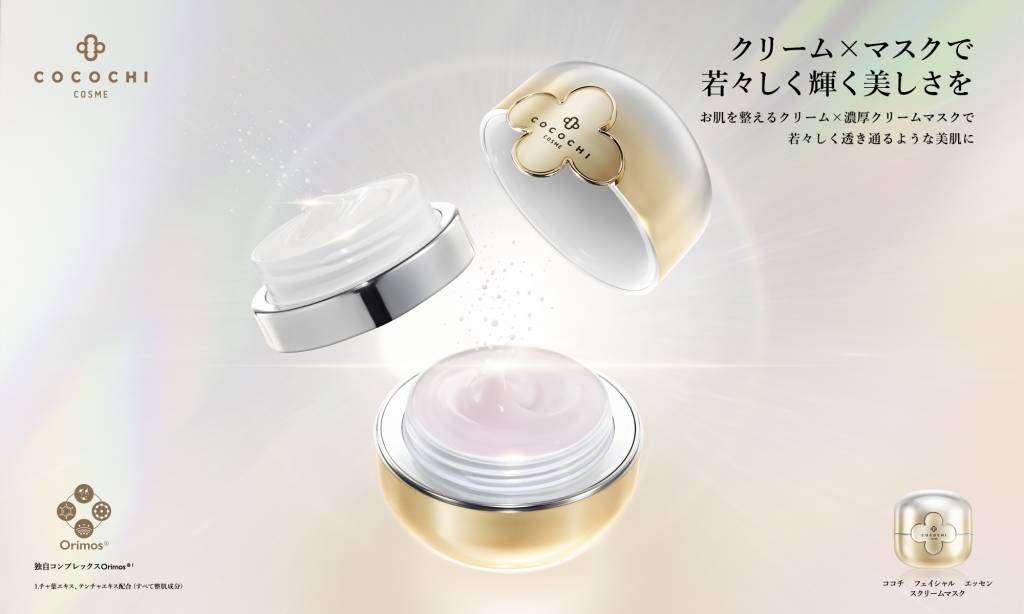 CocochiCosme AG Ultimate Facial Cream Mask is an anti-aging and moisturizing cream mask.
After washing, the skin loses a lot of moisture and becomes dry. And with age, the amount of sebum and natural moisturizing factors decreases significantly. Therefore, the skin after washing must be thoroughly moisturized.
The 2-step application of the AG Ultimate Facial Cream Mask provides a luxurious after-salon treatment. The Essence Cream prepares the skin before the cream mask by improving its permeability while providing hydration to the stratum corneum. A rich cream mask restores the barrier function, smoothes wrinkles, gives firmness and elasticity.
Contains a well-balanced blend of skin care ingredients that fight the signs of aging:
- complex Orimos
- fullerene - one of the best antioxidants that tightens the skin, and also helps prevent roughness and make the skin supple and shiny.
- Syn-Ake is a peptide-based complex that acts on rough skin, moisturizing and softening it, leaving it fresh and supple. These types of peptides are designed to be safe substitutes for Botox. It acts on the mimic muscles, relaxing them, thereby evening out the skin relief, eliminating the network of fine wrinkles and creases.
- Sakura flower extract is loved by the Japanese for active hydration and the effect of transparent skin. Leaves skin soft, bright & radiant.
- Palmitoyl tripeptide-5 - protects the skin from dryness and maintains its elasticity.
- Aloe vera leaf extract promotes hydration, softness and freshness of the skin.
- apple stem cell extract is rich in growth factors that activate epidermal cell division, renew it, stimulate the synthesis of collagen, elastin and hyaluronic acid.
The texture is soft, well distributed, when applied to the skin it fits snugly and does not roll. Due to the "clean" composition of the mask, it can also be used for the skin around the eyes.
Application:
1.Remove the top cover.
2. Open the screw cap of the top layer (cream) and take the required amount, apply the cream evenly on the skin.
3. Open the screw cap of the bottom layer (mask) and take the required amount, apply to the skin.
4. Leave on for 10-15 minutes, then gently wipe off with a tissue and rinse off the residue with warm water. After that, apply your usual care.
Cream Ingredients: Water, BG, Squalane, Cetearyl Alcohol, Jojoba Seed Oil, Methylgluket-10, Almond Oil, Glycerin, Pentylene Glycol, Ethylhexylglycerin, Glyceryl Caprylate, Fermented Rice Extract, Aloe Vera Leaf Extract, Maltitol, Apple Tree Stem Cell Extract, Arginine, Extract Tea Leaf, Tencha Extract, Loquat Leaf Extract, Diaminobutyroylbenzylamide Diacetate, Rosemary Leaf Extract, Sea Buckthorn Fruit Extract, Palmitoyl Tripeptide-5, Na Hyaluronic Acid, Hydrolyzed Silk, Oligopeptide-1, Dimethicone, Carbomer, Xanthan Gum, Sclerotium Gum, Hydrogenated Lecithin, Polyglyceryl Myristate -10, lecithin, K hydroxide, tocopherol acetate, EDTA-2Na, phenoxyethanol, fragrance
Mask Ingredients: Water, Dimethicone, DPG, Squalane, Glycerin, Diphenylsiloxyphenyl Trimethicone, Methylgluset-10, Shea Butter, Pentylene Glycol, Ethylhexylglycerin, BG, Apple Fruit Stem Cell Extract, Yeast Extract, Sakura Flower Extract, Diaminobutyroylbenzylamide Dipeptide, Palmitoyl Tripeptide-5, Leaf Extract tea extract, tencha extract, medlar leaf extract, rosemary leaf extract, sea buckthorn fruit extract, copolymer, fullerene, oligopeptide-1, rice bran oil, jojoba seed oil, dilauroylglutamate, crosspolymer, nylon-12, carbomer, xanthan gum, PVP, PEG- 150 stearate, glyceryl stearate, sorbitan stearate, polysorbate 60, sorbitan anisostearate, lecithin, cetearyl alcohol, TEA, malic acid, tocopherol, ascorbic acid, EDTA-2Na, phenoxyethanol, fragrance, red 504, blue 1.
Volume: 20 g (cream) +90 g (mask)
Manufacturer: CocochiCosme
Country of origin: Japan
There are 4 delivery methods:
- SURFACE MAIL - sea mail (from 2 months).
- AIRMAIL - urgent mail (from 14 days to 2.5 months). Orders over 2 kg are shipped in multiple parcels.

- EMS - courier home delivery (from 7 days).
The shipping cost is calculated automatically by the site.

Delivery times are approximate, and may be increased due to circumstances beyond the control of the store - due to force majeure, the workload of transport companies, customs clearance and other reasons. 36best Kawai does not accept any responsibility for international shipping delays. Thank you for understanding!
Shipping costs
for postage from Japan can be found
here
.

Available delivery methods by country, see the table.
If you do not find your country in the list provided, please contact our consultants, we will try to offer you an alternative delivery method.
Статьи
They injected Botox, made injections of hyaluronic acid or fillers - what's next?
Popular with this product