Product description: Rosette Edo Kosume Rice Bran Pack Rice Bran Moisturizing Peeling Mask, 150 g
Edo Kosume Rice Bran Pack is a mask that simultaneously exfoliates dead skin cells and amazingly moisturizes it with 6 rice-derived ingredients.
Rice bran became a popular skin care product during the Edo period. Women of that period began to polish their skin with rice bran to become "Edo beauty" with perfect porcelain skin.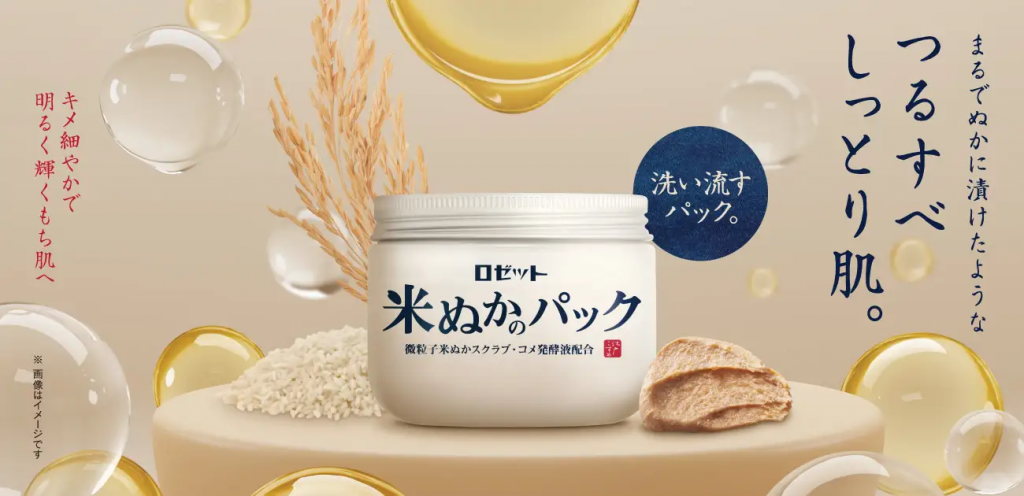 The soft grainy texture feels good on the skin, infusing the skin with the power of nature of one of the most traditional Japanese ingredients.
The natural exfoliating effect of rice bran cleanses the skin of impurities and dead cells, makes the skin smooth and tightens pores.
Fermented Rice Extract is amazingly hydrating, leaving skin translucent and beautiful while eliminating dullness and dryness.
Rice bran extract and oil, as well as rice germ oil, smooth the skin, softening it, restoring the protective barrier. The skin acquires elasticity and brightness.
No fragrances, no dyes, no mineral oil.
Application: After washing your face, lightly wipe off the water with a towel and apply the mask, avoiding the area around the eyes and mouth, massaging lightly. Rinse thoroughly after 2-3 minutes. After that, use your usual skin care products (lotion, cream). It is recommended to use 2-3 times a week.
Ingredients: Water, rice bran oil, glycerin, maltitol, hexa(hydroxystearic acid/stearic acid/resin acid) dipentaerythrityl, polysorbate 60, stearyl alcohol, hydrogenated coconut oil, defatted rice bran, rice bran extract, rice germ oil, fermented rice extract , gardenia fruit extract, caramel, lactose, BG, squalane, hydrogenated palm oil, hydrogenated palm kernel oil, sodium acrylate grafted starch, copolymer, arachidyl glucoside, hydrogenated rapeseed oil alcohol, arachidyl alcohol, behenyl alcohol, maltodextrin, EDTA-2Na, tocopherol, methylparaben, propylparaben, phenoxyethanol
Volume: 150 g
Manufacturer: Rosette
Country of origin: Japan
There are 4 delivery methods:
- SURFACE MAIL - sea mail (from 2 months).
- AIRMAIL - urgent mail (from 14 days to 2.5 months). Orders over 2 kg are shipped in multiple parcels.

- EMS - courier home delivery (from 7 days).
The shipping cost is calculated automatically by the site.

Delivery times are approximate, and may be increased due to circumstances beyond the control of the store - due to force majeure, the workload of transport companies, customs clearance and other reasons. 36best Kawai does not accept any responsibility for international shipping delays. Thank you for understanding!
Shipping costs
for postage from Japan can be found
here
.

Available delivery methods by country, see the table.
If you do not find your country in the list provided, please contact our consultants, we will try to offer you an alternative delivery method.