Product description: McCELLRIE Face Wash Intensively rejuvenating cleansing foam, 120 g + MARNA Foaming Net Hello kitty as a gift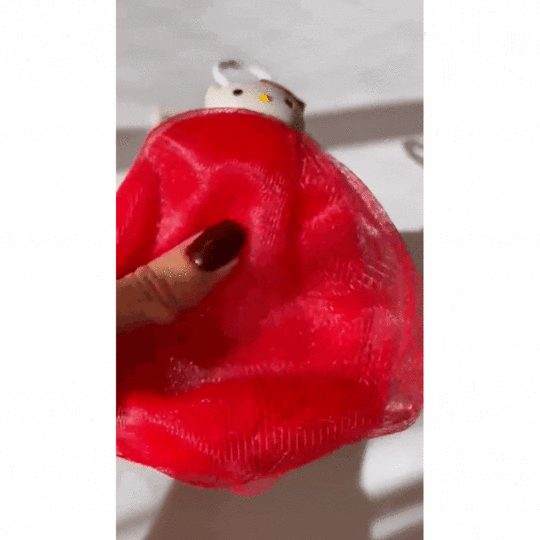 Japanese cosmetics brand McCoy has introduced the McCELLRIE skin care line, which contains the highest level of stem cell culture supernatant, which is especially active in the field of regenerative cosmetology. This line came out under the motto "Transformation in 4 weeks."
McCELLRIE is a new generation of skin care that enhances skin regeneration and stimulates skin renewal. This line will not only solve all visible skin problems, but is also aimed at deep care. Using the full power of developments in the field of regenerative medicine, the company has proposed products that can awaken the regenerative power that the skin has, thereby slowing down the aging process.
The supernatant is the supernatant, i.e. the liquid phase of a 100% pure stem cell solution produced in a medically controlled area in a professional incubator.
It is effective in solving various skin problems - moisturizing, renewing, smoothing wrinkles and pigmentation. The supernatant contains more growth factors and beneficial ingredients than a regular stem cell solution, which is why it provides such comprehensive care.
The brand has developed a unique way to deliver beneficial ingredients to the deep layers of the skin - Mact System, which is amazingly permeable. The components are added to the products in the form of nano-sized liposomes, which are able to penetrate the dermis and influence cellular processes from the inside. At the same time, liposomes "give away" the active substances gradually, prolonging care and maintaining the level of skin hydration for a long time.
In addition, the penetration efficiency of active ingredients is improved by using special water with negative ions. Thanks to the osmotic pressure, which is 100 times greater than that of ordinary water, this magical water quickly delivers moisture to the deep layers of the skin.
McCELLRIE Face Wash - cleansing foam without makeup. The product has a slightly alkaline level of acidity, due to which it gently cleanses the skin of impurities, excess sebaceous secretions and perfectly flushes out the contents of the pores. Soft foam based on natural extracts of soap tree and soap quillaya does not injure epidermal cells, many bubbles adsorb dirt, leaving the face clean and radiant.
The foam contains stem cell supernatant, which promotes cell regeneration and hydration. Sake sludge extract, which is an enzyme-rich rice product, softens and brightens the skin.
Sea salt promotes deep cleansing of pores, visibly narrowing them.
Chamomile and tea tree extracts prevent inflammation, have a calming effect, relieve irritation and eliminate rashes. Bergamot, orange and palmarosa oils not only soften the skin, but also give it a fresh ruddy look.
Cucumber extract helps to restore the skin, refreshes it, improves water-lipid metabolism. It has a slight whitening effect, improves skin tone.
Ingredients: Water, Glycerin, Stearic Acid, Myristic Acid, Potassium Hydroxide, Sorbitol, Lauric Acid, Stem Cell Culture Supernatant, Lauryl Betaine, Glyceryl Stearate, Lauryl Glycol, Molasses, Sake Sediment Extract, Soap Tree Extract, Quillaia Soap Extract, Glycyrrhizic Acid 2K, orange peel oil, bergamot fruit oil, palmarosa oil, chamomile extract, tea tree leaf extract, cucumber extract, sea salt, sodium chloride, ethanol, phenoxyethanol.
Application: Squeeze a 1–2 cm long strip of the product into the palm of your hand. Beat into foam between wet palms or with a net. Apply all over the face with gentle movements, then rinse.
Volume: 120 g
Manufacturer: McCoy
Country of origin: Japan
There are 4 delivery methods:
- SURFACE MAIL - sea mail (from 2 months).
- AIRMAIL - urgent mail (from 14 days to 2.5 months). Orders over 2 kg are shipped in multiple parcels.

- EMS - courier home delivery (from 7 days).
The shipping cost is calculated automatically by the site.

Delivery times are approximate, and may be increased due to circumstances beyond the control of the store - due to force majeure, the workload of transport companies, customs clearance and other reasons. 36best Kawai does not accept any responsibility for international shipping delays. Thank you for understanding!
Shipping costs
for postage from Japan can be found
here
.

Available delivery methods by country, see the table.
If you do not find your country in the list provided, please contact our consultants, we will try to offer you an alternative delivery method.
Статьи
Japan is famous for its cosmetic products. One has only to look at the Japanese women, as it immediately becomes clear - their self-care is really on top. And one of the secrets to their flawless skin is proper cleansing and make-up removal.
In Japan, a multi-stage facial cleansing system is common. Such care helps not only to eliminate impurities, but also to restore the epidermis, make the face clean, healthy and radiant without overdrying.