Product description: ZOGANKIN Mature EMS device for face oval lifting
ZOGANKIN Mature is a beauty device with EMS function that acts on the muscles of the outer part of the face, such as the temporal muscle, chewing muscle and cheek muscles, i.e. the "frame muscles". Electrical stimulation of muscles helps keep them toned, preventing sagging skin. As simple as possible to use. 6 electrodes effectively affect 3 muscles at the same time!
The machine-simulator tightens the oval of the face along the entire contour, while helping to take care of the muscles of the head and eliminate tension and flaccidity that cause common facial problems.
Equipped with 2 types of programs and 10 power levels in each: normal mode and night mode.
The usual regimen, recommended after washing in the morning or throughout the day, stimulates the muscles, dispelling swelling and actively tightening the skin.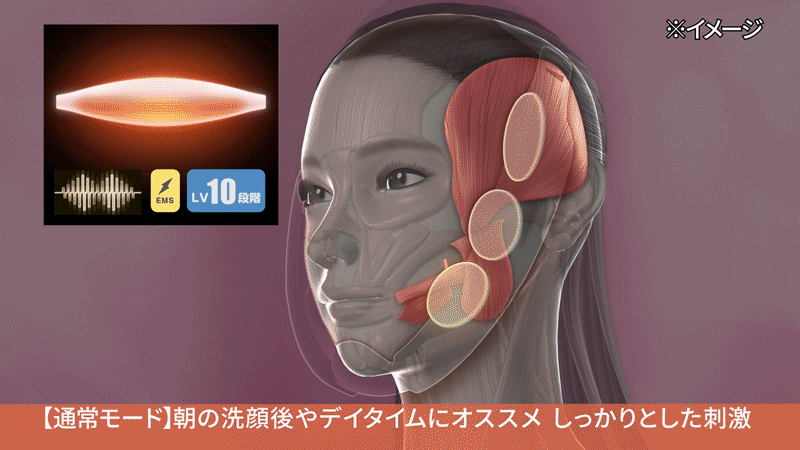 Night mode is recommended for evening use and relaxes your muscles with gentle pulsating stimulation. The current is alternately supplied between the vertical electrodes.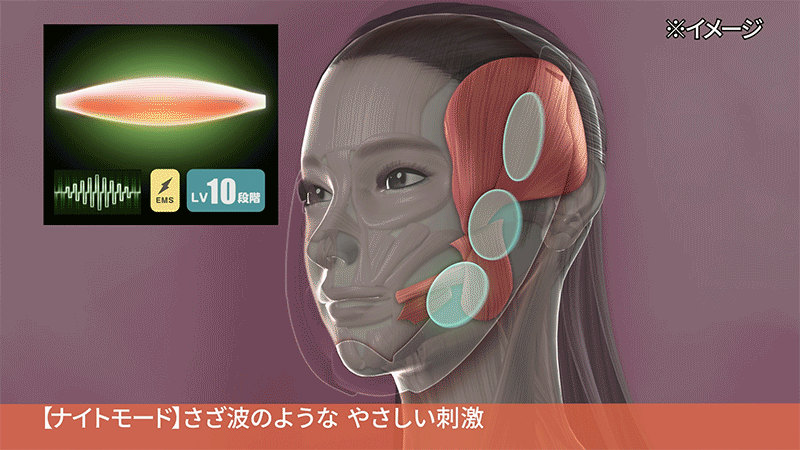 Since it is hands-free, you can take care of yourself while doing your regular activities at home.
How to use:
①Apply conductive gel or lotion to your face
② Put on the device, securing it with Velcro according to the size of your head.
③ Long press the Power button to turn it on. Then briefly press the M button to select the mode:
・Night mode: LED flashes blue
・Normal mode: LED flashes orange
④ Adjust the level using the level adjustment button. The procedure takes 10 minutes
We recommend contact gels: Belulu, EbiS Beauty Gel, EbiS Triple Gel, EBiS SS Super Sonic Slim Gel or BiEST Poration Water.
The kit includes: Main unit, device, charging cord, instruction manual (with warranty).
Black color
Composition: [Body] ABS plastic, stainless steel, silicone, [Headband] SBR, nylon
Dimensions: [Body] Approx. W184.3 x D175.9 x H35.9 mm [Headband] Approx. W80 x D210 x H3.5 mm
Weight: about 130g
Power: Built-in rechargeable Li-ion battery (DC 3.7V, 125mAh), USB Type-C
Charging time: about 2 hours
Manufacturer: Couleur Labo
Country of Origin: China for Japan
There are 4 delivery methods:
- SURFACE MAIL - sea mail (from 2 months).
- AIRMAIL - urgent mail (from 14 days to 2.5 months). Orders over 2 kg are shipped in multiple parcels.

- EMS - courier home delivery (from 7 days).
The shipping cost is calculated automatically by the site.

Delivery times are approximate, and may be increased due to circumstances beyond the control of the store - due to force majeure, the workload of transport companies, customs clearance and other reasons. 36best Kawai does not accept any responsibility for international shipping delays. Thank you for understanding!
Shipping costs
for postage from Japan can be found
here
.

Available delivery methods by country, see the table.
If you do not find your country in the list provided, please contact our consultants, we will try to offer you an alternative delivery method.