Product description: Ceruru.b Beauty Keep Premier Makeup Setting Mist, 55 ml
Ceruru.b Beauty Keep Premier is a mist that will help you set your makeup and look amazing all day long!
The spray serves as the perfect finish to your makeup. An original recipe from cosmetic dermatologists based on cosmetic wax (1%), which not only contributes to the durability of cosmetics, but also contains 11 types of care ingredients that maintain excellent skin hydration and nutrition.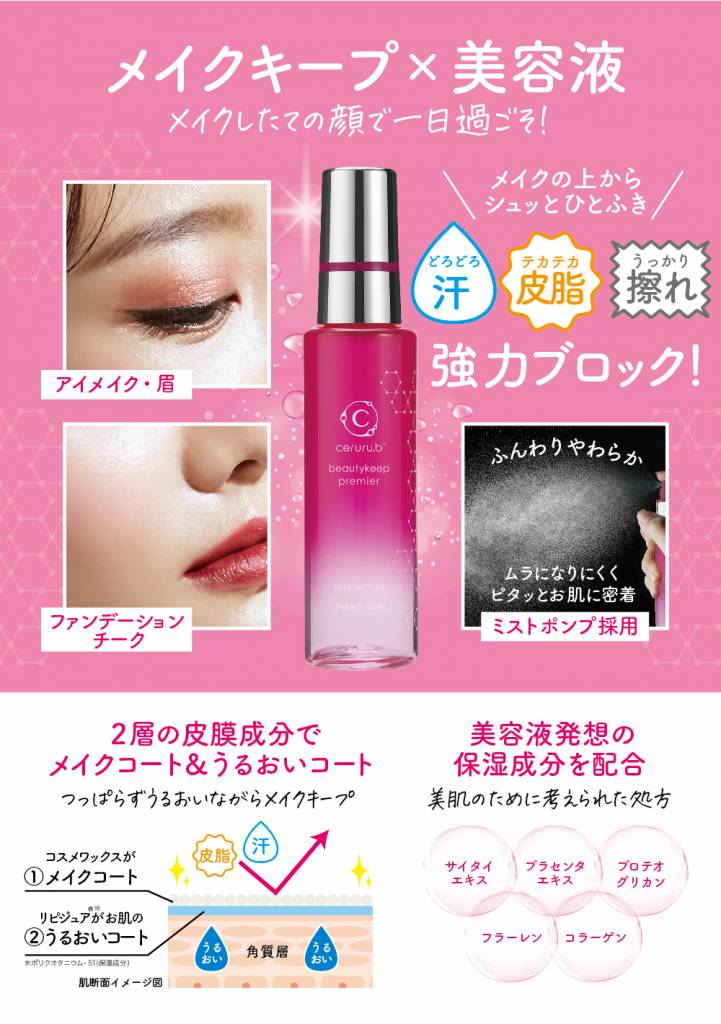 Makeup does not roll and does not wash off throughout the day and retains a beautiful look. The mist prevents not only make-up damage due to sebum and sweat, but also make-up removal from clothes or an antibacterial mask.
Two types of placenta extract deeply moisturize and nourish the skin due to the high content of amino acids. They also have a whitening effect.
Trifluoroacetyltripeptide-2 - a component for the elimination of skin flabbiness and wrinkles. It restores aging cells and slows down age-related changes in them, which means that in general the skin remains young, supple and toned longer.
Roxburgh rose extract prevents inflammation, itching and skin laxity caused by exposure to ultraviolet rays.
Proteoglycans have a structure similar to the human cell membrane. They are responsible for the metabolism and formation of new cells, like collagen, they maintain the elasticity and firmness of the skin, retain moisture, which helps to maintain tissue moisture.
The spray nozzle creates a perfect mist that is evenly distributed over the skin.
Free from synthetic colors, synthetic fragrances, mineral oils.
The mist has a lavender scent thanks to the natural essential oil.
Application: After makeup, spray the mist all over the face from a distance of about 15 cm from the face, while closing the eyes and mouth. After use, do not touch the skin, let the spray dry completely. Since the mist contains ingredients of natural origin, color, odor and viscosity may change without affecting the quality of the product.
Active Ingredients: Water, ethanol, horse placenta extract, placenta extract, water-soluble proteoglycan, trifluoroacetyl tripeptide-2, polyquaternium-51, sodium hyaluronate, fullerene, water-soluble collagen, 3Na palmitate ascorbyl phosphate, Roxburgh rose extract, uncaria extract, tocopherol, glycerin, arginine. citric acid, sodium citrate, maltodextrin, dextran, lavender oil, PVP, 1,2-hexanediol, polysorbate 20, phenoxyethanol, methylparaben
Volume: 55 ml
Manufacturer: CERURU.B, Medix Japan
Country of origin: Japan
There are 4 delivery methods:
- SURFACE MAIL - sea mail (from 2 months).
- AIRMAIL - urgent mail (from 14 days to 2.5 months). Orders over 2 kg are shipped in multiple parcels.

- EMS - courier home delivery (from 7 days).
The shipping cost is calculated automatically by the site.

Delivery times are approximate, and may be increased due to circumstances beyond the control of the store - due to force majeure, the workload of transport companies, customs clearance and other reasons. 36best Kawai does not accept any responsibility for international shipping delays. Thank you for understanding!
Shipping costs
for postage from Japan can be found
here
.

Available delivery methods by country, see the table.
If you do not find your country in the list provided, please contact our consultants, we will try to offer you an alternative delivery method.
Popular with this product