Product description: Ceruru.b Essence Premier Serum with nano-sized particles, 50 ml
Ceruru.b Essence Premier is a serum based on the unique Nano Complex, which is produced by converting carefully selected cosmetic ingredients into nanoparticles using surfactant-free emulsification technology.
Nano-essence with high penetrating power is ideal for aging skin prone to dryness, pigmentation, loss of elasticity and flabbiness.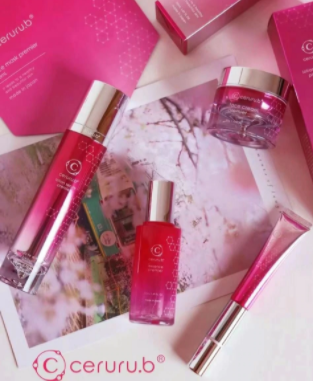 The hygienic dropper bottle delivers fresh cosmetic ingredients to the skin.
Active ingredients:
- Trifluoroacetyltripeptide-2 - a component to eliminate skin sagging and wrinkles. It restores aging cells and slows down age-related changes in them, which means that in general the skin remains young, supple and toned longer.
- Placenta extract with excellent moisturizing ability replenishes 10 kinds of amino acids in cells, as well as vitamins, minerals and enzymes, has a powerful anti-aging effect. It also has a proven whitening effect.
- Proteoglycans have a structure similar to the human cell membrane. They are responsible for the metabolism and formation of new cells, like collagen, they maintain the elasticity and firmness of the skin, retain moisture, which helps to maintain tissue moisture.
- Atelocollagen have a tightening effect, tightening the skin, making it supple and beautiful.
- Retinol is capable of in the stratum corneum of the skin, regulating the processes of cell renewal, giving elasticity and firmness. In addition, its high moisturizing power prevents the appearance of fine lines due to dryness.
- Fullerene has a powerful antioxidant effect on free radicals, eliminates pigmentation and fights inflammation.
- Lipidure is a biopolymer that has a structure similar to that of a human cell membrane and has excellent skin affinity. It provides intense hydration to the skin.
- Several types of natural oils (argan, jojoba, evening primrose, soy, rice germ, etc.) prevent dry skin and have protective properties. Oils nourish the skin, prevent it from peeling and cracking in the cold season, and also absorb ultraviolet rays, slowing down skin aging.
Free of parabens, fragrances, artificial colors, mineral oils, petroleum based surfactants, UV absorbers.
Application: After applying the lotion in the morning and in the evening, take the required amount of serum with a dropper in the palm of your hand and apply to the entire face.
Active ingredients: horse placenta extract, placenta extract, water-soluble proteoglycan, trifluoroacetyltripeptide-2, polyquaternium-51, retinol palmitate, sodium hyaluronate, fullerene, succinoyl atelocollagen, ascorbyl glucoside, tetrahexyldecane, ascorbic acid, argan seed oil, oryzanol. , Sclerocaria berea seed oil, rice bran oil, rice germ oil, squalane, soybean oil, macadamia seed oil, evening primrose oil, olive fruit oil, corn oil, jojoba seed oil, rose extract.
Volume: 50 ml
Manufacturer: CERURU.B, Medix Japan
Country of origin: Japan
There are 4 delivery methods:
- SURFACE MAIL - sea mail (from 2 months).
- AIRMAIL - urgent mail (from 14 days to 2.5 months). Orders over 2 kg are shipped in multiple parcels.

- EMS - courier home delivery (from 7 days).
The shipping cost is calculated automatically by the site.

Delivery times are approximate, and may be increased due to circumstances beyond the control of the store - due to force majeure, the workload of transport companies, customs clearance and other reasons. 36best Kawai does not accept any responsibility for international shipping delays. Thank you for understanding!
Shipping costs
for postage from Japan can be found
here
.

Available delivery methods by country, see the table.
If you do not find your country in the list provided, please contact our consultants, we will try to offer you an alternative delivery method.
Статьи
Salon quality cosmetics with stem cell extract.