Product description: CocochiCosme AG Ultimate Essence Lotion EX Rejuvenating Face Lotion, 170 ml
CocochiCosme AG Ultimate Essence Lotion EX is a luxurious lotion in a gorgeous bottle infused with safe active ingredients to leave mature skin hydrated, firm and supple.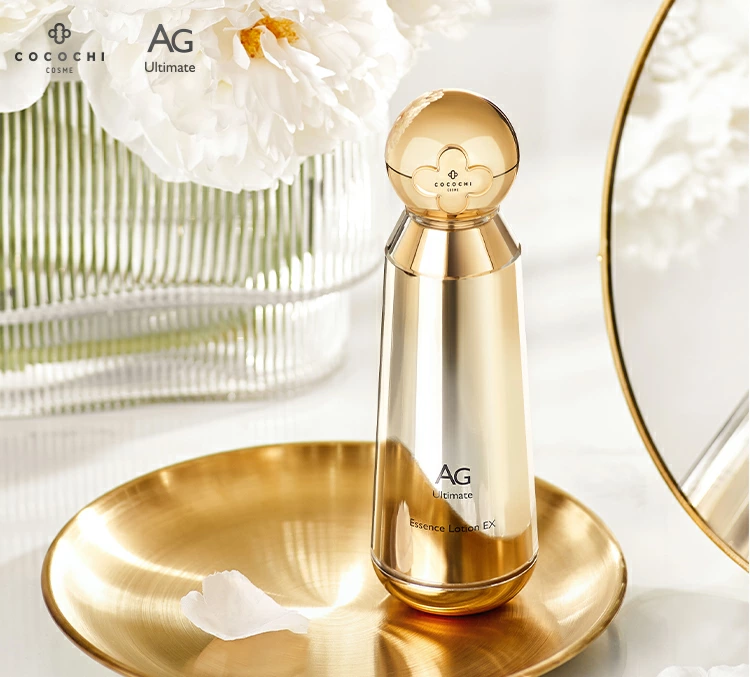 The key ingredient in the Cocochi Cosme line is the Orimos complex. It is a combination of herbal ingredients: tencha tea extract, medlar leaf extract and rosemary. The complex is designed to intensively moisturize dry skin and make the face fresh and soft, and also eliminates dullness.
Effects:
- luxurious hydration thanks to the minerals and trace elements contained in thermal water, penetrating deep into the skin. They perfectly soften the stratum corneum.
- supports skin renewal thanks to the growth factor EGF, which promotes the formation of new cells and regulates their normal functioning.
- prevents its dryness and makes the skin smooth and transparent thanks to tremella extract.
- restores the barrier function of the skin with apple stem cells, prevents moisture loss and protects against stress factors
- natural plant extracts of centifolia rose and grapefruit revitalize the skin, giving it freshness, beauty and radiance.
- tea tree leaf extract prevents roughness, flaking and inflammation
- rosemary leaf extract balances moisture and oil content in the skin, making it supple and smooth.
How to use: After washing your face, take the required amount of product on the palm of your hand or a cotton pad and slowly and carefully apply from the center of the face to the edges. After it is recommended to apply the emulsion and mask CocochiCosme AG Ultimate Facial Cream Mask
Ingredients: Water, BG, Pentylene Glycol, Glycereth-26, Methylglucet-20, Trehalose, PEG-8, Betaine, Ethylhexylglycerin, Tremella Polysaccharide, Apple Stem Cell Extract, Grapefruit Fruit Extract, Rose Centifolia Flower Extract, 1,2-Hexanediol Extract tea leaves, tencha extract, medlar leaf extract, rosemary leaf extract, sea buckthorn fruit extract, hydroxypropyltetrahydropyrantriol, fullerene, oligopeptide-1, dimethylsilane methyl ether, hot spring water, xanthan gum, PVP, polysorbate 20, lecithin, PEG-60 hydrogenated castor oil, glycerin, PG, sodium citrate, citric acid, tocopherol, EDTA-2Na, phenoxyethanol, fragrance
Volume: 170 ml
Manufacturer: CocochiCosme
Country of origin: Japan
There are 4 delivery methods:
- SURFACE MAIL - sea mail (from 2 months).
- AIRMAIL - urgent mail (from 14 days to 2.5 months). Orders over 2 kg are shipped in multiple parcels.

- EMS - courier home delivery (from 7 days).
The shipping cost is calculated automatically by the site.

Delivery times are approximate, and may be increased due to circumstances beyond the control of the store - due to force majeure, the workload of transport companies, customs clearance and other reasons. 36best Kawai does not accept any responsibility for international shipping delays. Thank you for understanding!
Shipping costs
for postage from Japan can be found
here
.

Available delivery methods by country, see the table.
If you do not find your country in the list provided, please contact our consultants, we will try to offer you an alternative delivery method.
Статьи
They injected Botox, made injections of hyaluronic acid or fillers - what's next?
Popular with this product