Product description: CocochiCosme AG Ultimate Eye Zone Firming Mask Wrinkle & Fatigue Circular Patches, 5 Pairs
CocochiCosme AG Ultimate Eye Zone Firming Mask are specially designed circular eye patches that cover both the upper and lower eyelids, carefully caring for the skin. The components of the essence help to eliminate signs of fatigue and aging of the skin, making your look bright and fresh.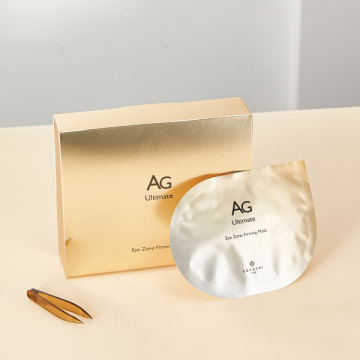 Three types of collagen with a triple helix structure moisturize the skin and prevent moisture loss, creating a protective veil on the surface of the skin, keeping the skin soft and supple.
The key ingredient in the Cocochi Cosme line is the Orimos complex. It is a combination of herbal ingredients: tencha tea extract, medlar leaf extract and rosemary. The complex is designed to intensively moisturize dry skin and make the face fresh and soft, and also eliminates dullness.
Thanks to the complex of peptides, the delivery of ingredients to the deep layers of the skin is significantly improved.
Horsetail extract restores the protective barrier of the delicate skin around the eyes, helps to soften it.
The brand places particular emphasis on a rare ingredient - edelweiss stem cells, which are cultivated using modern biotechnologies. It has an active tightening effect, removing bags under the eyes and lifting drooping eyelids.
Niacinamide smooths wrinkles, rejuvenating your look.
Red seaweed extract stimulates blood circulation in the capillaries, provides the skin with oxygen, moisture and nutrition, promotes the production of collagen and promotes the removal of waste products. This component, combined with caffeine, eliminates dark circles under the eyes and all traces of fatigue and stress.
Patches can be used once a week or on the eve of an important day.
Free of synthetic pigments, alcohol, mineral oils and UV absorbers.
Application: Use patches after washing your face. Remove the patch from the package and apply to the area around the eyes, press lightly with your hand. Leave on for 5-10 minutes, then spread the remaining essence on the face over the skin.
Ingredients: Water, Glycerin, BG, Squalane, Glycerin, Niacinamide, Diglycerin, Propanediol, Phenoxyethanol, Crosspolymer, Polyglyceryl-10, PVP, Copolymer, Cellulose, Hydrolyzed Collagen, Edelweiss Stem Cell Extract, Horsetail Extract, Glucosyl Hesperidin, Ceramide NP, Tetrahydropiperine, akmella extract, biotin, maritime pine bark extract, caffeine, succinoyl atelocollagen, water soluble collagen, red algae extract, diglucosyl gallic acid, hydrolyzed elastin, loquat leaf extract, hydrolyzed rice extract, saccharomyces extract, tea leaf extract, blueberry leaf extract, tencha extract, glycyrrhizic acid 2K, water soluble proteoglycan, sea buckthorn fruit extract, tetrapeptide-4, rosemary leaf extract, tripeptide-3, xanthan gum, carbomer, hydrogenated lecithin, 5Na pentetate, sorbitan isostearate, polysorbate 60, ethylhexylglycerol, K hydroxide.
Volume: 5 pairs of 8 ml essence
Manufacturer: CocochiCosme
Country of origin: Japan
There are 4 delivery methods:
- SURFACE MAIL - sea mail (from 2 months).
- AIRMAIL - urgent mail (from 14 days to 2.5 months). Orders over 2 kg are shipped in multiple parcels.

- EMS - courier home delivery (from 7 days).
The shipping cost is calculated automatically by the site.

Delivery times are approximate, and may be increased due to circumstances beyond the control of the store - due to force majeure, the workload of transport companies, customs clearance and other reasons. 36best Kawai does not accept any responsibility for international shipping delays. Thank you for understanding!
Shipping costs
for postage from Japan can be found
here
.

Available delivery methods by country, see the table.
If you do not find your country in the list provided, please contact our consultants, we will try to offer you an alternative delivery method.
Статьи
They injected Botox, made injections of hyaluronic acid or fillers - what's next?
Popular with this product