Product description: CocochiCosme AG Ultimate Facial Balancing Emulsion Moisturizing and balancing facial emulsion, 130 ml
CocochiCosme AG Ultimate Facial Balancing Emulsion is an emulsion that is light in texture but rich in composition that will revive your dry and irritated skin, leaving it smooth, firm and amazingly hydrated!
The key ingredient in the Cocochi Cosme line is the Orimos complex. It is a combination of herbal ingredients: tencha tea extract, medlar leaf extract and rosemary. The complex is designed to intensively moisturize dry skin and make the face fresh and soft, and also eliminates dullness.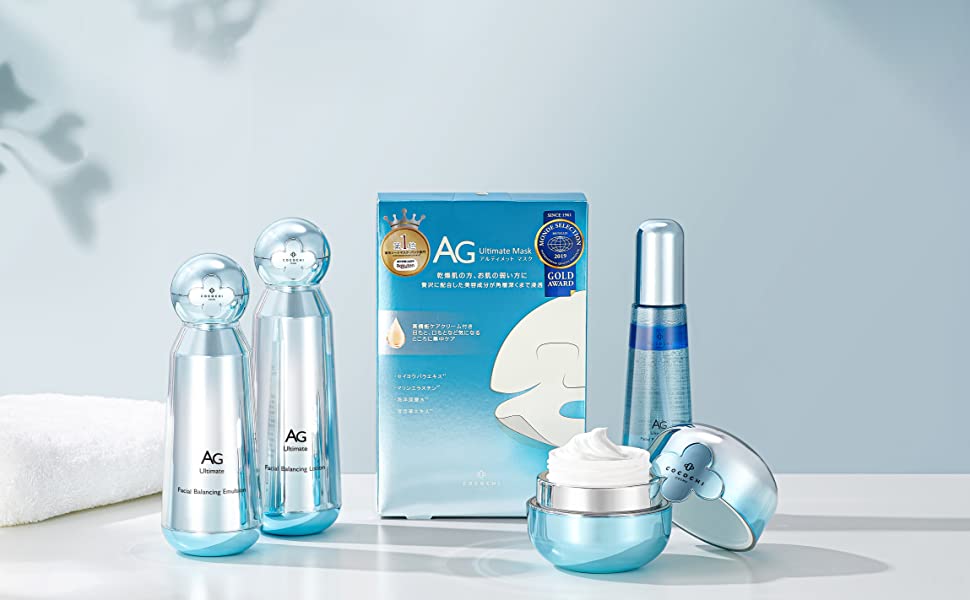 An important task of the emulsion is to restore the protective barrier to prevent the loss of moisture, which is so necessary for healthy skin. Contains Triethylhexanoin, Squalane & Artemia Extract to coat flaky skin to soothe & repair damaged cells.
Natural extracts of Evodia fruit and sea buckthorn maintain the firmness and elasticity of the skin, giving it a fresh, well-groomed appearance.
Gentian extract and guaiazulene (a crystalline hydrocarbon) are paired with anti-inflammatory and antioxidant effects to promote an even, healthy skin tone.
Recommended:
- for skin prone to dryness and irritation;
- for skin that tends to roughen due to seasonal changes or temperature changes;
- for skin exposed to friction from the use of medical masks;
- for reactive skin susceptible to environmental changes.
Application: On the skin cleansed and moisturized with CocochiCosme AG Ultimate Facial Balancing Lotion, apply the emulsion (1-2 pumps), with light pressure movements from the center of the face to the edges. It is recommended to complement the care with the CocochiCosme AG Ultimate Facial Hydration Balancing Essence Cream mask.
Ingredients: Water, glycerin, BG, triethylhexanoin, squalane, pentylene glycol, arginine, octyldodecyl myristate, copolymer, hydroxyacetophenone, ethylhexylglycerin, gentian root extract, crosspolymer, carbomer, mucopolysaccharide, artemia extract, guaiazulene, madecassoside, stearyl glycyrrhetinate, acetyl dipeptide-1 cetyl, hydroxyethyl cellulose, hydroxyethyl cellulose, hydroxyethyl cellulose, PEG-20 hydrogenated castor oil, propanediol, evodia fruit extract, tencha extract, loquat leaf extract, tea leaf extract, sorbitan laurate, sea buckthorn fruit extract, rosemary leaf extract.
Volume: 130 ml
Manufacturer: CocochiCosme
Country of origin: Japan
There are 4 delivery methods:
- SURFACE MAIL - sea mail (from 2 months).
- AIRMAIL - urgent mail (from 14 days to 2.5 months). Orders over 2 kg are shipped in multiple parcels.

- EMS - courier home delivery (from 7 days).
The shipping cost is calculated automatically by the site.

Delivery times are approximate, and may be increased due to circumstances beyond the control of the store - due to force majeure, the workload of transport companies, customs clearance and other reasons. 36best Kawai does not accept any responsibility for international shipping delays. Thank you for understanding!
Shipping costs
for postage from Japan can be found
here
.

Available delivery methods by country, see the table.
If you do not find your country in the list provided, please contact our consultants, we will try to offer you an alternative delivery method.
Статьи
Asian cosmetics have long conquered the world. The Japanese and Korean cosmetics markets are the fastest growing and most advanced.
They injected Botox, made injections of hyaluronic acid or fillers - what's next?
Popular with this product