Product description: CocochiCosme AG Ultimate Facial Balancing Lotion Moisturizing and balancing face lotion, 170 ml
CocochiCosme AG Ultimate Facial Balancing Lotion is a lotion for sensitive, dry, irritated and inflamed skin that soothes, fills it with life-giving moisture and leaves it amazingly healthy and fresh!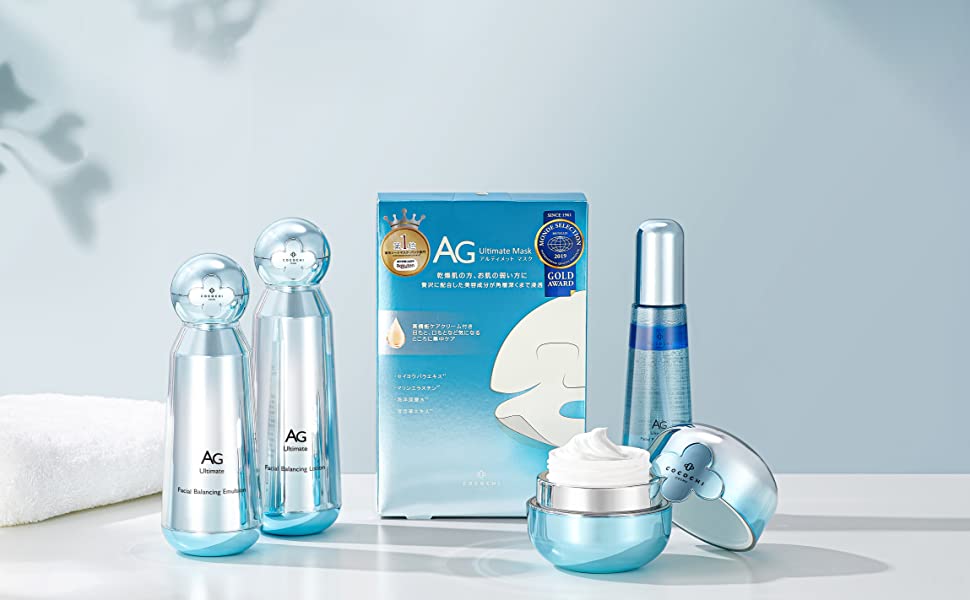 The key ingredient in the Cocochi Cosme line is the Orimos complex. It is a combination of herbal ingredients: tencha tea extract, medlar leaf extract and rosemary. The complex is designed to intensively moisturize dry skin and make the face fresh and soft, and also eliminates dullness.
The original humectant aquaporin (AQP3) is a membrane transport protein that facilitates the transport of water and glycerol within skin cells. It circulates moisture, transports nutrients and maintains cell barrier function. When the function of the skin's own aquaporin weakens due to aging, it causes dryness and irritation of the cells. Applying a lotion helps the cells conduct moisture and hydrate the skin.
Natural natural moisturizers help the skin acquire density, elasticity and smoothness:
- Glycerin glucoside is a colorless and odorless syrupy component extracted from Japanese sake. It has effects such as moisturizing, fat burning, stimulating metabolism, inhibiting melanin production, resulting in smooth and firm skin. In addition, it promotes the production of hyaluronic acid and collagen, maintaining skin elasticity.
- Gentian root extract has anti-inflammatory and antioxidant effects, providing an even, healthy skin tone.
- thermal water from a hot spring moisturizes and softens the stratum corneum of the skin
- tea tree leaf extract prevents roughness, flaking and inflammation
- rosemary leaf extract balances moisture and oil content in the skin, making it supple and smooth. Suitable for sensitive skin.
Recommended:
- for skin prone to dryness and irritation;
- for skin that tends to roughen due to seasonal changes or temperature changes;
- for skin exposed to friction from the use of medical masks;
- for reactive skin susceptible to environmental changes.
How to use: After washing your face, take the required amount of product on the palm of your hand or a cotton pad and slowly and carefully apply from the center of the face to the edges. After that, it is recommended to apply CocochiCosme AG Ultimate Facial Balancing Emulsion and CocochiCosme AG Ultimate Facial Hydration Balancing Essence Cream.
Ingredients: Water, BG, glycerin, pentylene glycol, trehalose, polyglyceryl-10, glyceryl glucoside, α-glucan oligosaccharide, hydroxyacetophenone, gentian root extract, carbomer, potassium hydroxide, hot spring water, evodia fruit extract, madecassoside, guaiazulene, sodium sulfonate, triethylhexanoin , Phenyl Trimethicone, Propanediol, Sea Buckthorn Fruit Extract, Tencha Extract, Tea Tree Leaf Extract, Polyglyceryl-10 Myristate, Loquat Leaf Extract, Rosemary Leaf Extract, Crosspolymer, Copper Gluconate, Xanthan Gum
Volume: 170 ml
Manufacturer: CocochiCosme
Country of origin: Japan
There are 4 delivery methods:
- SURFACE MAIL - sea mail (from 2 months).
- AIRMAIL - urgent mail (from 14 days to 2.5 months). Orders over 2 kg are shipped in multiple parcels.

- EMS - courier home delivery (from 7 days).
The shipping cost is calculated automatically by the site.

Delivery times are approximate, and may be increased due to circumstances beyond the control of the store - due to force majeure, the workload of transport companies, customs clearance and other reasons. 36best Kawai does not accept any responsibility for international shipping delays. Thank you for understanding!
Shipping costs
for postage from Japan can be found
here
.

Available delivery methods by country, see the table.
If you do not find your country in the list provided, please contact our consultants, we will try to offer you an alternative delivery method.
Popular with this product