Product Description: COGIT 2way Keratin Plug Brush
COGIT 2way Keratin Plug Brush is a two-way brush for cleansing pores and removing keratin plugs on the nose.
Easy and convenient cleaning at home!
The pores on the nose are especially prone to getting filled with hard keratin due to overactive sebaceous glands, even when you take good care of your skin.
A homemade skin care routine just once a week using a double-ended horn brush will leave your skin clean and smooth!
On one side of the brush are ultra-thin bristles that penetrate deep into the pores and cleanse them, removing dead skin particles. On the other hand, there is a loop, which is located at an ideal angle of 10-20 ° to the skin. With its help, keratin plugs are easily removed, you just need to run it over the skin, gently pressing.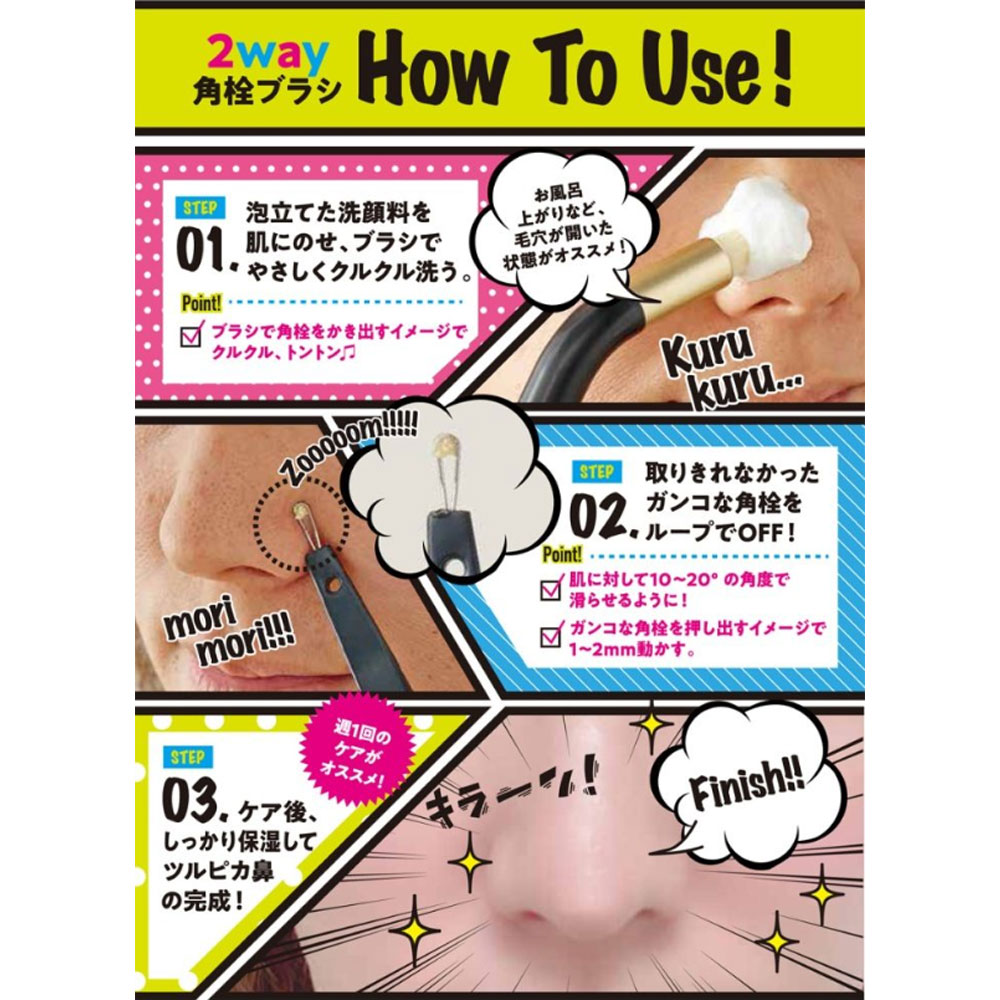 Application: It is most effective before the procedure to clean the skin and steam it with a towel or bath. Then cleanse the skin with a facial cleanser and the bristle side of the brush. Then use the loop to push the plugs out of the pores. After the procedure, moisturize the skin well.
Do not use the brush in the same place, so as not to damage the skin.
Brand Name: COGIT
Country of origin: Japan
There are 4 delivery methods:
- SURFACE MAIL - sea mail (from 2 months).
- AIRMAIL - urgent mail (from 14 days to 2.5 months). Orders over 2 kg are shipped in multiple parcels.

- EMS - courier home delivery (from 7 days).
The shipping cost is calculated automatically by the site.

Delivery times are approximate, and may be increased due to circumstances beyond the control of the store - due to force majeure, the workload of transport companies, customs clearance and other reasons. 36best Kawai does not accept any responsibility for international shipping delays. Thank you for understanding!
Shipping costs
for postage from Japan can be found
here
.

Available delivery methods by country, see the table.
If you do not find your country in the list provided, please contact our consultants, we will try to offer you an alternative delivery method.
Статьи
Japan is famous for its cosmetic products. One has only to look at the Japanese women, as it immediately becomes clear - their self-care is really on top. And one of the secrets to their flawless skin is proper cleansing and make-up removal.
In Japan, a multi-stage facial cleansing system is common. Such care helps not only to eliminate impurities, but also to restore the epidermis, make the face clean, healthy and radiant without overdrying.
Popular with this product