Product description: Demarrer EGF GF Milk Emulsion Moisturizing and rejuvenating milk with 5 types of peptides and ceramides, 350 g
Demarrer EGF GF Milk Emulsion is an excellent moisturizing and rejuvenating milk with 5 types of peptides similar to human cell growth factors and 4 types of ceramides. Designed for Japanese salon care.
EGF is a type of protein that humans naturally have and plays an important role in skin cell renewal. Since the amount of EGF decreases with age, the cell renewal cycle is disrupted and wrinkles and sagging appear.
GF Milk Emulsion provides the skin with deep hydration and a solution to the main manifestations of aging. Awakens the original strength of the skin, restoring its youthfulness, elasticity and radiance.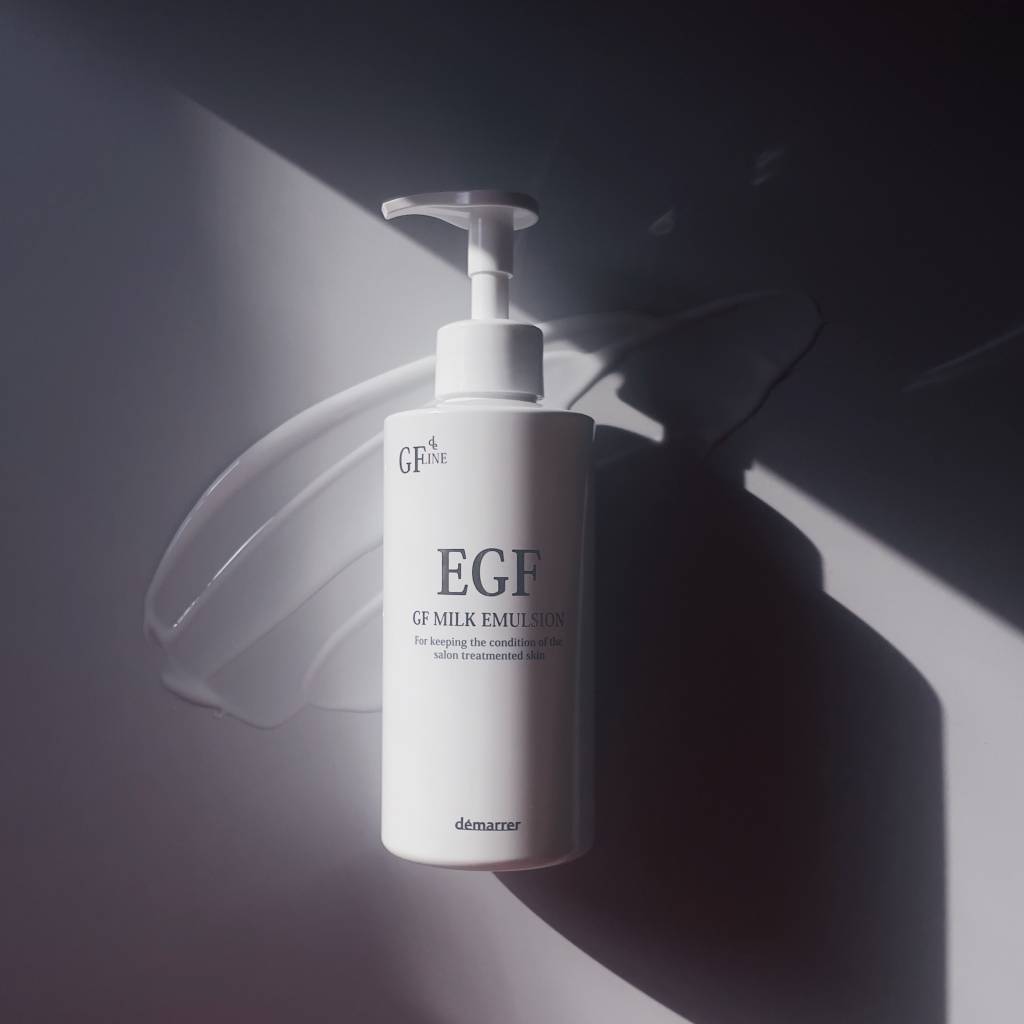 Five peptides similar to growth factors, in high concentration, contribute to the normalization of metabolism and renewal:
-EGF
- FGF
- IGF
- TGF
- HGF
4 types of ceramides moisturize and improve barrier function. They have an antiseptic and anti-inflammatory effect, restore the hydrolipidic film on the surface of the skin, protecting it from dryness and environmental stress.
Carefully selected active ingredients that specialize in rejuvenation smooth, hydrate and energize your skin:
・Water soluble proteoglycan
・Water soluble collagen
・Two types of hyaluronic acid
・Retinol
·Vitamin
Keeps skin hydrated all day long thanks to high quality emollient and nourishing ingredients - natural squalane, macadamia oil, argan oil, horsetail extract, lemon extract.
Free of parabens, mineral oil, alcohol, chemical fragrances, silicones, UV absorbers, dyes.
Application: After cleansing the skin, applying lotion and serum, take the required amount of milk and gently apply to the entire face.
Ingredients: Water, Glycerin, Squalane, BG, Cetyl Ethyl Hexanoate, Pentylene Glycol Polyglyceryl-2-Stearate, Diglycerin, Dilauroyl Glutamate, Glyceryl Stearate, Stearyl Alcohol, Phenoxyethanol, Macadamia Oil, Carbomer, Tocopherol, Xanthan Gum, Glycyrrhizic Acid 2K, K Hydroxide, Pentetate 5 Na, oligopeptide-34, argan oil, acetylated sodium hyaluronate, hydrolyzed hyaluronic acid, oligopeptide-24, oligopeptide-20, acetyldecapeptide-3, dextran, caproyltetrapeptide-3, triglyceryl, sodium ascorbate, sodium lauroyl lactylate, retinol, NP ceramide, horsetail extract, hop extract, red pine extract, lemon extract, rosemary extract, water-soluble proteoglycan, PEG-40 hydrogenated castor oil, AP ceramide, phytosphingosine, cholesterol, water-soluble collagen, EOP ceramide
Volume: 350 g
Manufacturer: Demarrer
Country of origin: Japan
There are 4 delivery methods:
- SURFACE MAIL - sea mail (from 2 months).
- AIRMAIL - urgent mail (from 14 days to 2.5 months). Orders over 2 kg are shipped in multiple parcels.

- EMS - courier home delivery (from 7 days).
The shipping cost is calculated automatically by the site.

Delivery times are approximate, and may be increased due to circumstances beyond the control of the store - due to force majeure, the workload of transport companies, customs clearance and other reasons. 36best Kawai does not accept any responsibility for international shipping delays. Thank you for understanding!
Shipping costs
for postage from Japan can be found
here
.

Available delivery methods by country, see the table.
If you do not find your country in the list provided, please contact our consultants, we will try to offer you an alternative delivery method.
Статьи
Asian cosmetics have long conquered the world. The Japanese and Korean cosmetics markets are the fastest growing and most advanced.
After 30 years, we begin to notice age-related changes. Flabbiness, dullness, wrinkles, skin pigmentation appear. How to solve these problems? How to restore the supply of building material for the skin? Can peptide cosmetics cope with these tasks? Let's try to figure it out.