Product description: Demarrer TNA Medicated Whitening Essence 60 ml
Demarrer TNA Whitening Essence is an amazing whitening serum based on three therapeutic ingredients: tranexamic acid, alpinia extract and ginseng extract. In addition, it provides comprehensive anti-aging and moisturizing care thanks to a luxurious botanical complex, hyaluronic acid, collagen and vitamins.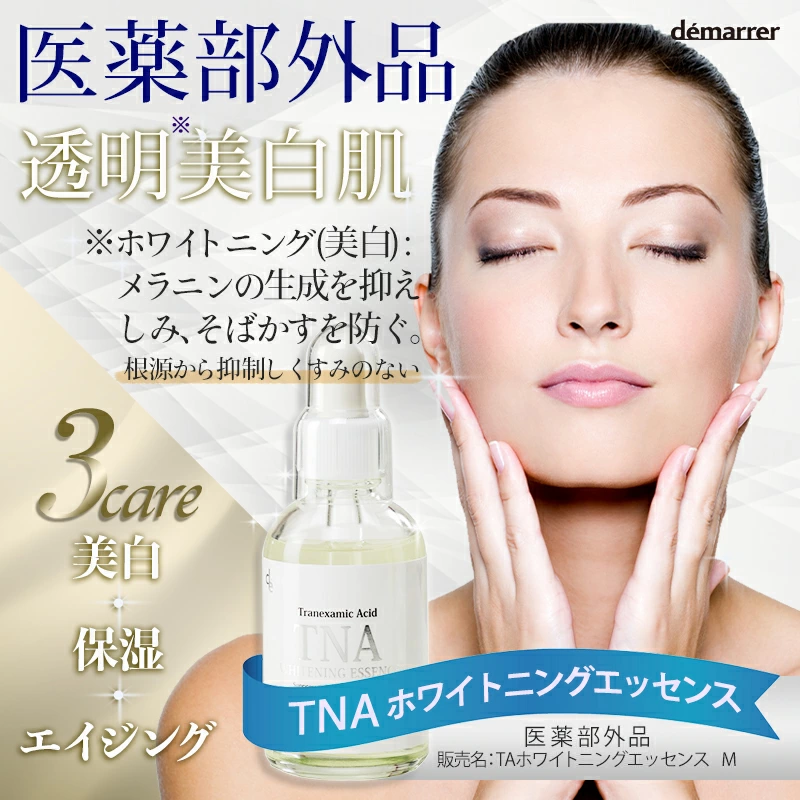 The line is based on tranexamic acid. She actively fights pigmentation and freckles in the early stages. The mechanism of action is to block the production of melanin in cells, prevent its local accumulation and dissolve the melanin already present. This results in safe, gentle skin lightening. It also helps to lighten post-acne, fights rosacea, rosacea and eczema, normalizing the skin barrier.
The lotion also contains nanoscale oil-soluble ginseng hydrolyzate, which has a strong whitening effect and penetrates into the stratum corneum of the dermis. The skin becomes bright, with a transparent smooth texture.
Alpinia seed extract has the ability to stop the production of melanin, which is the cause of darkening and pigmentation. It is a plant-based whitening ingredient that is safe even for people with sensitive skin.
As for hydration, 3 types of hyaluronic acid moisturize the entire stratum corneum, making it supple and healthy. Low molecular weight hyaluronic acid (hydrolyzed hyaluronic acid), which is approximately 1/100 of normal hyaluronic acid, penetrates the stratum corneum, and acetylated sodium hyaluronate prevents moisture loss.
The anti-aging effect is achieved due to plant extracts and collagen, which strengthen the protective barrier of the skin, making it supple and toned.
Vitamins E and C have a powerful antioxidant effect, preventing oxidation processes on the skin.
Licorice leaf extract increases the skin's ability to produce ceramides, improving its firmness and barrier function, and has an anti-inflammatory effect.
Actinidia fruit extract is a component known for its effectiveness in creating a transparent "glassy" skin. Creates glossy, hydrated, healthy-looking skin.
Carambola leaf extract helps to activate fibroblasts in the skin that produce collagen, restoring firmness and elasticity, as well as reducing wrinkles and sagging.
Free of parabens, mineral oils, dyes, chemical fragrances, silicones, UV absorbers.
How to use: After washing your face and using Demarrer TNA Whitening Lotion, take the required amount of serum and gently massage the entire face or spot on problem areas.
Ingredients: tranexamic acid, 2K glycyrrhizic acid, hydroxyethylcellulose, xanthan gum, BG, concentrated glycerin, carboxyvinyl polymer, arginine, hydrogenated castor oil, 1,2-pentanediol, hydrogenated soy phospholipid, natural vitamin E, stearoyl, phytosphingosine, dilauroylglutamic acid, solution sodium lysine, acetylated sodium hyaluronate, hydrolyzed hyaluronic acid, hyaluronic acid Na-2, ectoine, oil-soluble ginseng extract, water-soluble collagen-4 solution, hydrolyzed collagen powder, artichoke extract, acetyltyrosine, peony extract, pueraria extract, enzymatic prune extract, fruit extract sugar beet, 3-O-ethylascorbic acid, actinidia fruit extract, psyllium seed extract, gynostemma pentaphyllum extract, carambola leaf extract, fermented pear juice, licorice leaf extract, ginseng extract hydrolyzate, alpinia seed extract, chamomile extract f enoxyethanol
Volume: 60 ml
Manufacturer: Demarrer
Line: TNA
Country of origin: Japan
There are 4 delivery methods:
- SURFACE MAIL - sea mail (from 2 months).
- AIRMAIL - urgent mail (from 14 days to 2.5 months). Orders over 2 kg are shipped in multiple parcels.

- EMS - courier home delivery (from 7 days).
The shipping cost is calculated automatically by the site.

Delivery times are approximate, and may be increased due to circumstances beyond the control of the store - due to force majeure, the workload of transport companies, customs clearance and other reasons. 36best Kawai does not accept any responsibility for international shipping delays. Thank you for understanding!
Shipping costs
for postage from Japan can be found
here
.

Available delivery methods by country, see the table.
If you do not find your country in the list provided, please contact our consultants, we will try to offer you an alternative delivery method.