Product Description: EXOSOME SCIENCE New Stem Cell Eye Sheet Circular Anti-Aging Stem Cell & Retinol Patches, 60 Sheets
EXOSOME SCIENCE New Stem Cell Eye Sheet - circular patches that treat the skin of the upper and lower eyelids at the same time, creating a luxuriously hydrated skin around the eyes. An effective combination of the most modern impregnation components provides a powerful anti-aging effect, smoothing wrinkles, eliminating swelling and sagging.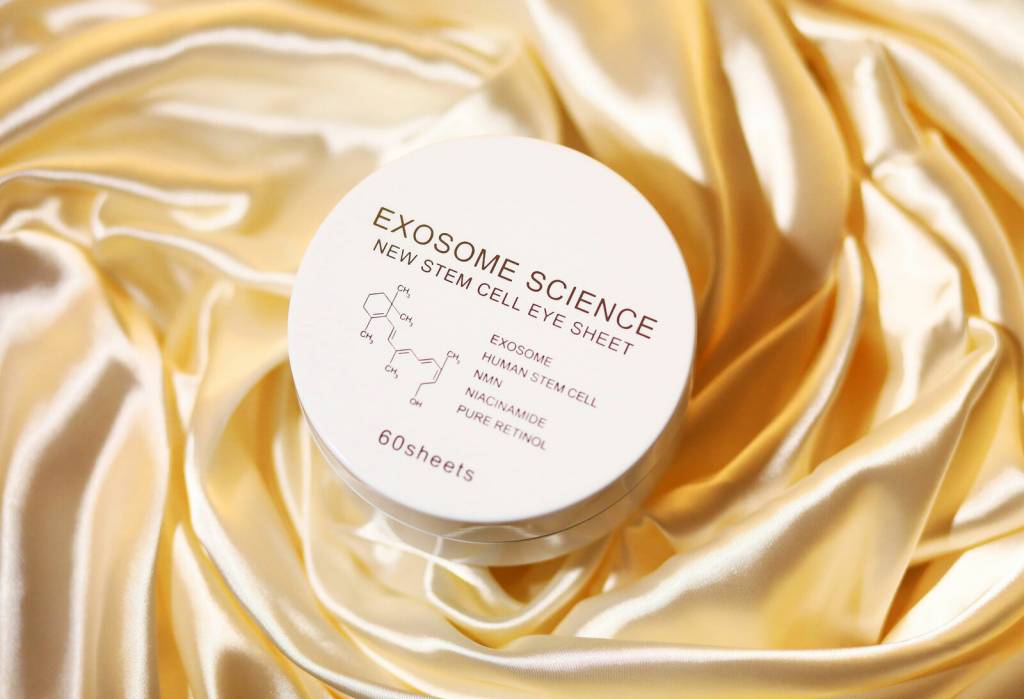 Active ingredients:
- Exosomes derived from stem cells eliminate all the main problems of aging skin, promoting cell regeneration and renewal. The skin is tightened, tightened and smoothed.
- Highly concentrated stem cell solution rich in growth factors to help reduce wrinkles, whiten and reduce sagging.
- NMN - an ingredient that prevents cell aging. NMN is short for "β-Nicotinamide Mononucleotide". This new component in cosmetology, which activates sirtuins, thereby contributing to high-quality rejuvenation.
- Niacinamide - prevents the appearance of wrinkles, inhibits the production of melanin and prevents the appearance of pigmentation.
- Retinol - a component that improves the quality of the skin, not only smoothing wrinkles, but also tightening its texture.
- Highly permeable lamellar liposomes - have a structure similar to a cell membrane, with a high affinity for the skin. Liposomes deliver active ingredients deep into the skin for maximum effect.
- Brightonil is a polyphenol found in plants. It makes the skin elastic, transparent, soft and smooth.
Long-acting, highly penetrating vitamin C - This form of vitamin C has an antioxidant effect that brightens and improves skin texture.
Application:
Using tweezers, take out one sheet at a time and apply it to clean skin around the eyes. Leave on for 5-10 minutes, then remove the patch and spread the essence remaining on the skin around the eyes and mouth, let it absorb.
Ingredients: Water, glycerin, propanediol, BG, fat cell exosomes, stem cell extract, nicotinamide mononucleotide, niacinamide, retinol, hydrolysed hyaluronic acid, retinol palmitate, hydrogenated lecithin, diglucosylgallic acid from algae, 3-O-ethylascorbic acid, olive oil. fruit oil, glycosyltrehalose, allantoin, PCA-Na, arginine, hydrolyzed hydrogenated starch, glyceryl, caprylyl glycol, tocopherol, peanut oil, PEG-60 hydrogenated castor oil, PEG-40 hydrogenated castor oil, tropolone, xanthan gum, citric acid, sodium citrate , EDTA-2Na, polysorbate 60, DPG, PPG-26, bude-26, 1,2-hexanediol, hydroxyacetophenone, phenoxyethanol, methylparaben.
Volume: 60 patches
Manufacturer: KOR JAPAN
Country of origin: Japan
There are 4 delivery methods:
- SURFACE MAIL - sea mail (from 2 months).
- AIRMAIL - urgent mail (from 14 days to 2.5 months). Orders over 2 kg are shipped in multiple parcels.

- EMS - courier home delivery (from 7 days).
The shipping cost is calculated automatically by the site.

Delivery times are approximate, and may be increased due to circumstances beyond the control of the store - due to force majeure, the workload of transport companies, customs clearance and other reasons. 36best Kawai does not accept any responsibility for international shipping delays. Thank you for understanding!
Shipping costs
for postage from Japan can be found
here
.

Available delivery methods by country, see the table.
If you do not find your country in the list provided, please contact our consultants, we will try to offer you an alternative delivery method.