Product Description: MEISHOKU Detclear Bright & Peel Essence Cleansing Gel 180g
MEISHOKU Detclear Bright & Peel Essence Cleansing Gel is a black color gel that can help clear pores, eliminate blackheads and inflammation, and remove make-up by dual adsorption of charcoal and clay.
Charcoal and clay dissolve and absorb keratin plugs and impurities from the pores and completely remove them. These cleansing components have a high affinity for sebum and have a splitting effect.
99.9% of the gel composition are care components. A botanical complex of over 20 plant extracts!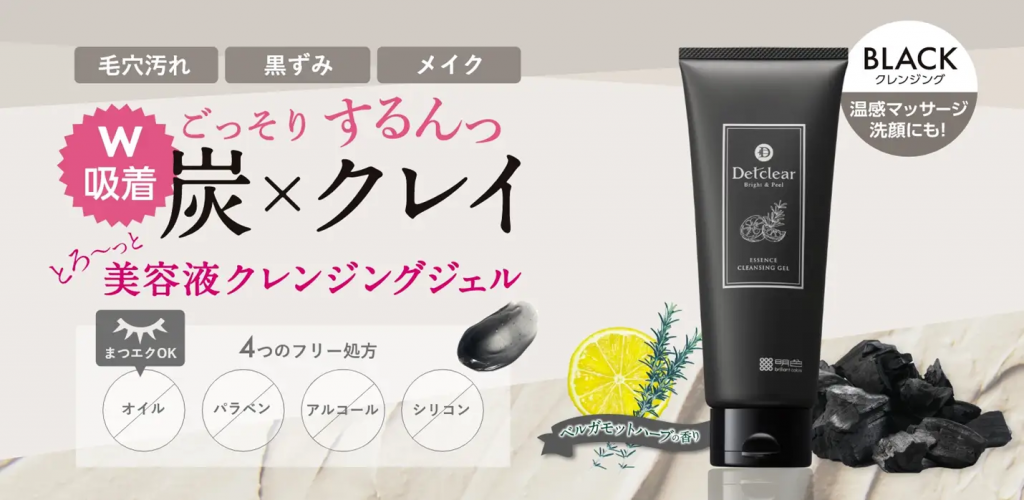 Gentle skin care with natural fruits and plants. They have an antibacterial, soothing, anti-inflammatory effect on the skin. Fruit AHA and vegetable BHA acids gently remove dead skin cells, making the skin smooth and bright.
Papain, a papaya plant enzyme, has a mild exfoliating effect, giving the skin radiance.
Black willow bark extract softens, prevents roughness, and gives velvety to the skin.
Free of oils (excluding aromatics), parabens, alcohol and silicone.
Aroma of bergamot.
Application: Apply the gel with dry hands on dry skin. Take an appropriate amount and apply all over the face, then massage in circular motions to blend into makeup. Then rinse thoroughly with water.
Ingredients: Glycerin, PEG-20 Glyceryl Isostearate, PEG-20 Glyceryl Triisostearate, DPG, Water, PEG-7 Coconut Oil Glyceryl Fatty Acid, Laureth-9, Charcoal, Moroccan Lava Clay, Sea Mud, Papain, Centella Asiatica Leaf Extract, Hayutunnia Extract , Rose Hip Extract, Yuzu Fruit Extract, Loquat Leaf Extract, Malic Acid, Tartaric Acid, Black Willow Bark Extract, Rosemary Leaf Extract, Witch Hazel Leaf Extract, Grapefruit Fruit Extract, Artichoke Leaf Extract, Orange Oil, Bergamot Fruit Oil, Lemon Peel Oil , Lavender Oil, Pelargonium Oil, Rosemary Leaf Oil, Lime Oil, Eucalyptus Leaf Oil, Canary Tree Resin Oil, Marjoram Leaf Oil, Peppermint Oil, Fennel Oil, Laureth-3, (Acrylates/Alkyl Acrylate (C10-30)) Crosspolymer, Carbomer , sodium hydroxide, silicon dioxide, BG, iron oxide.
Suitable for: Oily, combination and problematic skin.
Volume: 180 g
Manufacturer: MEISHOKU
Line: Detclear
Country of origin: Japan
There are 4 delivery methods:
- SURFACE MAIL - sea mail (from 2 months).
- AIRMAIL - urgent mail (from 14 days to 2.5 months). Orders over 2 kg are shipped in multiple parcels.

- EMS - courier home delivery (from 7 days).
The shipping cost is calculated automatically by the site.

Delivery times are approximate, and may be increased due to circumstances beyond the control of the store - due to force majeure, the workload of transport companies, customs clearance and other reasons. 36best Kawai does not accept any responsibility for international shipping delays. Thank you for understanding!
Shipping costs
for postage from Japan can be found
here
.

Available delivery methods by country, see the table.
If you do not find your country in the list provided, please contact our consultants, we will try to offer you an alternative delivery method.
Статьи
Japan is famous for its cosmetic products. One has only to look at the Japanese women, as it immediately becomes clear - their self-care is really on top. And one of the secrets to their flawless skin is proper cleansing and make-up removal.
In Japan, a multi-stage facial cleansing system is common. Such care helps not only to eliminate impurities, but also to restore the epidermis, make the face clean, healthy and radiant without overdrying.