Product description: MEMOTO OMOI EYES All-in-One Essence RETINOL&VITAMIN Serum with retinol and vitamins for firming the skin around the eyes
MEMOTO OMOI EYES All-in-One Essence RETINOL&VITAMIN is a serum-cream for the skin around the eyes, which with the help of pure retinol and vitamins gives firmness and elasticity.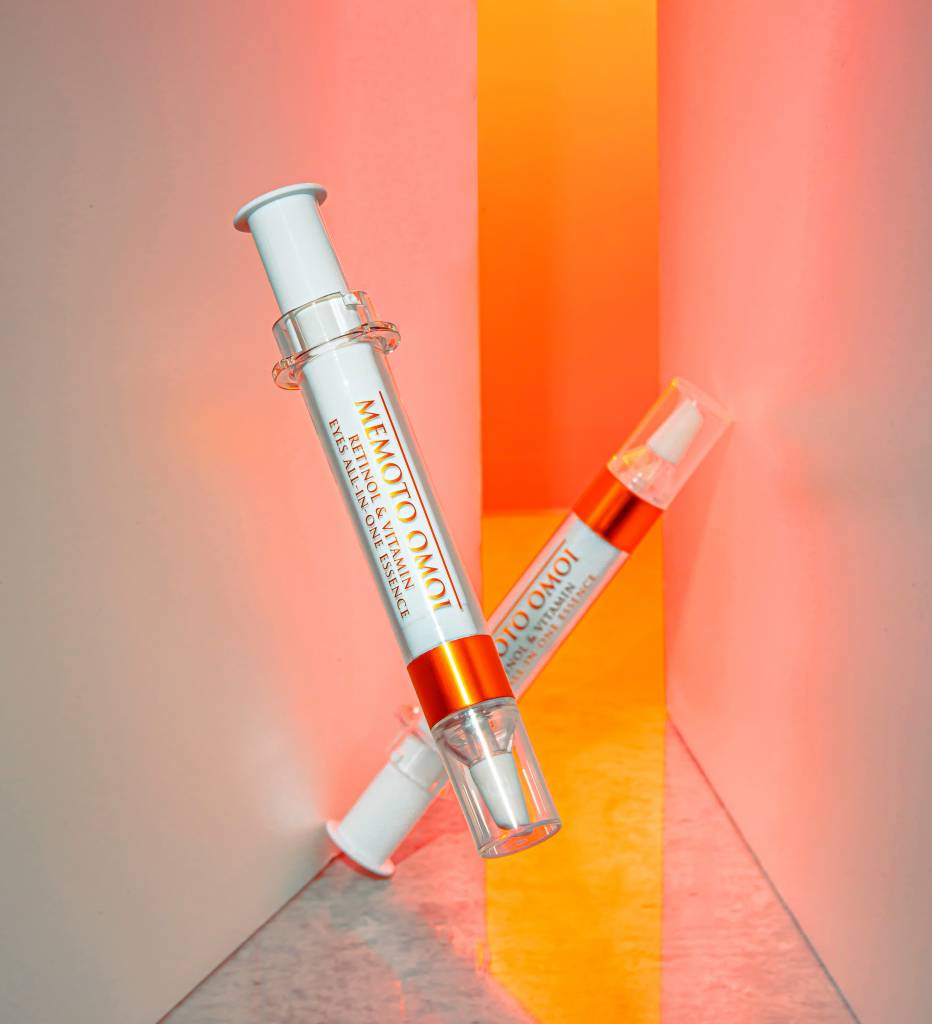 Essence "all in one" works with all signs of aging in especially vulnerable places - the skin around the eyes, mouth, longitudinal wrinkles between the eyebrows.
The vacuum-packed syringe type effectively retains the active ingredients, ensuring the freshness of each drop, allowing you to use the essence pointwise.
5 Powerful Ingredients:
- Pure Retinol:
- Lightens pigmentation caused by sun damage, evens out skin tone
- Restoration of elasticity, smoothing of fine lines and wrinkles, elimination of sagging skin by stimulating collagen production.
- Improving skin condition, removing inflammation and reducing the likelihood of rashes in the future.
- Vitamin C:
- Prevents spots (prevents melanin synthesis)
- Accelerates the metabolism of skin cells
- Antioxidant
- Lightens existing dark spots
- Nano-multivitamins (vitamins A and E) in the form of nanomolecules:
- Enhance metabolism and breakdown of keratin, help maintain skin softness and elasticity, slow down skin aging.
- Remove inflammation, eliminate wrinkles.
- Collagen:
- Helps skin retain moisture and keep it hydrated.
- Strengthening the reticular fibers of the dermis to maintain skin elasticity
- Tightens the skin, tightens pores and makes the skin supple and smooth.
- Astaxanthin:
- Prevents collagen loss and has an anti-wrinkle effect.
- Reduces damage to collagen by harmful substances and ensures normal metabolism
Application: After cleansing the skin, apply serum to problem areas. For application to the skin around the eyes and lips, 1 press on the dispenser is enough. Can be used for morning and evening care.
Volume: 11 g
Manufacturer: KOR JAPAN
Country of origin: Japan
There are 4 delivery methods:
- SURFACE MAIL - sea mail (from 2 months).
- AIRMAIL - urgent mail (from 14 days to 2.5 months). Orders over 2 kg are shipped in multiple parcels.

- EMS - courier home delivery (from 7 days).
The shipping cost is calculated automatically by the site.

Delivery times are approximate, and may be increased due to circumstances beyond the control of the store - due to force majeure, the workload of transport companies, customs clearance and other reasons. 36best Kawai does not accept any responsibility for international shipping delays. Thank you for understanding!
Shipping costs
for postage from Japan can be found
here
.

Available delivery methods by country, see the table.
If you do not find your country in the list provided, please contact our consultants, we will try to offer you an alternative delivery method.
Popular with this product