Product description: MONNALI ISBEST No.48 Highly concentrated retinol anti-aging concentrate, 10 g
MONNALI ISBEST No.48 is a concentrate of pure retinol and TR50 proprietary ingredient (Baicalin). Renewal and transformation of the skin is noticeable after 48 hours!
This is an immediate effect cream that promises endless skin cell life. It speeds up metabolism, regenerates cells and returns your skin to perfect smoothness and firmness.
Using the ionization system and DDS delivery technique, it penetrates deep into the dermis and promotes renewal.
This is an epoch-making cream that leads to flawless skin at maximum speed!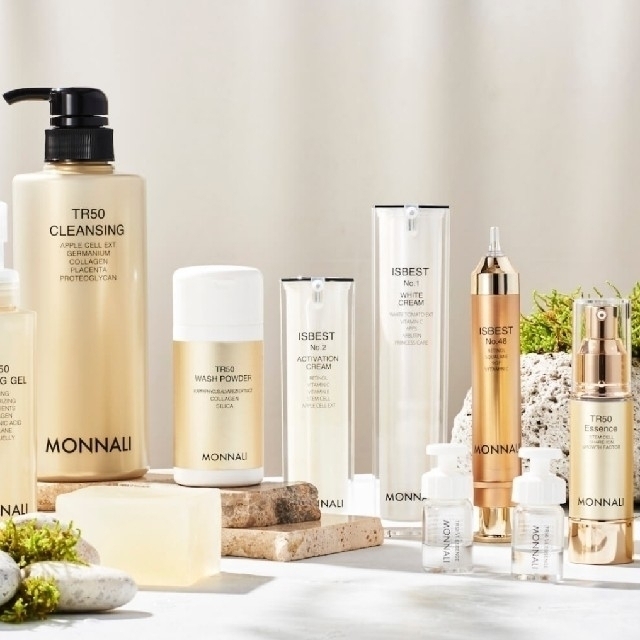 Active ingredients:
- 9 types of growth factors and 4 types of stem cells regenerate human skin cells, restoring their strength and ability to renew, relieve inflammation and rejuvenate, eliminating wrinkles and restoring smoothness and elasticity.
- Retinol promotes the renewal of skin cells, smoothes wrinkles and creases (including deep ones), evens out complexion and relief; eliminates pigmentation; restores the barrier function of the skin, stimulates the production of collagen and elastin, moisturizes and retains moisture; improves skin elasticity and blood circulation, fights acne and post-acne
- extract of the algae Kappaphycus alvarezii, rich in milk sugar polysaccharide called galactan. It can stimulate the expression of telosomal proteins, thereby limiting telomere shortening. Limiting telomere shortening can maintain the longevity of skin cells and slow down the skin aging process.
- Squalane nourishes and softens the skin
- Vitamin C - prevents the appearance of pigmentation (blocks the synthesis of melanin), accelerates the metabolism of skin cells, has a powerful antioxidant effect.
Application Features:
Use with ISBEST No. 1 or other skin care cream NO MORE THAN ONLY once or twice a week. Do not use ISBEST No. 48 constantly.
Mix 2 drops of ISBEST No. 1 pearl size with a half pearl size drop of ISBEST No.48 Cream and apply to the face during evening care.
Ingredients: Water, propanediol, pentylene glycol, retinol, polysorbate 20, BHA, BHT, sodium phosphate, lecithin, oligopeptide-11, polypeptide-11, polypeptide-10, polypeptide-9, oligopeptide-2, polypeptide-60, human polypeptide-31 , polypeptide-19, polypeptide-2, adipocyte conditioned medium, lactobacilli fermented fibroblast medium, adipocyte conditioned medium, stem cell conditioned medium, BG, ethanol, lysolecithin, sodium ascorbyl phosphate, EDTA-2Na, squalane, copolymer, polysorbate 60, Kappaphycus extract alvarezii, sodium ascorbyl phosphate, zirconium oxide, humus extract
Volume: 10 g
Manufacturer: MONNALI
Country of origin: Japan
There are 4 delivery methods:
- SURFACE MAIL - sea mail (from 2 months).
- AIRMAIL - urgent mail (from 14 days to 2.5 months). Orders over 2 kg are shipped in multiple parcels.

- EMS - courier home delivery (from 7 days).
The shipping cost is calculated automatically by the site.

Delivery times are approximate, and may be increased due to circumstances beyond the control of the store - due to force majeure, the workload of transport companies, customs clearance and other reasons. 36best Kawai does not accept any responsibility for international shipping delays. Thank you for understanding!
Shipping costs
for postage from Japan can be found
here
.

Available delivery methods by country, see the table.
If you do not find your country in the list provided, please contact our consultants, we will try to offer you an alternative delivery method.
Статьи
Asian cosmetics have long conquered the world. The Japanese and Korean cosmetics markets are the fastest growing and most advanced.
Popular with this product