Product description: MONNALI TR50 Soap Gentle soap for washing mature skin, 120 g
MONNALI TR50 Soap is a soap for washing mature skin with luxurious ingredients that not only cleanse the skin, but also maintain its health, elasticity and hydration.
Forms a lush foam that breaks down sebaceous secretions, keratin and impurities with many bubbles. It can be used not only for the face, but also for the whole body.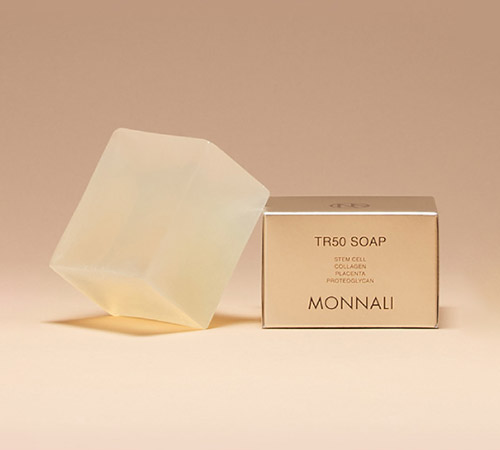 Active ingredients:
- Kappaphycus alvarezii algae extract rich in milk sugar polysaccharide called galactan. It can stimulate the expression of telosomal proteins, thereby limiting telomere shortening. Limiting telomere shortening can maintain the longevity of skin cells and slow down the skin aging process.
- Apple and Rhododendron Stem Cells - fundamentally improve the skin by activating skin stem cells and protecting cells from environmental and other factors.
- proteoglycan - has a structure similar to the human cell membrane. Responsible for metabolism and the formation of new cells, like collagen, it maintains the elasticity and firmness of the skin, retains moisture, which helps to maintain tissue moisture.
- placenta extract improves blood circulation and also promotes hair growth.
Application: Use the mesh to create foam, then wash your face with whipped foam, as if wrapping it. Rinse off the soap carefully with water.
Ingredients: Soap base, water, sucrose, glycerin, sorbitol, Kappaphycus alvarezii algae extract, rhododendron stem cell extract, apple stem cell extract, isomalt, proteoglycan, placenta extract, lecithin, lactic acid, xanthan gum, sea water, etidronic acid 4Na, hydrolyzed collagen, BG
Volume: 120 g
Manufacturer: MONNALI
Country of origin: Japan
There are 4 delivery methods:
- SURFACE MAIL - sea mail (from 2 months).
- AIRMAIL - urgent mail (from 14 days to 2.5 months). Orders over 2 kg are shipped in multiple parcels.

- EMS - courier home delivery (from 7 days).
The shipping cost is calculated automatically by the site.

Delivery times are approximate, and may be increased due to circumstances beyond the control of the store - due to force majeure, the workload of transport companies, customs clearance and other reasons. 36best Kawai does not accept any responsibility for international shipping delays. Thank you for understanding!
Shipping costs
for postage from Japan can be found
here
.

Available delivery methods by country, see the table.
If you do not find your country in the list provided, please contact our consultants, we will try to offer you an alternative delivery method.
Статьи
Japan is famous for its cosmetic products. One has only to look at the Japanese women, as it immediately becomes clear - their self-care is really on top. And one of the secrets to their flawless skin is proper cleansing and make-up removal.
In Japan, a multi-stage facial cleansing system is common. Such care helps not only to eliminate impurities, but also to restore the epidermis, make the face clean, healthy and radiant without overdrying.
Popular with this product