Product description: MONNALI TR50 UV Cream Sunscreen and anti-aging cream SPF25 PA++, 50 g
MONNALI TR50 UV Cream is an amazing day cream for mature skin with sun protection. High quality and highly concentrated ingredients that have been carefully selected over the 55-year history of this luxury Japanese brand, the ingredients form the basis of this cream.
Excellent elasticity creates the perfect texture for makeup application.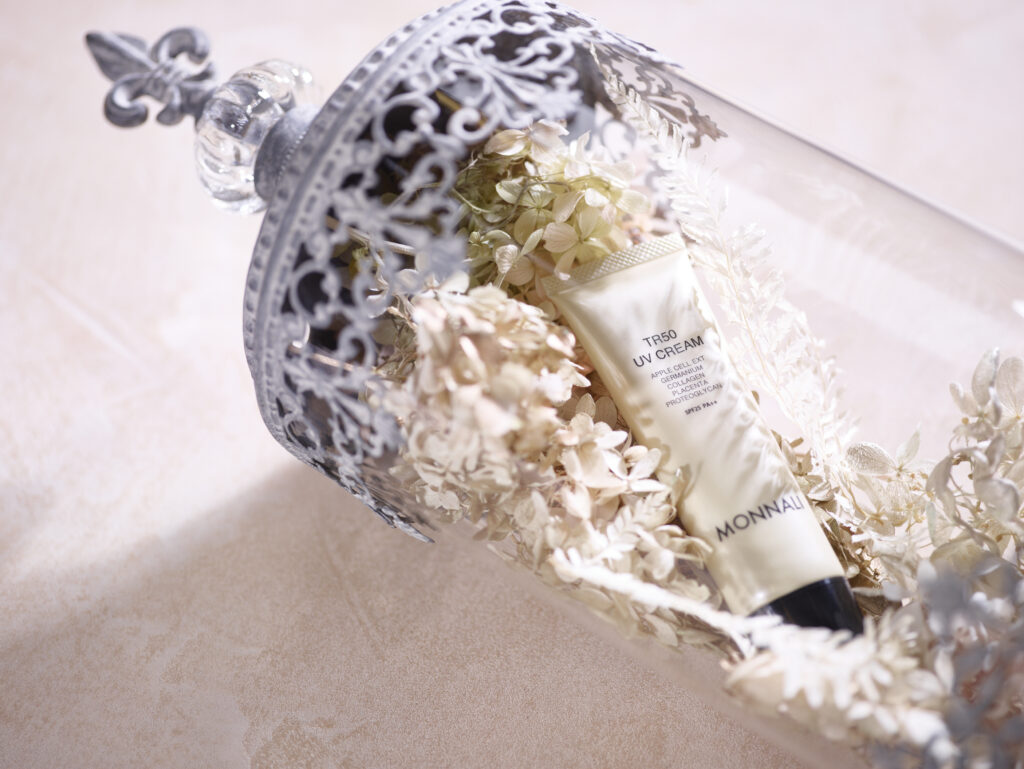 Active ingredients:
- Apple fruit cell extract maintains skin density and moisture, which decrease with age
- proteoglycan promotes the growth of skin cells and the production of hyaluronic acid and type I collagen. It also has a high water-holding capacity, giving firmness and elasticity to the skin.
- placenta - promotes the metabolic functions of cells and tissues, has a whitening and rejuvenating effect
- collagen - has an excellent moisturizing effect and creates a protective film on the surface of the skin, retaining moisture in the cells.
- Germanium detoxifies active oxygen and regulates the microflora of the skin, restoring its natural strength. In addition, by stimulating blood circulation and speeding up the metabolism, it improves elasticity and tightens the skin.
- extract of the algae Kappaphycus alvarezii, rich in milk sugar polysaccharide called galactan. It can stimulate the expression of telosomal proteins, thereby limiting telomere shortening. Limiting telomere shortening can maintain the longevity of skin cells and slow down the skin aging process.
Application: After cleansing and moisturizing the skin in the morning, gently apply the cream all over the face.
Ingredients: Water, cyclopentasiloxane, BG, neopentyl glycol diethylhexanoate, PEG-10 dimethicone, dimethicone, sorbitol, pentylene glycol, apple stem cell extract, Kappaphycus alvarezii extract, water-soluble proteoglycan, placenta extract, ethylhexylglycerin, oligopeptide-34, hydrolyzed collagen, PEG-9 Dimethicone, Phytosteryl Isostearate, Germanium, Squalane, Magnesium Sulfate, Stearic Acid, Copolymer (Dimethicone/Methicone), Sea Water, Methicone, Disteardimonium Hectorite, Xanthan Gum, Sorbitan Sesquiisostearate, Lecithin, Glycerin, Sodium Citrate, Tocopherol, Phenoxyethanol, Zinc Oxide, titanium oxide, talc, AI hydroxide, mica, iron oxide
Volume: 50 g
Manufacturer: MONNALI
Country of origin: Japan
There are 4 delivery methods:
- SURFACE MAIL - sea mail (from 2 months).
- AIRMAIL - urgent mail (from 14 days to 2.5 months). Orders over 2 kg are shipped in multiple parcels.

- EMS - courier home delivery (from 7 days).
The shipping cost is calculated automatically by the site.

Delivery times are approximate, and may be increased due to circumstances beyond the control of the store - due to force majeure, the workload of transport companies, customs clearance and other reasons. 36best Kawai does not accept any responsibility for international shipping delays. Thank you for understanding!
Shipping costs
for postage from Japan can be found
here
.

Available delivery methods by country, see the table.
If you do not find your country in the list provided, please contact our consultants, we will try to offer you an alternative delivery method.
Popular with this product