Product description: PureBio Clay Wash & Pack Treatment 120 g
PureBio is a new Japanese brand of advanced cosmetics that combines organic ingredients and biotechnology. The compositions are clean and clear, and the textures of the products are just perfect!
Cleansing is the basis of skin care and choosing the right product is very important, especially in the autumn-winter period.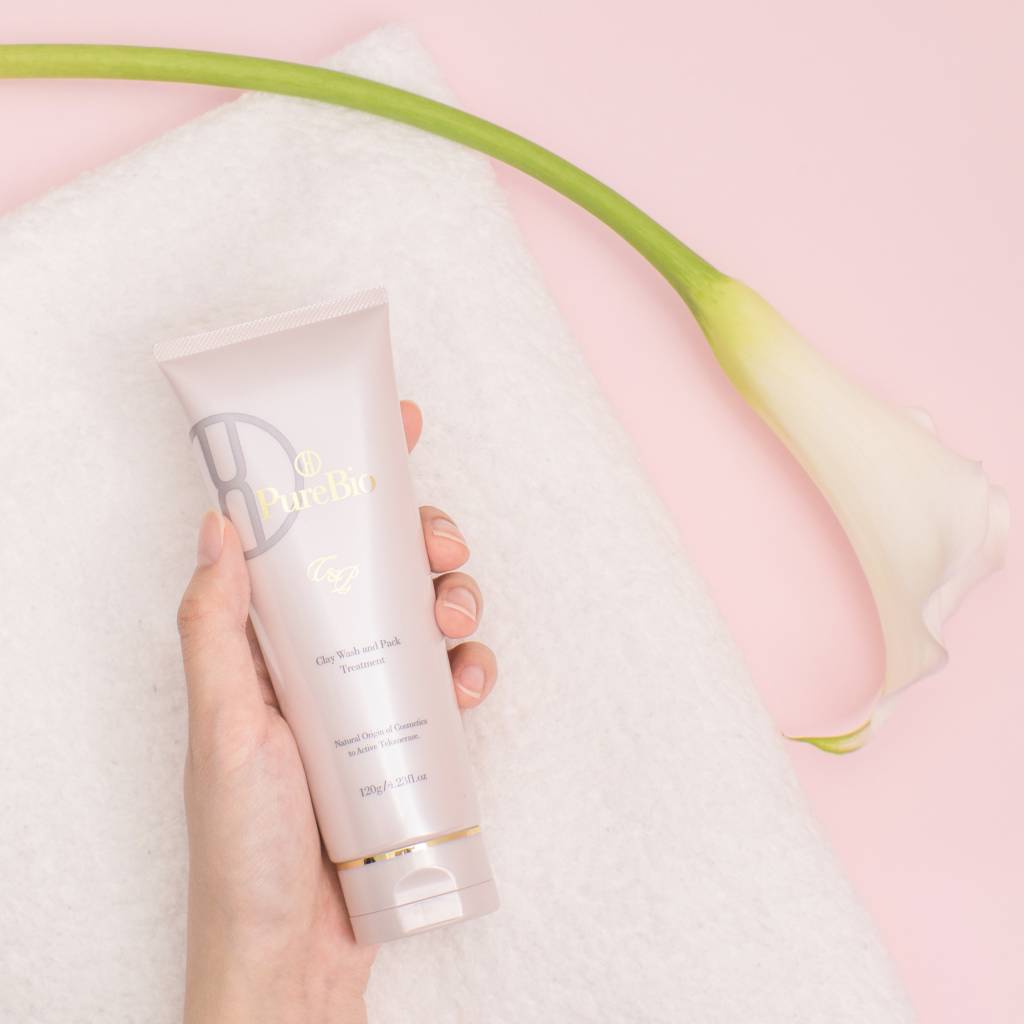 PureBio Clay Wash & Pack Treatment is a combination of enzymes, natural clay and the finest beauty ingredients that cleanse and lock in moisture for a veil of moisture.
PureBio Clay Wash & Pack Treatment transforms facial cleansing into a comprehensive anti-aging treatment that includes cleansing, masking, pore care, and combating dullness and impurities!
Peculiarities:
- with the help of a protease enzyme, the foam removes old keratin containing melanin, making the skin transparent and radiant
- slightly polishes the skin thanks to clay, adsorbs sebum and impurities, significantly improving the penetration of further care products
- deeply cleanses pores, preventing acne and inflammation
- improves the metabolism in the skin, making it lively and bright
- a unique component of the brand - a concentrated extract of the Baikal skullcap, called TBK -387. This is a component that affects telomeres, the reduction of which triggers the aging process of cells. Telomeres are the ends of chromosomes. The fact is that during each cell division, the original chromosome is shortened. This shortening occurs precisely due to telomeres. This is how the phenomenon of aging begins to manifest itself. TBK-387 acts on telomeres, thus controlling and slowing down cell aging!
- placenta extract and arbutin whiten the skin, even out the tone and instantly improve the complexion
- a complex of ceramides, collagen, hyaluronic acid effectively moisturize the skin, making it soft and smooth.
Application: Squeeze approximately 2-3 cm of foam into the palm of your hand and spread it over the entire face. Leave on for 30 seconds to 1 minute, then rinse with water, lathering with massaging movements.
Ingredients: Water, glycerin, stearic acid, myristic acid, potassium hydroxide, DEA lauramide, PEG-150 stearate, sodium cocoylmethyltaurine, cocamidopropyl betaine, bachanite, lipase, protease, placenta extract, skullcap root extract, Damascus rose flower oil, 3-0 - Ethyl Ascorbic Acid, Magnesium Ascorbyl Phosphate, Ceramide AP, Ceramide NP, Arbutin, Water Soluble Collagen, Hydrolyzed Collagen, Acetylated Sodium Hyaluronate, Sodium Hyaluronate, Water Soluble Proteoglycan, Argan Oil, Yeast Extract, Spitilizin, Phosphoric Acid, Sodium Phosphate, Maltodextrin, BG, Sorbet Tetraoleate -60, pentylene glycol, ethylhexylglycerin, 1,2-hexanediol
Volume: 120 g
Manufacturer: PureBio
Country of origin: Japan
There are 4 delivery methods:
- SURFACE MAIL - sea mail (from 2 months).
- AIRMAIL - urgent mail (from 14 days to 2.5 months). Orders over 2 kg are shipped in multiple parcels.

- EMS - courier home delivery (from 7 days).
The shipping cost is calculated automatically by the site.

Delivery times are approximate, and may be increased due to circumstances beyond the control of the store - due to force majeure, the workload of transport companies, customs clearance and other reasons. 36best Kawai does not accept any responsibility for international shipping delays. Thank you for understanding!
Shipping costs
for postage from Japan can be found
here
.

Available delivery methods by country, see the table.
If you do not find your country in the list provided, please contact our consultants, we will try to offer you an alternative delivery method.
Статьи
Japan is famous for its cosmetic products. One has only to look at the Japanese women, as it immediately becomes clear - their self-care is really on top. And one of the secrets to their flawless skin is proper cleansing and make-up removal.
In Japan, a multi-stage facial cleansing system is common. Such care helps not only to eliminate impurities, but also to restore the epidermis, make the face clean, healthy and radiant without overdrying.