Product description: PureBio Sparkling Lotion White Whitening treatment lotion with nanobubbles, 120 ml
PureBio Sparkling Lotion White is a highly penetrating nano-bubble therapeutic lotion infused with a highly effective whitening form of vitamin C and anti-inflammatory, softening and hydrating ingredients.
The bottle contains two special balls that generate nanobubbles activated by simply shaking the lotion. Nano-bubbles, which are smaller than a hair, deliver cosmetic active ingredients deep into the skin, multiplying the effectiveness of the lotion.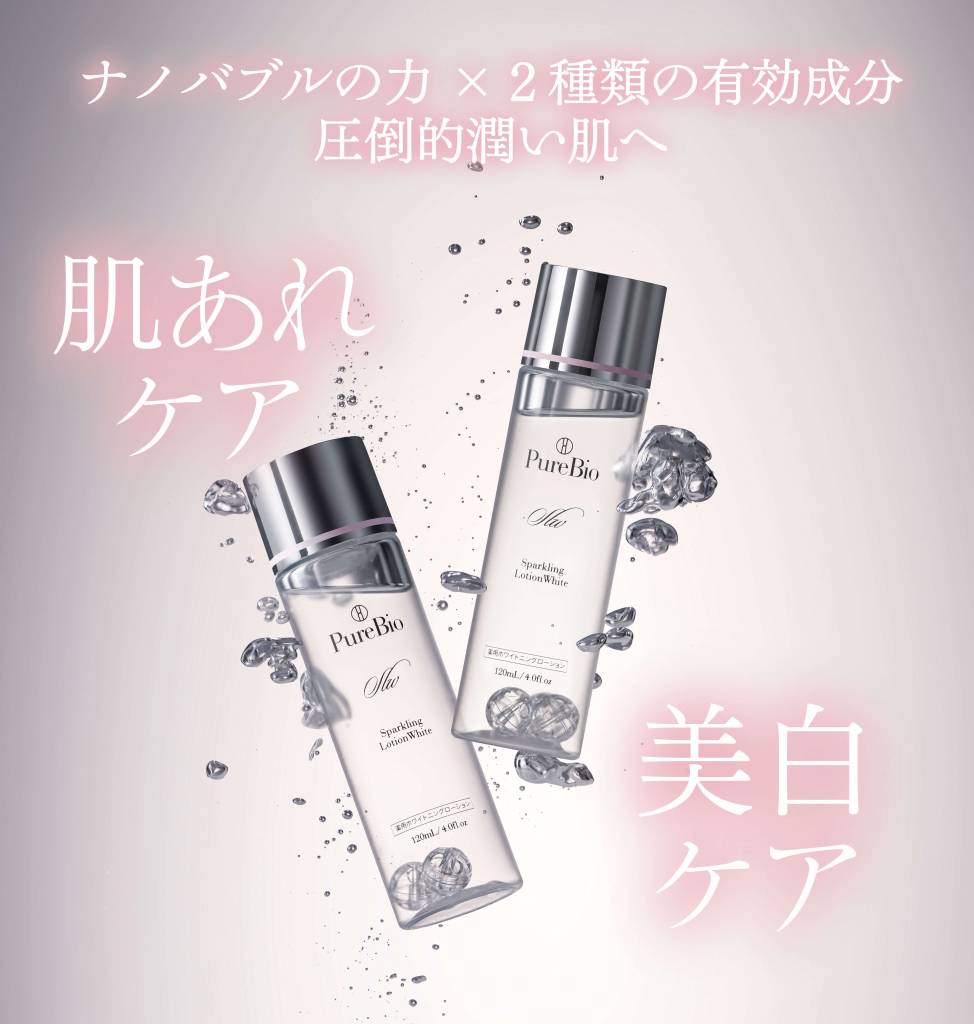 When applied to the skin, the lotion is smoothly distributed and absorbed, leaving the skin moisturized.
The tool is called therapeutic, because it contains two medicinal components in high concentration.
Active ingredients:
- L-ascorbic acid 2-glucoside - this ingredient inhibits the production of melanin and prevents the appearance of pigmentation, and also brightens existing darkening. It also repairs cell damage caused by ultraviolet rays and promotes collagen production, giving skin firmness.
- Dipotassium glycyrrhizinate is an anti-inflammatory agent that prevents skin roughness, irritation and redness.
- PCA-Na - a natural moisturizing component that retains water in the cells, slows down aging, gives the skin elasticity, shine and hydration, and smoothes its texture.
- fermented pear fruit liquid - a component obtained by fermenting pear juice with lactic acid bacteria. It softens skin that has become rough due to damage and stress, contains many amino acids that retain moisture in cells, and polyphenolic tannins that act as moisturizing agents.
- hydrolyzed hyaluronic acid and collagen - one of the best skin moisturizers, normalizing water balance and giving firmness and elasticity.
- hydrolyzed conchiolin (pearl extract) easily penetrates the skin, moisturizing it without stickiness, gives a gentle glow, prevents roughness and dryness of the skin.
- tachibana citrus extract - inhibits the production of melanin, whitening it, helps protect cells from UV rays.
Application: Shake container well before use. After that, take the required amount of lotion and apply to cleansed skin.
Ingredients: L-ascorbic acid 2-glucoside, dipotassium glycyrrhizinate, 1,3-butylene glycol, concentrated glycerin, 1,2-pentanediol, trimethylglycine, DL-pyrrolidone sodium carboxylate solution, hydrolyzed hyaluronic acid, xanthan gum, citric acid, citric acid, sodium, potassium hydroxide, phenoxyethanol, glycerol mono-2-ethylhexyl ether, hydrogenated castor oil, PCA-Na, hydrolyzed conchiolin, fermented pear juice solution, tachibana citrus extract, hydrolyzed collagen.
Volume: 120 ml
Manufacturer: PureBio
Country of origin: Japan
There are 4 delivery methods:
- SURFACE MAIL - sea mail (from 2 months).
- AIRMAIL - urgent mail (from 14 days to 2.5 months). Orders over 2 kg are shipped in multiple parcels.

- EMS - courier home delivery (from 7 days).
The shipping cost is calculated automatically by the site.

Delivery times are approximate, and may be increased due to circumstances beyond the control of the store - due to force majeure, the workload of transport companies, customs clearance and other reasons. 36best Kawai does not accept any responsibility for international shipping delays. Thank you for understanding!
Shipping costs
for postage from Japan can be found
here
.

Available delivery methods by country, see the table.
If you do not find your country in the list provided, please contact our consultants, we will try to offer you an alternative delivery method.
Popular with this product