Product description: PureBio Telomere Force FD Freeze-Dried Anti-Wrinkle Serum, 8 ml
PureBio is a new Japanese brand of advanced cosmetics that combines organic ingredients and biotechnology. The compositions are clean and clear, and the textures of the products are just perfect!
PureBio Telomere Force FD - 18 of the finest beauty ingredients and 5 peptides are combined in this luxurious product through freeze-drying to create a preservative-free fresh essence with ultimate anti-wrinkle effect!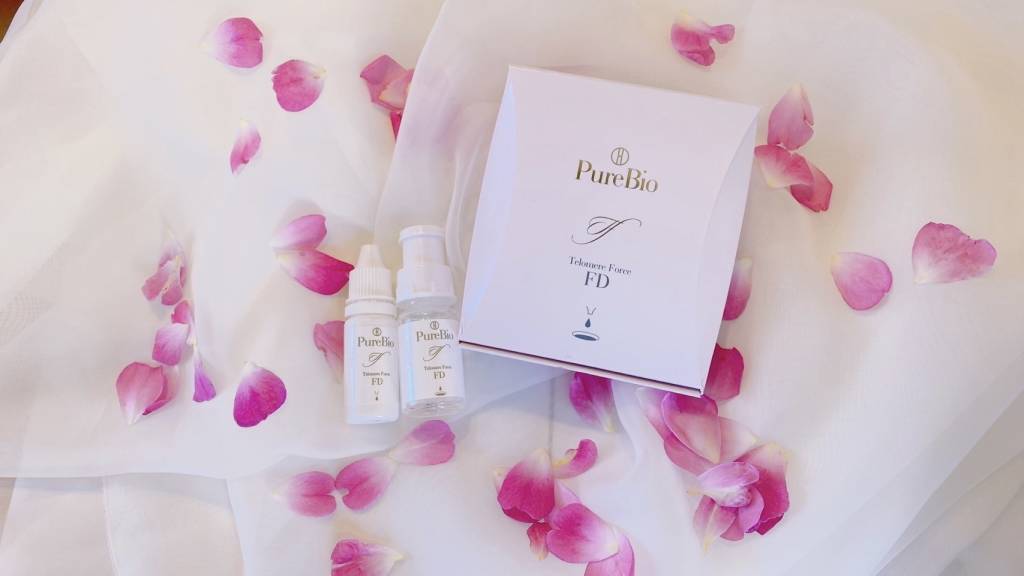 Peculiarities:
Benefits of using the freeze drying method:
■ Retains 100% of the activity of cosmetic ingredients
■ Does not contain preservatives because moisture is completely eliminated!
Active ingredients:
- Three types of peptides support skin repair.
① Hexapeptide - Botox-like peptide, without toxic effects, eliminates and smoothes wrinkles
②Pentapeptide - has earned the highest reputation in the fight against mimic wrinkles, especially wrinkles on the forehead and around the eyes
③Acetyl Hexapeptide - Effective in preventing wrinkles and increasing skin moisture
- TBK-387 Baicalin - a proprietary concentrated extract of skullcap - is a component that acts on telomeres, the reduction of which triggers the aging process of cells. Telomeres are the ends of chromosomes. The fact is that during each cell division, the original chromosome is shortened. This shortening occurs precisely due to telomeres. This is how the phenomenon of aging begins to manifest itself. TBK-387 acts on telomeres, thus controlling and slowing down cell aging!
- Royal Epigen P5 is a popular cosmetic ingredient that slows down cell aging. This component, which mimics royal jelly royalactin, contains the most valuable amino acids (threonine, arginine, serine, threonine, arginine, serine, glutamic acid, leucine) and peptides. In addition, the delivery effect is enhanced by encapsulating the peptide with hydrogenated lecithin and shea butter. Royal Epigen makes the skin more even, accelerates the regeneration of the epidermis, activates cell cleansing processes and slows down cellular aging.
- niacinamide - promotes the production of sirtuin. It promotes rejuvenation, proliferation of new cells, an increase in collagen, which helps prevent wrinkles and sagging skin.
- as well as many moisturizing ingredients for firmness and transparency of your skin - two types of collagen, two types of hyaluronic acid, fermented soy extract, saccharomycetes, shea butter
Application: To prepare the serum, carefully pour the dry part into the solution, connecting the jars, as shown on the package. Mix thoroughly, then separate them and screw the cap onto the serum vial. Once prepared, store in the refrigerator and use as soon as possible.
After cleansing in the morning and evening, apply an appropriate amount of product to a dry palm and gently massage into the face and neck.
・Effectively apply multiple layers to problem areas such as the skin around the lips and eyes.
・If you feel tight after use, apply it twice or thrice.
・Avoid excessive massage around the eyes.
・Warming the skin with the hands promotes penetration and increases the moisturizing capacity of the skin, while massaging
the effect raises the temperature of the skin and improves blood circulation.
Compound:
Dry serum - procollagen, niacinamide, succil atelocollagen, sodium hyaluronate, hexapeptide-10, pentapeptide-18, acetylhexapeptide-8, hydrolyzed hyaluronic acid, trehalose, arginine, nicotiana benthamiana oligopeptide-1.
Solution - Water, BG, Glycerin, Fermented Soy Extract, Baicalin, Saccharomycetes, Pentylene Glycol, Pentapeptide-48, Hydrogenated Lecithin, Shea Butter
Volume: 8 ml
Manufacturer: PureBio
Country of origin: Japan
There are 4 delivery methods:
- SURFACE MAIL - sea mail (from 2 months).
- AIRMAIL - urgent mail (from 14 days to 2.5 months). Orders over 2 kg are shipped in multiple parcels.

- EMS - courier home delivery (from 7 days).
The shipping cost is calculated automatically by the site.

Delivery times are approximate, and may be increased due to circumstances beyond the control of the store - due to force majeure, the workload of transport companies, customs clearance and other reasons. 36best Kawai does not accept any responsibility for international shipping delays. Thank you for understanding!
Shipping costs
for postage from Japan can be found
here
.

Available delivery methods by country, see the table.
If you do not find your country in the list provided, please contact our consultants, we will try to offer you an alternative delivery method.
Popular with this product