Product description: PureBio The Cream Anhydrous anti-aging placenta cream, 30 g
PureBio is a new Japanese brand of advanced cosmetics that combines organic ingredients and biotechnology. The compositions are clean and clear, and the textures of the products are just perfect!
PureBio The Cream is an anhydrous formula based cream with over 67% raw placenta extract. The consistency of thick cream envelops your skin, giving it the power of the placenta and many care ingredients to maintain youth and beauty.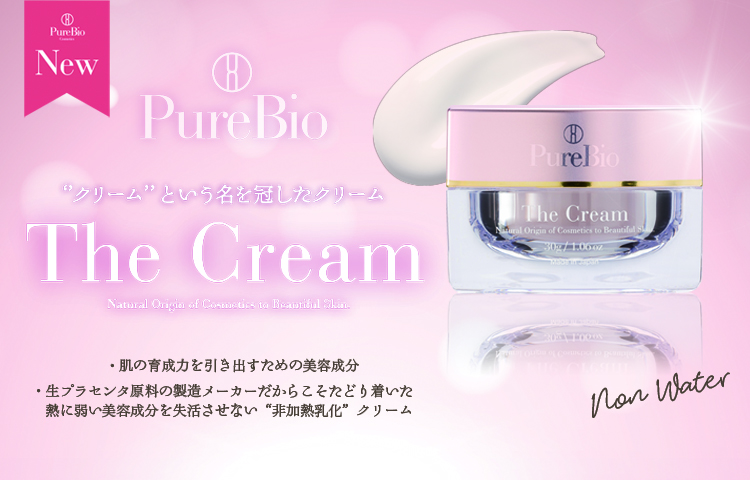 Peculiarities:
- raw placenta - in order to maximize the effect of the placenta, the company has implemented a unique production method that sterilizes raw materials without heating and preserves a large number of cell growth factors. Fresh placenta extract without the addition of water makes the skin young, smooth and supple. The placenta synthesizes a unique set of substances: amino acids, growth factors, nucleic acids, vitamins, minerals, enzymes and other components. Growth factors stimulate cell renewal, pigmentation is quickly lightened, and amino acids and minerals effectively inhibit melanin synthesis.
- raw collagen - has a high water-retaining capacity. Its water retention capacity is approximately 5 times higher than conventional heat-treated collagen. By retaining moisture in the cells, collagen gives the skin elasticity and smoothness, and also stimulates the skin to produce its own collagen.
- crude proteoglycan - has excellent water-holding capacity, promotes skin cell renewal and the production of hyaluronic acid and collagen.
- 3 types of stem cells are saturated with growth factors and amino acids, regenerate skin cells, making it young, supple and elastic.
- proprietary concentrated extract of skullcap TBK -387 is a component that acts on telomeres, the reduction of which triggers the aging process of cells. Telomeres are the ends of chromosomes. The fact is that during each cell division, the original chromosome is shortened. This shortening occurs precisely due to telomeres. This is how the phenomenon of aging begins to manifest itself. TBK-387 acts on telomeres, thus controlling and slowing down cell aging!
- a derivative of vitamin C (APS) - has an antioxidant and whitening effect, giving radiance and shine
- Royal Epigen P5 is a popular cosmetic ingredient that slows down cell aging. This component, which mimics royal jelly royalactin, contains the most valuable amino acids (threonine, arginine, serine, threonine, arginine, serine, glutamic acid, leucine) and peptides. In addition, the delivery effect is enhanced by encapsulating the peptide with hydrogenated lecithin and shea butter. Royal Epigen makes the skin more even, accelerates the regeneration of the epidermis, activates cell cleansing processes and slows down cellular aging.
Free from synthetic fragrances, synthetic colors, parabens, alcohol, petroleum-based surfactants, synthetic antioxidants.
Application: Take the required amount of cream and spread it over the face and neck.
Ingredients: Placenta Extract, BG, Glycerin, Octyldodecyl Myristate, Crosspolymer, Pentylene Glycol, Glyceryl, Meadowfoam Oil, Baicalin, Pentapeptide-48, Fibroblast Conditioned Stem Cell Solution, Adipocyte Conditioned Stem Cell Solution, Atelocollagen, Water Soluble Proteoglycan, Sodium Ascorbyl Phosphate, Hydrogenated Lecithin, glycerin, malt dextrin, shea butter, water, kelp extract, ethylhexylglycerin, EDTA-2Na, 1,2-hexanediol, polysorbate 80, phenethyl alcohol, phenoxyethanol, damask rose flower oil, sorbitan isostearate, glucoside.
Volume: 30 g
Manufacturer: PureBio
Country of origin: Japan
There are 4 delivery methods:
- SURFACE MAIL - sea mail (from 2 months).
- AIRMAIL - urgent mail (from 14 days to 2.5 months). Orders over 2 kg are shipped in multiple parcels.

- EMS - courier home delivery (from 7 days).
The shipping cost is calculated automatically by the site.

Delivery times are approximate, and may be increased due to circumstances beyond the control of the store - due to force majeure, the workload of transport companies, customs clearance and other reasons. 36best Kawai does not accept any responsibility for international shipping delays. Thank you for understanding!
Shipping costs
for postage from Japan can be found
here
.

Available delivery methods by country, see the table.
If you do not find your country in the list provided, please contact our consultants, we will try to offer you an alternative delivery method.