Product description: THE EXOSOME SCIENCE White Moist Essence Moisturizing and Whitening Serum with Exosomes, 55 ml
THE EXOSOME SCIENCE White Moist Essence - serum for skin as clear as snow!
The serum formula is focused on the problems of aging skin. It is ideal for skin around the eyes that appears dark due to dryness and puffiness, and for skin that tends to become dull with age. Carefully selected cosmetic ingredients penetrate the stratum corneum to brighten, giving the skin radiance and brightness with a feeling of transparency.
The thick texture, formulated with carefully selected advanced cosmetic ingredients, provides anti-aging care.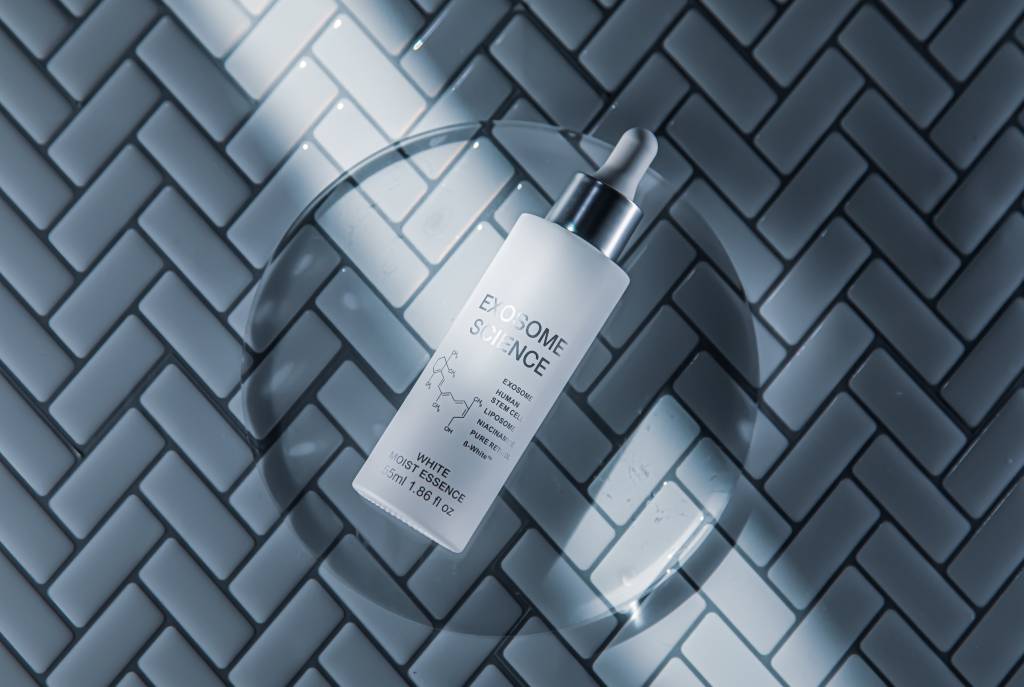 Active components:
- Pure exosomes - eliminate various skin problems, improve skin quality, and have a powerful regenerating effect. High quality exosomes purified from impurities such as lactic acid and glutamic acid are some of the best on the Japanese market!
- Highly concentrated human stem cell culture solution is a beneficial ingredient that is effective for tissue regeneration in the field of regenerative medicine and beauty, such as wrinkle reduction, whitening and sagging.
- Highly penetrating multilayer liposomes have a cell membrane-like structure with high affinity for the skin. Liposomes deliver active ingredients deep into the skin for maximum effect.
- Niacinamide - - prevents the appearance of wrinkles, suppresses the production of melanin and prevents the appearance of pigmentation.
- Pure retinol - an active ingredient to combat wrinkles and sagging skin
- β-White complex of components that block melanin, activated by ultraviolet rays, and very effectively fight dullness.
- Galactomyces solution - exhibits potent antioxidant activity against oxidative stress caused by UV radiation, environmental pollutants or inflammatory processes. Increase skin hydration and reduce water loss, resulting in smoother, more elastic and youthful skin.
- Nanoized collagen - collagen is transformed into tiny particles to increase permeability and fill the stratum corneum with moisture.
- High Penetrating Vitamin C (APPS) - Highly penetrating, long-acting vitamin C - this form of vitamin C provides antioxidant benefits that brighten and improve skin texture.
Application: After cleansing and moisturizing with lotion, take the required amount of serum and spread it over your face with gentle patting movements until absorbed.
Volume: 55 ml
Manufacturer: KOR JAPAN
Country of origin: Japan
There are 4 delivery methods:
- SURFACE MAIL - sea mail (from 2 months).
- AIRMAIL - urgent mail (from 14 days to 2.5 months). Orders over 2 kg are shipped in multiple parcels.

- EMS - courier home delivery (from 7 days).
The shipping cost is calculated automatically by the site.

Delivery times are approximate, and may be increased due to circumstances beyond the control of the store - due to force majeure, the workload of transport companies, customs clearance and other reasons. 36best Kawai does not accept any responsibility for international shipping delays. Thank you for understanding!
Shipping costs
for postage from Japan can be found
here
.

Available delivery methods by country, see the table.
If you do not find your country in the list provided, please contact our consultants, we will try to offer you an alternative delivery method.