Product description: W. White Spot Shot Whitening Spot Treatment Serum Brush, 4 ml
W. White Spot Shot - Serum for clear and bright skin, like white snow. Designed for those who are concerned about dullness around the eyes, freckles and age spots. The type of brush allows you to use the product in a dosed manner, delivering intensive components only to those places that need whitening. Just tap on the end of the bottle and get as many carefully selected whitening ingredients as you need for an effective effect at the tip of the brush.
Whitening ingredients penetrate the stratum corneum, giving the skin transparency and porcelain whiteness. Serum acts on the cause of pigmentation - melanin pigment, stopping its production. Therefore, the spots are gradually lightened, making the skin perfect.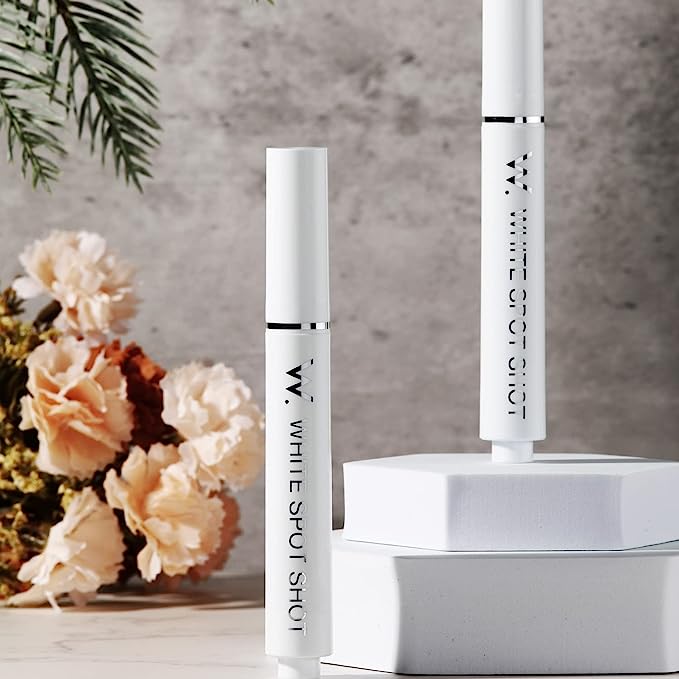 Active ingredients:
Ascorbyltetraisopalmitate is an oil-soluble vitamin C derivative that converts to vitamin C after application, reducing the potential for skin irritation. Helps reduce signs of aging by stimulating collagen production to brighten and even out uneven skin tone. It not only blocks the synthesis of melanin, but also brightens the black melanin already in the skin.
- retinol palmitate - promotes cell renewal, improves skin tone, helps cleanse pores and tighten the dermis to slow down the formation of wrinkles.
- Sodium hyaluronate has a smaller molecular structure than hyaluronic acid, so it can penetrate deeper into the skin, providing intense hydration. Increases the level of elasticity and smoothes fine wrinkles.
- vegetable squalane prevents moisture loss and improves skin elasticity. In addition, it performs a protective action against stressful environmental factors.
- water-soluble collagen is an amazing moisturizer. It forms a water-rich film on the skin, giving the stratum corneum intense hydration, making the skin beautiful and smooth.
Application: Use on clean skin after cleansing. Press the tip of the bottle and point the essence that has come out on the brush to the problem areas. Then use your usual skin care routine.
Ingredients: Sodium Hyaluronate, Ascorbyl Tetraisopalmitate, Retinol Palmitate, D-Cu Tocopherol, D-Pantothenic Alcohol, Vegetable Squalane, Water-Soluble Collagen, Soy Phosphate, D-Sorbitol, Betaine, BG, Glycerin, Castor Oil, Isosterate, Anhydrous Citric Acid, Sodium Citrate , potassium hydroxide, hydroxyethane diphosphonate, liquid hydroxyethanol 4 Na, paraben
Volume: 4 ml
Manufacturer: KOR JAPAN
Country of origin: Japan
There are 4 delivery methods:
- SURFACE MAIL - sea mail (from 2 months).
- AIRMAIL - urgent mail (from 14 days to 2.5 months). Orders over 2 kg are shipped in multiple parcels.

- EMS - courier home delivery (from 7 days).
The shipping cost is calculated automatically by the site.

Delivery times are approximate, and may be increased due to circumstances beyond the control of the store - due to force majeure, the workload of transport companies, customs clearance and other reasons. 36best Kawai does not accept any responsibility for international shipping delays. Thank you for understanding!
Shipping costs
for postage from Japan can be found
here
.

Available delivery methods by country, see the table.
If you do not find your country in the list provided, please contact our consultants, we will try to offer you an alternative delivery method.
Popular with this product