Цены
DHC BB Cream GE Medicated Treatment BB cream with germanium and SPF35-PA +++, 40g, tone natural ocher 00
DHC BB Cream GE Medicated Treatment BB cream with germanium and SPF35-PA +++, 40g, tone natural ocher 02
DHC BB Cream GE Medicated Treatment BB cream with germanium and SPF35-PA +++, 40g, tone 03 natural ochre
Description of product: DHC BB Cream GE Medicated Treatment BB cream with germanium and SPF35-PA +++, 40g
DHC Germanium moisturizer is a line containing a water-soluble germanium high purity to maintain the beauty and vitality of the cells. Natural moisturizing germanium and correctly balanced components (contains 12 kinds of amino acids, ceramides, Royal jelly and collagen) have a positive effect on the skin, can penetrate into deep layer and abundantly hydrate it from the inside. Germanium enriches the cells with oxygen, thus breathing new life and rejuvenate.
In addition, this departure from the DHC will protect the skin from aging, dryness and stress, because Germanium is able to display the free radicals from the skin and protects from UV rays, keeping your fresh beauty.
GE DHC Medicated BB Cream is a multifunctional BB cream All-in-one with a high degree of care of aged skin and protect against the formation of pigmentation and UV rays. The cream perfectly moisturizes the skin, smoothes and conceals minor wrinkles, pigmentation spots and any other imperfections. Smooth texture is comfortable and evenly distributed on the skin and does not clog pores. SPF35-PA +++ protects against UV rays.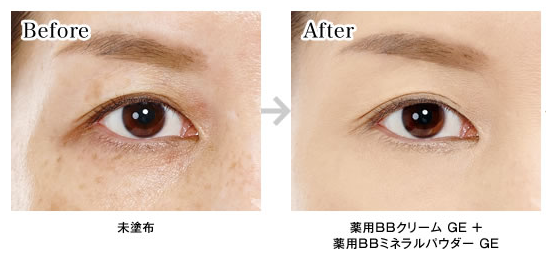 The organic germanium is a rare compound which has an oxygen-enhancing advantage at the level of the surface of the skin, to give your skin brightness and radiance. In addition to Germany in the composition of the BB cream contains hyaluronic acid, collagen, elastin, which together have a rejuvenating effect on skin structure.
Additionally, this BB cream has active whitening ingredient – tranexamic acid, which inhibits the production of melanin, thus preventing the formation of age spots and freckles. According to clinical studies, this acid is most effective in treating age spots.
Suitable for all skin types.
Volume: 40g
Manufacturer: DHC
Line: DHC GE
Country of origin: Japan
THE ENTIRE LINE OF COSMETICS FROM DHC GERMANIUM YOU CAN SEE HERE
There are 4 delivery methods:
- SURFACE MAIL - sea mail (from 2 months).
- AIRMAIL - urgent mail (from 14 days to 2.5 months). Orders over 2 kg are shipped in multiple parcels.

- EMS - courier home delivery (from 7 days).
The shipping cost is calculated automatically by the site.

Delivery times are approximate, and may be increased due to circumstances beyond the control of the store - due to force majeure, the workload of transport companies, customs clearance and other reasons. 36best Kawai does not accept any responsibility for international shipping delays. Thank you for understanding!
Shipping costs
for postage from Japan can be found
here
.

Available delivery methods by country, see the table.
If you do not find your country in the list provided, please contact our consultants, we will try to offer you an alternative delivery method.