Product description: Ceruru.b Clear Lotion Professional lotion with nano particles, 500 ml
Ceruru.b Clear Lotion is a refreshing professional lotion with a light, watery texture. It is instantly absorbed into every corner of the stratum corneum and gives a moisturized shine, leaving the skin supple and smooth. Perfect for summer when you don't want to overload your skin with rich textures.
Formulated for professional use, this lotion provides skin with much-needed moisture after cleansing. Numerous modern cosmetic ingredients and large volume will allow you to care for your skin daily, enjoying flawless hydration and tenderness.
The peculiarity of the lotion is in nanoscale components that reach the deep layers of the skin, restoring the structure and saturating it with all the necessary components. Moisturizing ingredients regulate water balance, while oily ingredients create an invisible veil that prevents water from evaporating. This balanced composition helps replenish moisture and oil in the skin.
More watery, light texture compared to the milky lotion from that series.
Active Ingredients:
- Trifluoroacetyltripeptide-2 - a component to eliminate skin sagging and wrinkles. It restores aging cells and slows down age-related changes in them, which means that in general the skin remains young, supple and toned longer.
- Roxburgh rose extract prevents inflammation, itching and flabbiness of the skin caused by exposure to ultraviolet rays
- Horse placenta extract contains 10 kinds of amino acids and various nutrients, vitamins, minerals and enzymes, has a powerful anti-aging effect. It also has a proven moisturizing whitening effect.
- Proteoglycans have a structure similar to the human cell membrane. They are responsible for the metabolism and formation of new cells, like collagen, they maintain the elasticity and firmness of the skin, retain moisture, which helps to maintain tissue moisture.
- Retinol is capable of in the stratum corneum of the skin, regulating the processes of cell renewal, giving elasticity and firmness. In addition, its high moisturizing power prevents the appearance of fine lines due to dryness.
- Tremella polysaccharide is a large carbohydrate molecule isolated from the edible mushroom Tremella fuciformis.
One of the sugar components of the component is glucuronic acid, which is part of the structure of hyaluronic acid. The polysaccharide has an amazing moisturizing ability, and also has an antioxidant and rejuvenating effect.
- Eggshell membrane extract reduces sagging skin and smoothes wrinkles. Collagen, hyaluronic acid and chondroitin contained in it are essential for beauty and youth. It gives the skin elasticity and shine.
- Powerful botanical complex. Extracts of algae, wild plants, fruits - all of them are designed to improve the quality of the skin, soothe it, saturate it with vitamins and moisture. A real natural transformation!
- Argan oil, squalane, horse and soybean oil - all of them restore the protective function of the skin, preventing moisture loss, as well as soften, smooth wrinkles and give incredible tenderness and velvety.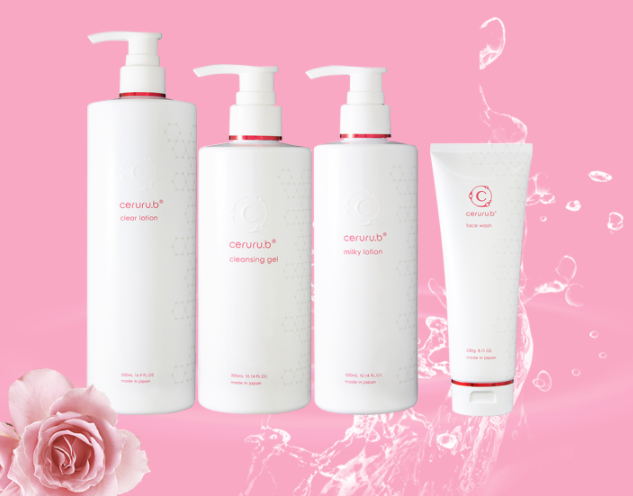 Application: After cleansing morning and evening, take the required amount of lotion (about 2 pumps) in the palm of your hand, apply to the entire face and press lightly.
Ingredients: Water, Glycerin, Horse Placenta Extract, Placenta Extract, Water Soluble Proteoglycan, Hydrolyzed Yeast Extract, Hydrolyzed Silk, Water Soluble Collagen, Hyaluronic Acid, Fullerene, Trifluoroacetyl Tripeptide-2, Polyquaternium-51, 3Na Ascorbyl Phosphate, Hydrolyzed Eggshell Membrane, Tremella Polysaccharide, Roxburgh Rose Extract, Cat's Claw Creeper Extract, Passion Fruit Extract, Indian Chrysanthemum Extract, Squalane, Argan Oil, Retinol Palmitate, Horse Oil, Soybean Oil, Lecithin, Hydrogenated Lecithin, Tocopherol, Glycyrrhizic Acid 2K.
Volume: 500 ml
Manufacturer: CERURU.B, Medix Japan
Country of origin: Japan
There are 4 delivery methods:
- SURFACE MAIL - sea mail (from 2 months).
- AIRMAIL - urgent mail (from 14 days to 2.5 months). Orders over 2 kg are shipped in multiple parcels.

- EMS - courier home delivery (from 7 days).
The shipping cost is calculated automatically by the site.

Delivery times are approximate, and may be increased due to circumstances beyond the control of the store - due to force majeure, the workload of transport companies, customs clearance and other reasons. 36best Kawai does not accept any responsibility for international shipping delays. Thank you for understanding!
Shipping costs
for postage from Japan can be found
here
.

Available delivery methods by country, see the table.
If you do not find your country in the list provided, please contact our consultants, we will try to offer you an alternative delivery method.
Статьи
The cold and the operation of heating devices are a reason to pay special attention to the skin.
Salon quality cosmetics with stem cell extract.