Product Description: DR. ELLEMISS BC Luna Sheet Skin Renewal Patch, 30 Pairs
DR.ELLEMISS is a line of the Couleur Labo brand that offers skin care products formulated with the latest technology and years of experience to enhance the beauty and originality of every woman.
DR. ELLEMISS BC Luna Sheet - premium patches using natural biocellulose. The impregnation contains a pure Japanese stem cell solution based on the scientific evidence of Japan's regenerative medicine. Carefully selected, luxurious ingredients deliver powerful anti-aging effects, smoothing skin, leaving it shiny and firm.
Stem cells activate cells, renewing the skin's structure, stimulating the production of its own collagen and elastin.
Several types of peptides help not only rejuvenate the skin, but also strengthen the protective barrier, relieve inflammation, repair damaged skin and even out its tone.
The ceramide complex infuses the skin with vital energy and enhances its protective functions.
Three types of hyaluronic acid provide incredible hydration, two types of collagen tighten it and plump the texture.
Pantolactone is an excellent moisturizer that retains moisture in the skin for a long time.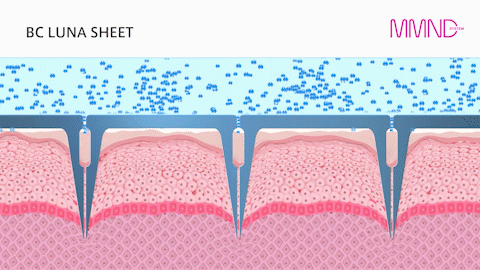 The patches eliminate flabbiness and dullness of the skin, smooth out existing wrinkles, give the skin smoothness and shine, totally moisturizing it.
A variety of herbal and algae extracts infuse the skin with vitamins, amino acids and moisture for a radiant, youthful glow.
Can be used in conjunction with Mg Luna Patch, applying over magnesium patches to enhance the cosmetic effect.
The patches are intended for the care of the skin around the eyes and mouth.
Ingredients: Water, glycerin, stem cell solution extract, sodium hyaluronate, cross-polymer sodium hyaluronic acid, sodium acetylhyaluronic acid, hydrolyzed collagen, succinoyl aderocollagen, hydrolyzed royal jelly protein, NP ceramide, NG ceramide AP extract, mandarin fruit extract bitter orange, orange peel extract, water-soluble proteoglycan, royal jelly extract, polysaccharide from algae Aphanothece sacrum, hexacarboxymethyldipeptide-12, mulberry extract, ginseng extract, saccharomycete extract, palmitoyltetrapepeptidylarium-5 extract.
Application: Pull out the sheet with the supplied tweezers and peel off the transparent film from one side. Apply this side to the skin around the eyes or mouth (the wider side rests on the outer corner of the eye). Gently peel off the second tape from the patch and press it down with your fingertips until it fits snugly against your skin. Leave it on for about 20 minutes. Gently spread the impregnation remaining on the skin with your fingertips.
Volume: 30 pairs
Manufacturer: Couleur Labo
Country of origin: Japan
There are 4 delivery methods:
- SURFACE MAIL - sea mail (from 2 months).
- AIRMAIL - urgent mail (from 14 days to 2.5 months). Orders over 2 kg are shipped in multiple parcels.

- EMS - courier home delivery (from 7 days).
The shipping cost is calculated automatically by the site.

Delivery times are approximate, and may be increased due to circumstances beyond the control of the store - due to force majeure, the workload of transport companies, customs clearance and other reasons. 36best Kawai does not accept any responsibility for international shipping delays. Thank you for understanding!
Shipping costs
for postage from Japan can be found
here
.

Available delivery methods by country, see the table.
If you do not find your country in the list provided, please contact our consultants, we will try to offer you an alternative delivery method.
Статьи
They injected Botox, made injections of hyaluronic acid or fillers - what's next?