Product description: RECORESERUM BIJOU DE MER PTD DDS Richness Capsule Anti-wrinkle peptide serum, 48 pcs
RECORESERUM BIJOU DE MER PTD DDS Richness Capsule - capsular wrinkle smoothing serum with 4 peptides.
A non-sticky, hydrating, oily serum that repairs skin damaged by dryness and aging.

For elastic, elastic, bright, smooth and radiant skin!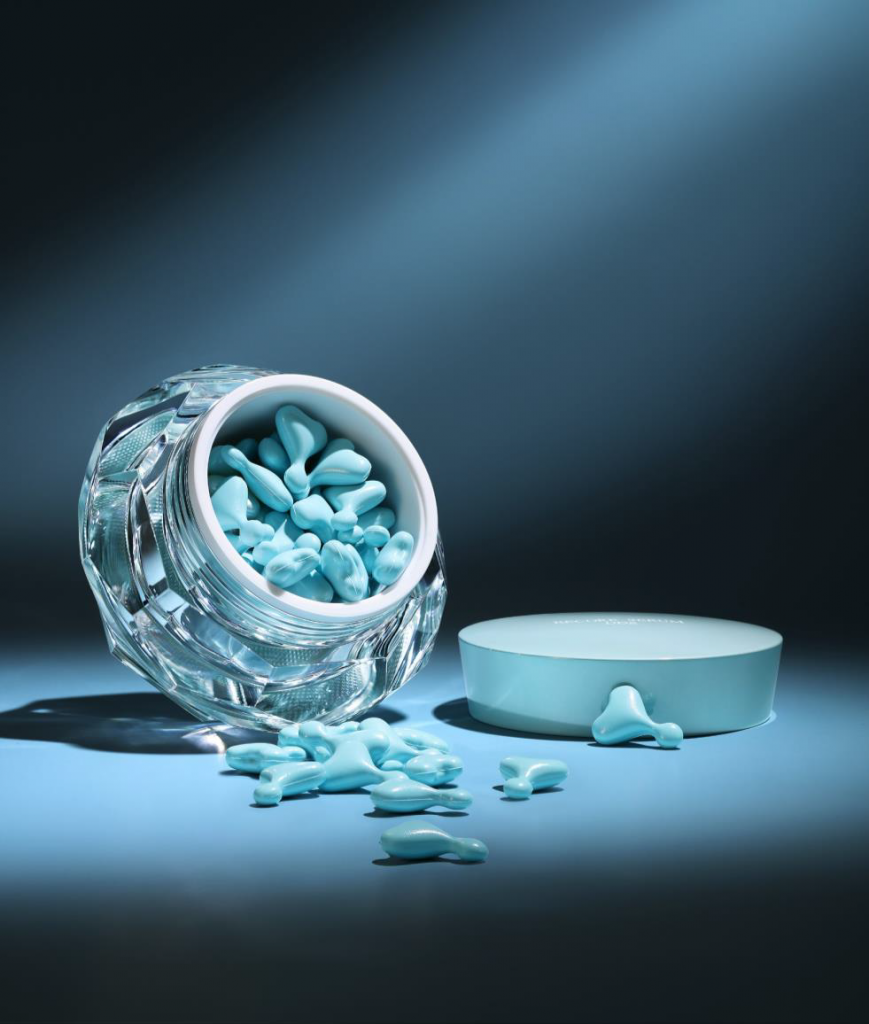 Recore Serum PTD DDS Richness capsules use carefully selected peptides. The effects of peptides differ depending on the type of amino acid contained in the peptide. Since they are quickly absorbed into the skin and have a high moisturizing power, peptides help the action of other activating ingredients found in the serum, supporting the creation of bright and beautiful skin.
Peptides work with:
- sagging skin
- nasolabial folds
- wrinkles
- pigmentation
Active ingredients:
- Gransome Heptapeptide-7 - a peptide that provides improved penetration and prolonged bioavailability of assets.
- Dragosine (carnosine) - a powerful remedy for glycation and anti-wrinkle - a dipeptide consisting of alanine and histidine. Protects skin collagen from destruction, prevents oxidative processes caused by UV radiation.
Anti-aging effect due to multifunctionality
- Matrixyl 3000 - a complex of peptides (palmitoyl tripeptide-1, palmitoyl tetrapeptide 77) - activates genes involved in the process of skin repair, reduces wrinkles by repairing skin damage caused by aging.
- Argireline (acetylhexapeptide 88) - a peptide that acts on mimic wrinkles. It reduces the release of neurotransmitters and relaxes muscles, preventing creases.
- Apple Fruit Stem Cell Extract gives firmness and radiance to the skin, eliminating darkening and dullness, repairing damage.
- Goji plant stem cell extract - activates fibroblasts, increases the amount of collagen and elastin and improves facial contours. Reduces fine and deep wrinkles.
- Meadowfoam oil is a high quality oil that blends well with the skin without leaving a sticky feeling. Moisturizes the skin and promotes rejuvenation, nourishes cells without clogging pores, and regulates sebum secretion.
Application: After cleansing the skin and lotion, use 1 serum capsule. Open the capsule by turning its thin tip 2-3 times, squeeze into the palm of your hand and spread over the skin. If you are concerned about dryness, use a cream afterwards.
Volume: 48 pcs x 330 mg
Manufacturer: RECORESERUM BIJOU DE MER
Country of origin: Japan
There are 4 delivery methods:
- SURFACE MAIL - sea mail (from 2 months).
- AIRMAIL - urgent mail (from 14 days to 2.5 months). Orders over 2 kg are shipped in multiple parcels.

- EMS - courier home delivery (from 7 days).
The shipping cost is calculated automatically by the site.

Delivery times are approximate, and may be increased due to circumstances beyond the control of the store - due to force majeure, the workload of transport companies, customs clearance and other reasons. 36best Kawai does not accept any responsibility for international shipping delays. Thank you for understanding!
Shipping costs
for postage from Japan can be found
here
.

Available delivery methods by country, see the table.
If you do not find your country in the list provided, please contact our consultants, we will try to offer you an alternative delivery method.
Статьи
After 30 years, we begin to notice age-related changes. Flabbiness, dullness, wrinkles, skin pigmentation appear. How to solve these problems? How to restore the supply of building material for the skin? Can peptide cosmetics cope with these tasks? Let's try to figure it out.