Product description: MATSUGE OMOI Premium Eyelash Serum
MATSUGE OMOI Premium Eyelash Serum - premium eyelash care! A serum that will make your eyelashes thick, long and luxurious.
The serum contains a variety of carefully selected cosmetic ingredients and natural moisturizing ingredients that give lashes firmness, elasticity, stimulate their growth, giving your eyes a charming beauty.
Treat not only your eyelashes, but also the skin around your eyes with this serum, just once a day.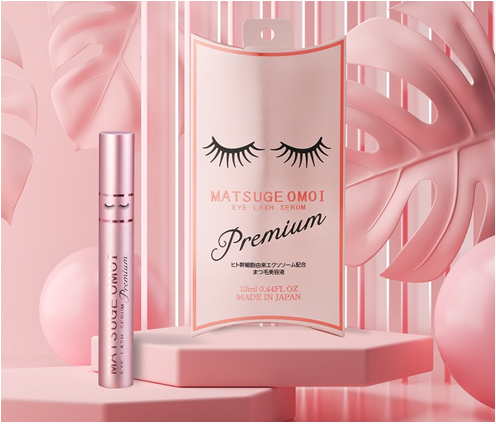 Active ingredients:
- Highly concentrated stem cell culture solution - renews and activates skin cells at the eyelash growth line, which is the basis of their growth and strength, makes eyelashes elastic, thick and long.
- Ceramide NG - prevents the evaporation of moisture, keeping it inside the cells, giving the cilia elasticity and softness.
- Hydrolyzed keratin perfectly moisturizes eyelashes
- Cationized keratin - gives the hair elasticity and elasticity.
- NMN - nicotinamide, has the ability to prevent aging of the tissues of the hair root.
- Aminokeratin - regulates water balance, moisturizes
- Baobab oil is rich in vitamins, has antioxidant properties and gives softness
- Capixyl - a hair growth activator that is three times more effective than the well-known minoxidil. Accelerates the growth of eyelashes, making them thick and long.
Thanks to the brush, it is convenient to apply serum along the entire length of the eyelashes.
Application: After washing and removing makeup, close your eyes and evenly apply the serum along the entire length of the eyelashes in one layer.
Active Ingredients: Water, Glycerin, BG, Tripropylene Glycol, Stem Cell Extract, Ceramide NG, Exosome Extract, Hydrolyzed Keratin, Hydrolyzed Keratin Hydroxypropyl Limonium, Nicotinamide Mononucleotide, Baobab Extract, Acetyl Tetrapeptide 13, Octopeptide-2, Origopeptide-20, Biotinyl Tripeptide-1, Panthenol , licorice root extract, wild thyme extract, marjoram extract, acetyldecapeptide-3, lactic acid, fermented hydrolyzed collagen, betaine, PCA-Na, sodium hyaluronic acid, glyceryl, olive oil, caprixyl, castor oil, maltose, xanthan gum, copolymer, sodium lauraminopropionate, citric acid, sodium benzoate, potassium sorbate, EDTA-2Na, phenoxytanol, methylparabeumtanol, propylparaben.
Volume: 13 ml
Manufacturer: KOR JAPAN
Country of Origin: Japan
There are 4 delivery methods:
- SURFACE MAIL - sea mail (from 2 months).
- AIRMAIL - urgent mail (from 14 days to 2.5 months). Orders over 2 kg are shipped in multiple parcels.

- EMS - courier home delivery (from 7 days).
The shipping cost is calculated automatically by the site.

Delivery times are approximate, and may be increased due to circumstances beyond the control of the store - due to force majeure, the workload of transport companies, customs clearance and other reasons. 36best Kawai does not accept any responsibility for international shipping delays. Thank you for understanding!
Shipping costs
for postage from Japan can be found
here
.

Available delivery methods by country, see the table.
If you do not find your country in the list provided, please contact our consultants, we will try to offer you an alternative delivery method.
Popular with this product