Product description: McCELLRIE TIGHTENING CREAM Instant lifting cream, 50 g
Japanese cosmetics brand McCoy has introduced the McCELLRIE skin care line, which contains the highest level of stem cell culture supernatant, which is especially active in the field of regenerative cosmetology. This line came out under the motto "Transformation in 4 weeks."
McCELLRIE is a new generation of skin care that enhances skin regeneration and stimulates skin renewal. This line will not only solve all visible skin problems, but is also aimed at deep care. Using the full power of developments in the field of regenerative medicine, the company has proposed products that can awaken the regenerative power that the skin has, thereby slowing down the aging process.
TIGHTENING CREAM - a cream recommended for skin care with age-related changes. The complex of unique components visibly tightens the skin, reducing the oval of the face, making the skin healthy and elastic.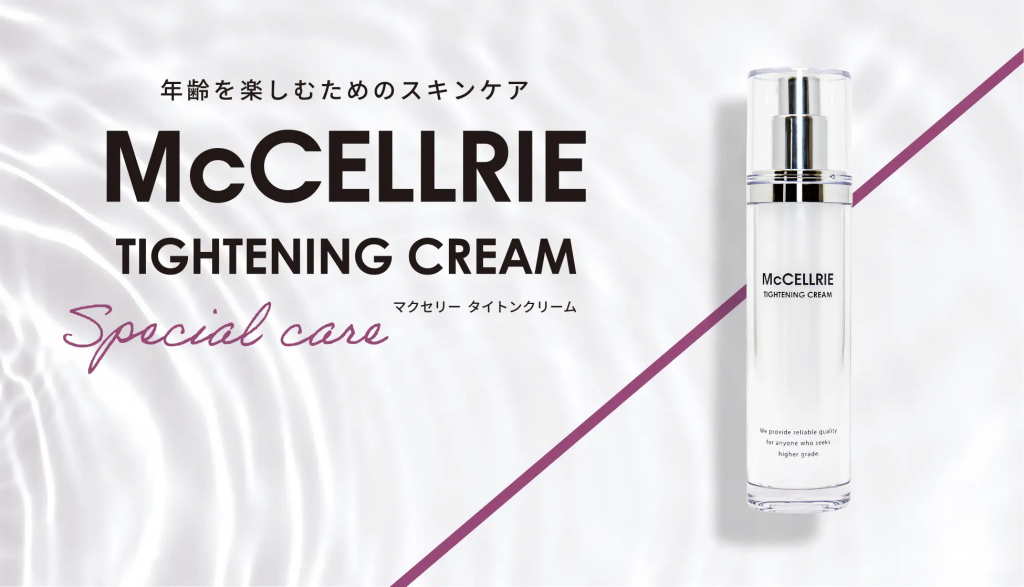 Active ingredients:
- Lactolore - an exclusive complex based on "Lactobacillus resveratrol" - is a component obtained by fermentation of seaweed, resveratrol and catechin with lactic acid bacteria. Penetrating into the deepest layers, it awakens the natural beauty and radiance, tones the skin and retains moisture in the cells. Improving blood circulation, it eliminates age-related changes, helping to thicken the texture of the skin.
- Penetrating minerals that deliver nutrients to skin cells. They contribute to the lifting effect, regulate skin balance and prepare the basis for beautiful and healthy skin.
- The new anti-aging ingredient Phytopolyamine®-S is extracted from soybeans in a special way. This botanical component makes the skin texture smooth and supple.
- Microcurrents in tourmaline and platinum are used to balance the body's biocurrents, improving lymph flow, reducing swelling and giving elasticity.
- The combination of three types of vitamins (C, E, P) allows you to narrow the pores and even out the texture of the skin, making it perfectly dense.
- The most effective cosmetic components work to eliminate age-related signs such as pigmentation, wrinkles, dryness and flabbiness - placenta, hyaluronic acid, collagen, caffeine, eggshell membrane.
Ingredients: Water, DPG, olive oil, glycerin, polyacrylamide, placenta extract, 3-O-ethylascorbin, α-arbutin, fermented extract (catechin/algae/resveratrol), glucosylhesperidin, soybean extract, grapevine extract, sodium hyaluronate, hydrochloride glucosamine, hydrolyzed collagen, sodium chondroitin sulfate, hydrolyzed eggshell membrane, calcium chloride, calcium acetate, magnesium chloride, sodium chloride, potassium chloride, zinc chloride, tourmaline, titanium oxide, platinum, volcanic soil, malic acid, pentylene glycol, isoparaffin, laureth- 7, caffeine, yuzu peel oil, BG, ethylhexylglycerin, phenoxyethanol
Application: After cleansing and using the lotion, evenly distribute the required amount of cream on the décolleté, neck and face. It is recommended to additionally use a moisturizer after application.
Volume: 50 g
Manufacturer: McCoy
Country of origin: Japan
There are 4 delivery methods:
- SURFACE MAIL - sea mail (from 2 months).
- AIRMAIL - urgent mail (from 14 days to 2.5 months). Orders over 2 kg are shipped in multiple parcels.

- EMS - courier home delivery (from 7 days).
The shipping cost is calculated automatically by the site.

Delivery times are approximate, and may be increased due to circumstances beyond the control of the store - due to force majeure, the workload of transport companies, customs clearance and other reasons. 36best Kawai does not accept any responsibility for international shipping delays. Thank you for understanding!
Shipping costs
for postage from Japan can be found
here
.

Available delivery methods by country, see the table.
If you do not find your country in the list provided, please contact our consultants, we will try to offer you an alternative delivery method.
Статьи
Asian cosmetics have long conquered the world. The Japanese and Korean cosmetics markets are the fastest growing and most advanced.