Product Description: CocochiCosme AG Ultimate Facial Hydration Balancing Essence Cream 2 in 1 Mega Hydrating & Balancing Cream Mask
Cocochi Cosme has developed its own Orimos complex. It is a combination of herbal ingredients: tencha tea extract, medlar leaf extract and rosemary.
Natural extracts and scientific achievements guard your beauty! A beautiful jar contains two products. On top is a rich nourishing cream that needs to be applied before the mask. It promotes better regeneration, enhances the effect of the mask. Below is a mask, with carefully selected ingredients that different skin types need. We have taken into account all the wishes and are ready to present incredible products. Choose from 3 presented options the one that your delicate and beautiful skin needs.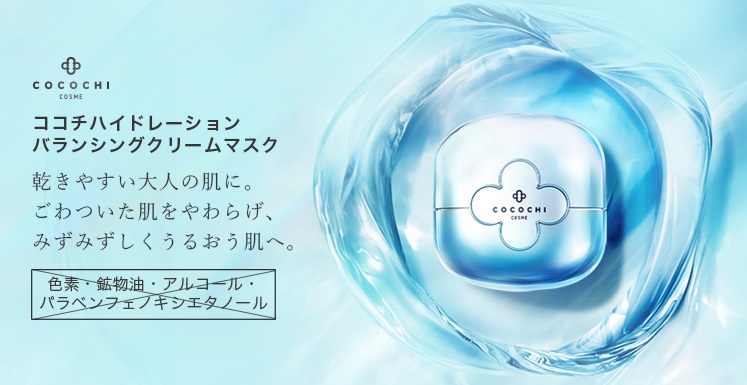 Active ingredients:
- centella extract
- vitamin C
- algae and tea leaf extract
- fruit extracts
- hyaluronic acid
- squalane
The mask soothes and makes the skin elastic. Highly hydrating yet refreshing. Protects skin from UV rays. In addition to beautiful and stylish packaging, you get a complete anti-aging care. The balancing mask is rich in vitamins and minerals. It unclogs pores and maintains moisture levels. It balances oily and dry areas, makes the skin smooth and nourished. The skin will be silky, elastic, soft and smooth. The mask strengthens the walls of the capillaries. Fruit extracts relieve redness and irritation, and seaweed extract normalizes the activity of the sebaceous glands.
The use of the mask activates metabolic processes, restores the balance of moisture and tone. Give your skin freshness and comfort.
Just add the kit to your routine!
Minutes of self-love, like magical powers, give wings. Each of you is unique. A beauty ritual, for which 20 minutes is enough, will return harmony and confidence for 24 hours. We are proud that you choose yourself, even when it is very difficult!
Application:
1.Remove the top cover.
2. Open the screw cap of the top layer (cream) and take the required amount, apply the cream evenly on the skin.
3. Open the screw cap of the bottom layer (mask) and take the required amount, apply to the skin.
4. Leave on for 10-15 minutes, then gently wipe off with a tissue and rinse off the residue with warm water. After that, apply your usual care.
Cream Ingredients: Water, BG, Squalane, Cetearyl Alcohol, Methylglucet-10, Jojoba Seed Oil, Almond Oil, Glycerin, Pentylene Glycol, Hydrogenated Lecithin, Polyglyceryl-10 Myristate, Polyglyceryl-10 Myristate, Carbomer, Ethylhexylglycerin, Glyceryl Caprylate, Phenoxyethanol, Dimethicone , potassium hydroxide, sodium hyaluronate, fermented rice extract, aloe vera leaf extract, maltitol, apple stem cell extract, arginine, diaminobutyroylbenzylamide dipeptide, palmitoyl tripeptide-5, tea leaf extract, tencha extract, loquat leaf extract, rosemary. leaf extract, sea buckthorn fruit extract, hydrolyzed silk, oligopeptide-1, xanthan gum, sclerotium gum, lecithin, tocopherol, acetic acid tocopherol, EDTA-2Na, fragrance
Mask Ingredients: Water, Glycerin, BG, DPG, Dimethicone, Shea Butter, Crosspolymer, Phenoxyethanol, Carbomer, Squalane, Potassium Hydroxide, Xylitol, Fermented Rice Extract, Hyaluronic Acid, Dimethylsilanol, PCA-Na, Pentylene Glycol, Polyglutamic Acid, Hyaluronic Acid Crosspolymer , mandarin extract, cherry leaf extract, olive leaf extract, chamomile flower extract, sakura flower extract, centella asiatica extract, perilla leaf extract, β-glucan, ethylhexylglycerin, blueberry leaf extract, tea leaf extract, plum fruit extract, tench extract, extract medlar leaf, rosemary leaf extract, sea buckthorn fruit extract, allantoin, ectoine, hydrolyzed hyaluronic acid, hydrolyzed collagen, glycyrrhizic acid 2K, ceramide NP, ceramide AP, phytosphingosine, ceramide EOP, borosilicate, silver oxide, cholesterol, xanthan gum, sodium lauroyl lactylate, malic acid, tocopherol, ascorbic acid, tocopherol, EDTA-2Na, fragrance
Volume: 20 g (cream) +90 g (mask)
Manufacturer: CocochiCosme
Country of origin: Japan
There are 4 delivery methods:
- SURFACE MAIL - sea mail (from 2 months).
- AIRMAIL - urgent mail (from 14 days to 2.5 months). Orders over 2 kg are shipped in multiple parcels.

- EMS - courier home delivery (from 7 days).
The shipping cost is calculated automatically by the site.

Delivery times are approximate, and may be increased due to circumstances beyond the control of the store - due to force majeure, the workload of transport companies, customs clearance and other reasons. 36best Kawai does not accept any responsibility for international shipping delays. Thank you for understanding!
Shipping costs
for postage from Japan can be found
here
.

Available delivery methods by country, see the table.
If you do not find your country in the list provided, please contact our consultants, we will try to offer you an alternative delivery method.
Статьи
They injected Botox, made injections of hyaluronic acid or fillers - what's next?
Popular with this product