Product Description: Direia The Stem Mask EX Some Instant Renewal Facial Mask, 4 Pieces
Safety・Texture・Design・Result
Direa is a new generation of face and body skin care products developed on the basis of the latest technologies.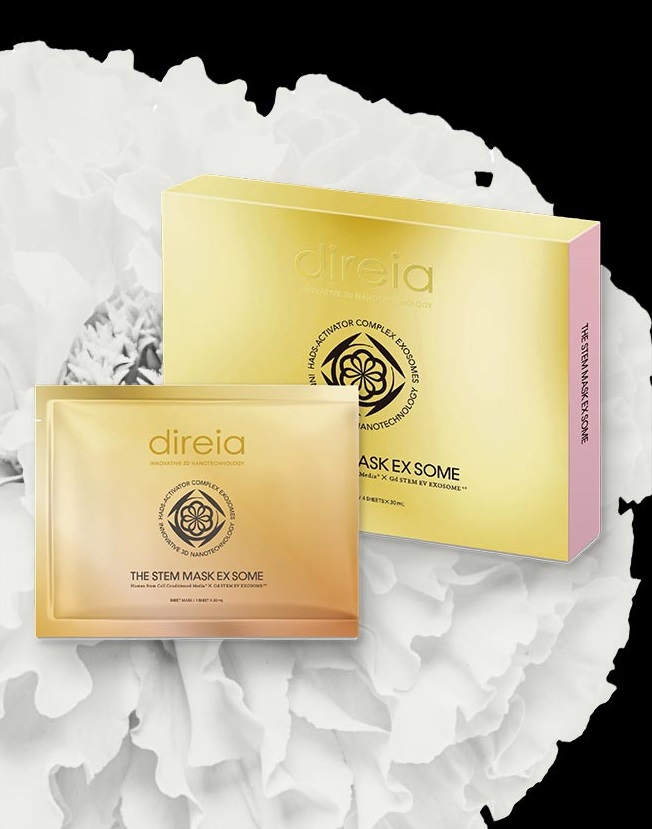 Direia The Stem Mask EX Some is a sheet mask for the face that instantly revitalizes the skin, giving it moisture, shine and amazing feeling of nourishment and elasticity.
Recommended:
For those who are concerned about uneven skin tone and dullness
Those who want a feeling of elasticity and shine
For those who want to feel the immediate effect
Those who lack nourishment and skin hydration
The impregnation contains the reverse aging ingredient "Hybrid Exosome +" with the latest stem cell-based delivery system. This anti-aging treatment reverses time by strengthening the cell membrane, which plays an important role in the condition of the epidermis and dermis.
Effects:
- Eliminates sagging skin and wrinkles.
Chronoline - a complex based on the Caprooil Tetrapeptide-3 peptide strengthens the tissues around the basement membrane of the cell and normalizes the functions of the epidermis and dermis. The skin acquires elasticity, firmness, the oval of the face is noticeably tightened.
- Whitening and elimination of pigmentation.
Progerin is a complex based on Trifluoroacetyltripeptide-2 peptide and placenta extract. Suppresses the production of melanin, which causes dull skin, which accumulates with age. The skin acquires an even tone, age spots are lightened, and new darkenings are blocked.
- Regeneration/cellular activity
HADS-ACTIVATOR COMPLEX® is Direia's patented complex. Contains more than 200 types of growth factors, bioactive substances and exosomes that act on skin stem cells, enhancing its regenerative power. The skin is renewed, acquires density and a young, fresh look.
The fabric biocellulose mask is made of nano-level fibers, has excellent adhesion and moisture retention, promotes high-quality hydration and elasticity of the skin.
Application: Apply to clean skin after cleansing. Take the mask out of the package and unfold it. Put it on your face. After 10-20 minutes, slowly remove the mask and gently spread the remaining liquid over the skin. Apply the remaining essence in the package to the skin of the neck and décolleté. It is recommended to use the mask once or twice a week.
Ingredients: BG, glycerin, pentylene glycol, exosomes, stem cell extract, synthetic recombinant oligopeptide-1, synthetic recombinant polypeptide-11, recombinant polypeptide-10, synthetic recombinant polypeptide-9, synthetic recombinant oligopeptide-2, synthetic recombinant polypeptide-60, ascorbyl propyl hyaluronate , capryregypide-17, palmitoyl dipeptide-18, trifluoroacetyltripeptide-2 caproyltetrapeptide, triglycerin, ascorbic acid, α-arbutin, sodium hyaluronate, placenta extract, geranium extract, aloe vera leaf extract, glycosyltrehalose, grapefruit peel oil.
Volume: 4 pcs. (impregnation 30 ml each).
Manufacturer: DIREIA, Grazia
Country of origin: Japan
There are 4 delivery methods:
- SURFACE MAIL - sea mail (from 2 months).
- AIRMAIL - urgent mail (from 14 days to 2.5 months). Orders over 2 kg are shipped in multiple parcels.

- EMS - courier home delivery (from 7 days).
The shipping cost is calculated automatically by the site.

Delivery times are approximate, and may be increased due to circumstances beyond the control of the store - due to force majeure, the workload of transport companies, customs clearance and other reasons. 36best Kawai does not accept any responsibility for international shipping delays. Thank you for understanding!
Shipping costs
for postage from Japan can be found
here
.

Available delivery methods by country, see the table.
If you do not find your country in the list provided, please contact our consultants, we will try to offer you an alternative delivery method.
Статьи
Luxury in Japanese cosmetics - what is its meaning, is it worth paying that kind of money?