Product description: MTG Refa Clear Cleansing brush for face
The world's first 3D ultrasonic brush with ionic technology of cleansing Refa Clear from MTG:
- 3 operation modes: soft, medium and strong.
- Ultrasonic cleaning - for gentle cleansing of pores from small dirt and remove dead particles.
Ion cleaning - for a deep and effective cleansing of toxins, oxidation products, pathogenic bacteria and removal of greasy. Due to the ionization of active pores expand, dirt and oil are liquefied, and extruded from pores on the surface. Thus, there is a deep cleansing process of the skin, thus significantly reduces the number of acne, blackheads, and acne.
3D movements of the head occurs in an elliptical orbit: horizontally 0. 2 to 0.3 mm, vertical 0. 5mm.
Ultra-thin long bristles to penetrate deep into the pores. Variables bristles (the difference in height 05 mm) for cleansing rough areas of the skin. Wavy bristles create a soft cushion for a comfortable cleanse.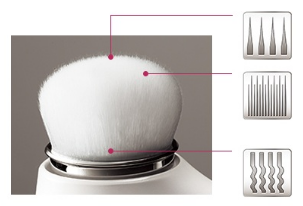 3 modes of operation:
-Soft soft mode (1 min) – suitable for a light morning cleanse skin after sleeping and relieve dead skin cells.
-Clean (1 min.)– use every evening to cleanse the skin of impurities obtained during the day and traces of makeup.
-Deep special regime for deep cleansing (30 sec.) – use 1 time a week for a deep pore cleansing facial, getting rid of blackheads and oily sheen.
Application: Apply cleansing foam to wet skin – enable Refa Clear in a mode convenient for You. Drive massage gently for 1 minute. After the rinse foam. Rinse thoroughly cleaning the head after use and wipe dry.
Additional features:
-Waterproof, can be used in the bathroom
-Comfortable handle, easy to hold, lightweight (130g ) and compact, convenient to take on trips.
-Easily recharged – just install in the charger.
Size: Brush Refa Clear 190х68х42 mm, charger: 73х84х81 mm
Weight: Brush Refa Clear: 130 g charger: 110 gr.
Packing: Refa Clear Brush, charger, charging adapter, warranty card, manual (in Japanese).
Manufacturer: MTG
Country of origin: Japan
There are 4 delivery methods:
- SURFACE MAIL - sea mail (from 2 months).
- AIRMAIL - urgent mail (from 14 days to 2.5 months). Orders over 2 kg are shipped in multiple parcels.

- EMS - courier home delivery (from 7 days).
The shipping cost is calculated automatically by the site.

Delivery times are approximate, and may be increased due to circumstances beyond the control of the store - due to force majeure, the workload of transport companies, customs clearance and other reasons. 36best Kawai does not accept any responsibility for international shipping delays. Thank you for understanding!
Shipping costs
for postage from Japan can be found
here
.

Available delivery methods by country, see the table.
If you do not find your country in the list provided, please contact our consultants, we will try to offer you an alternative delivery method.
Статьи
Japan is famous for its cosmetic products. One has only to look at the Japanese women, as it immediately becomes clear - their self-care is really on top. And one of the secrets to their flawless skin is proper cleansing and make-up removal.
In Japan, a multi-stage facial cleansing system is common. Such care helps not only to eliminate impurities, but also to restore the epidermis, make the face clean, healthy and radiant without overdrying.