Product Description: MTG Refa Clear Head Brush Replacement Head for the Cleansing Brush
Suitable for MTG Refa Clear Facial Cleansing Brush
The world's first 3D ultrasonic facial cleansing brush Refa Clear from MTG:
- 3 operating modes: soft, medium and strong.
- Ultrasonic cleaning - for gentle cleansing of pores from small impurities and removal of dead particles.
- Ionic cleansing - for deep and effective cleansing of the face skin from toxins, oxidation products, pathogenic bacteria and removing oily sheen. Due to ionization, the pores are actively expanded, dirt and grease are liquefied and pulled out of the pores to the surface. Thus, a deep process of skin cleansing takes place, due to which the number of blackheads, blackheads, acne is noticeably reduced.
Ultra-fine long bristles for deep pore penetration. Variable bristles (height difference 05 mm) for cleansing uneven skin areas. The wavy bristles create a soft cushion for comfortable cleansing.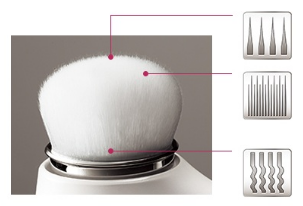 Manufacturer: MTG
Country of origin: Japan
There are 4 delivery methods:
- SURFACE MAIL - sea mail (from 2 months).
- AIRMAIL - urgent mail (from 14 days to 2.5 months). Orders over 2 kg are shipped in multiple parcels.

- EMS - courier home delivery (from 7 days).
- EMS (zone G) - courier delivery for Germany, the Netherlands, Great Britain, Israel, Kazakhstan, UAE (7-10 days). Vitamins and cosmetics cannot be shipped by this method.

The shipping cost is calculated automatically by the site.
Delivery times are approximate, and may be increased due to circumstances beyond the control of the store - due to force majeure, the workload of transport companies, customs clearance and other reasons. 36best Kawai does not accept any responsibility for international shipping delays. Thank you for understanding!
Shipping costs
for postage from Japan can be found
here
.

Available delivery methods by country, see the table.
If you do not find your country in the list provided, please contact our consultants, we will try to offer you an alternative delivery method.