Product description: LA MENTE Stem Cells All in One Cream Cream based on stem cells, 50 g
LA MENTE Stem Cells All in One Cream is an all-in-one skin firming and youthful cream based on a high quality stem cell solution and the brand's signature ingredients - placenta extract, umbilical cord extract, and horse amniotic membrane.
These components have a high affinity with the skin, so they have unsurpassed effectiveness. Embedded in cells, growth factors and amino acids stimulate cell renewal, improve metabolism and repair damage, thereby giving youth and radiance.
All in One Cream combines the properties of lotion and cream to hydrate and nourish the skin. After application, it leaves the skin smooth and velvety.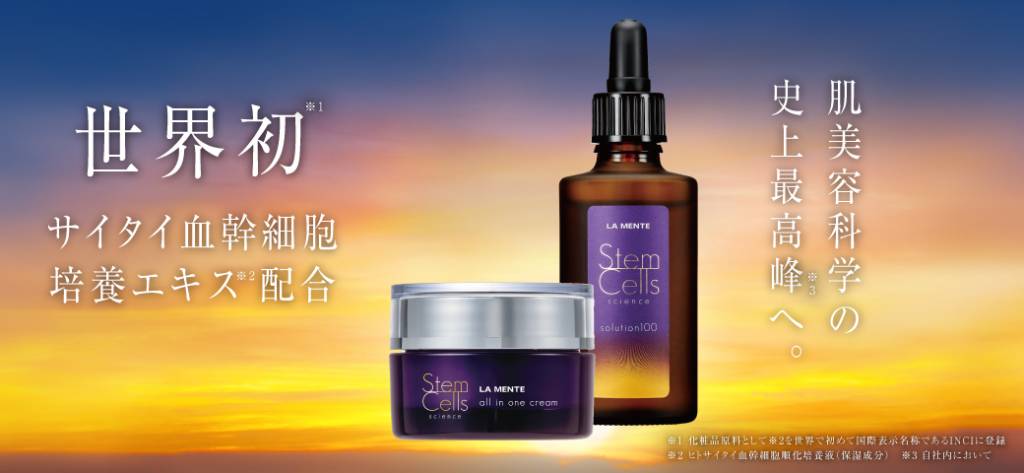 Active ingredients:
- umbilical cord stem cell extract, as well as hydrolyzed horse amniotic membrane, are rich in various types of cytokines (substances that activate cells) and growth factors - these are substances that promote cell proliferation. They act on fibroblasts, which are the main components of skin tissue, hyaluronic acid, collagen and elastin, and increase skin firmness and elasticity. It also activates corneocytes, promotes renewal and awakens the inner strength of the skin.
- fermented placenta extract brightens pigmentation and prevents melanin production
- fermented collagen stimulates the production of the skin's own collagen, increasing its firmness and elasticity
- three types of hyaluronic acid moisturize the skin down to the stratum corneum
- saccharomycetes fill the cells with moisture and restore the skin barrier
- peptides rejuvenate the skin, smooth the relief and eliminate wrinkles and sagging
- retinol increases skin density, fights wrinkles and creases
- a botanical complex of over 20 plant and algae species provides a powerful saturation of vitamins and minerals, soothes the skin, prevents inflammation, irritation and dryness
- nourishing oils (avocado, olive, apricot kernel, witch hazel, etc.) prevent coarsening, make the skin soft and tender.
◆ Recommended for those who are concerned about:
- Dullness of the skin
- Loss of elasticity, firmness
- Dry, dehydrated skin
- Age changes
The brand's high quality control has won numerous awards in Japan.
Application: After cleansing and using LA MENTE Stem Cells Solution 100 serum, apply the cream all over the face. In order for it to blend evenly and evenly, first apply it dotted on both cheeks, forehead, nose and chin, and then distribute it.
Active Ingredients: Umbilical Cord Stem Cell Solution, Jojoba Seed Oil, Squalane, Pullulan, Saccharomyces, Fermented Placenta Extract, Fermented Collagen, Placental Extract, Placental Lipid, Hydrolyzed Equine Amniotic Membrane, Umbilical Cord Extract, Water-Soluble Proteoglycan, Sodium Hyaluronate, Acetylated Sodium Hyaluronate, Water-Soluble Collagen, Hydrolyzed Elastin, Hydrolyzed Swallow's Nest Extract, Rhodiola Root Extract, Apricot Kernel Oil, Avocado Oil, Caninabara Fruit Oil, Grapeseed Oil, Tea Tree Oil, Oligopeptide-1, Oligopeptide-13, Oligopeptide-5, Wormwood Flower Extract, Houttuynia Extract, Mandarin Extract, Dwarf Lily Extract, Inositol, Fermented Soybean Seed Extract, Shea Butter, Fermented Rice Extract, Hydrolyzed Cassava Tuber Extract, Hamamelis Leaf Extract, Horse Chestnut Seed Extract, Grape Leaf Extract, St. John's Wort Extract, Ivy Extract, Flower Extract arnica extract, hawthorn extract, grapefruit fruit extract, apple fruit extract, orange juice, lemon juice, lime juice, glycyrrhizic acid 2K, arbutin, betaine, retinol palmitate, palmitoyl pentapeptide-4, acetylhexapeptide-8, Porphyridium Cruentum red algae extract, olive oil, corn oil.
Volume: 50 g
Manufacturer: LA MENTE
Country of origin: Japan
There are 4 delivery methods:
- SURFACE MAIL - sea mail (from 2 months).
- AIRMAIL - urgent mail (from 14 days to 2.5 months). Orders over 2 kg are shipped in multiple parcels.

- EMS - courier home delivery (from 7 days).
The shipping cost is calculated automatically by the site.

Delivery times are approximate, and may be increased due to circumstances beyond the control of the store - due to force majeure, the workload of transport companies, customs clearance and other reasons. 36best Kawai does not accept any responsibility for international shipping delays. Thank you for understanding!
Shipping costs
for postage from Japan can be found
here
.

Available delivery methods by country, see the table.
If you do not find your country in the list provided, please contact our consultants, we will try to offer you an alternative delivery method.
Статьи
Asian cosmetics have long conquered the world. The Japanese and Korean cosmetics markets are the fastest growing and most advanced.
The cold and the operation of heating devices are a reason to pay special attention to the skin.
Popular with this product