Winter skin care: the degree of responsibility is growing
The cold and the operation of heating devices are a reason to pay special attention to the skin.
Lubricate the face with a fat cream and apply hygienic lipstick on the lips - it seems that this is how winter "skin care" used to look like. However, for some reason, such "care" did not cause a miracle: the skin still dried out, cracked and peeled off. Fortunately, today we have all the answers, and we know exactly how to take care of your skin in winter.
Why does skin dry out in winter?
There is not one reason for this, but a whole list at once. These are frosts, and temperature changes, and the operation of heating devices, and the lack of proper care. Also, the water is too hot for washing. Or too fanatical washing "to the squeak" - it's so easy to break the pH of the skin.
There are also a number of internal reasons. For example, insufficient intake of fats, lack of vitamins (especially A, PP, group B), dehydration of the body (you need to drink water not only in the heat).
At the same time, sebum production and sweating are reduced. Due to too dry air, the Natural Moisturizing Factor (NUF, aka NMF) suffers - a set of molecules in the stratum corneum of the skin responsible for moisturizing it.
How to prevent dry skin?
1) Watch the water temperature
After a frost on the street, you really want to warm yourself with hot water, but this is a mistake - the vessels expand, the skin turgor decreases, the skin barrier is broken.
- For owners of dry skin, water with a temperature of 26-28 degrees is suitable. When applied to the face, neither cold nor heat should be felt.
- Combination skin loves water that feels slightly warm - 28-30 degrees.
- Normal skin will be happy with the water temperature of 30-32 degrees. When applied to the face, a pleasant warmth should be felt.
- Wash oily skin with water at a temperature of 32-34 degrees.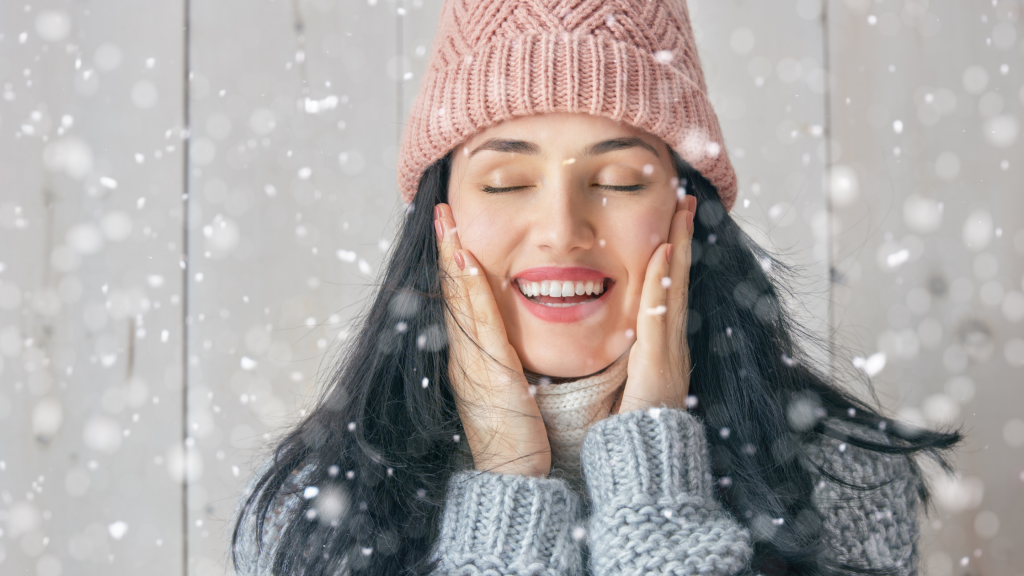 Moisturizing and using oils
In winter, our skin needs hydration more than ever. And if in summer, for example, light textures are used more, then in winter it is better to look for cosmetic oils in the composition. Although not everything is so simple here - it is important to focus on the type of skin.
Oily skin
For oily skin, gels that do not contain oils are suitable for moisturizing. If you feel that the skin is still not hydrated, treat the skin with a small amount of animal or vegetable oil before applying the gel.
ENZYM All in One T Gelee
is a lotion, milk, serum and cream all in one. The gel replaces multi-stage care. Among the active ingredients: 3 types of ceramides, 3 types of hyaluronic acid, 3 types of collagen, placenta extract, coenzyme Q10, arbutin, retinol, amino acids (already sounds like replacing half a cosmetic bag).
Moisturizing and rejuvenating
Alovivi Stem Cell All in One Gel
with stem cells will be especially loved by aging skin for its outstanding ability to prevent dryness and dehydration. Royal Jelly, Centella, Olive Oil, Collagen, Ceramides, Squalane is another all-in-one product with quality active ingredients.
Combination skin
It is important to use different moisturizers for dry and oily areas. A milky lotion with a low oil content can be applied to the entire face. And then on those areas that are distinguished by dryness, apply a layer of cream.
Combination skin will love
Ceruru.b Clear Lotion
, a professional lotion with a light, watery texture. It contains nanoscale components that reach deep layers of the skin. Among the active ingredients: anti-flabbiness and wrinkles kit Trifluoroacetyltripeptide-2, horse placenta extract, proteoglycans, retinol and others.
Rejuvenating cream for dry skin
MERIQUE Double Advance Cream
is a representative of the new line of the well-known brand Alen International, which uses the latest advances in cosmetology. The cream contains platinum - the strongest antioxidant, which completely removes free radicals from the skin in 26 hours. As well as a ceramide complex, edelweiss stem cell extract, peptide complexes - the list of components is really impressive.
Esthetic Skin Care (ES 301) R-Cell Essence Milk (UV)
with fullerene, coenzyme Q10, organic peptides and squalane is also suitable. And
MAJE STEPHANIE Moisturizing Lotion
, containing a complex of three peptides that promote skin metabolism and youth maintenance, as well as thermal water from a Japanese source and a complex of fermented plant extracts.
Normal skin
Cream textures will do. However, if the cream seems too "heavy", make your own mix: try adding lotion to adjust the moisture. To do this, apply a small amount of cream on the palm of your hand and mix it with 1-2 drops of lotion. Rub your palms together to mix the products and apply to your face.
ONE BY KOSE Deep Hydrator
High Moisturizing Anti-Aging Lotion has three effects at once: long-lasting moisturizing, reducing wrinkles and whitening. The product contains three unique complexes based on ceramide, hyaluronic acid, cornflower extract and gynostemma, as well as niacinamide.
LA MENTE Stem Cells All in One Cream
also has a chic composition - it includes a solution of stem cells, an extract of the placenta, umbilical cord and amniotic membrane of the horse. Due to the high affinity with the skin, these components are highly effective - they stimulate cell renewal, give youth and radiance.
Dry skin
She loves creams, as well as oils in moisturizers. Vegetable and animal oils can be mixed with the cream using the palms of your hands. The more oil you add, the more "wet" the effect will be.
Pamper dry skin with the innovative
MAJE STEPHANIE Oil Drop Serum
. It restores the water-lipid balance of the skin, prevents oxidation processes, promotes metabolism and maintains youthfulness of the skin.
Another unusual product is
Kose Cosmeport Urumina+ Raw Glossy Skin Melty Stick
. Ideal for use during the day when you don't want to wash off your make-up. Perfectly moisturizes thanks to nano-hyaluronic acid, nano-collagen, argan oil and centella asiatica extract.
Winter care steps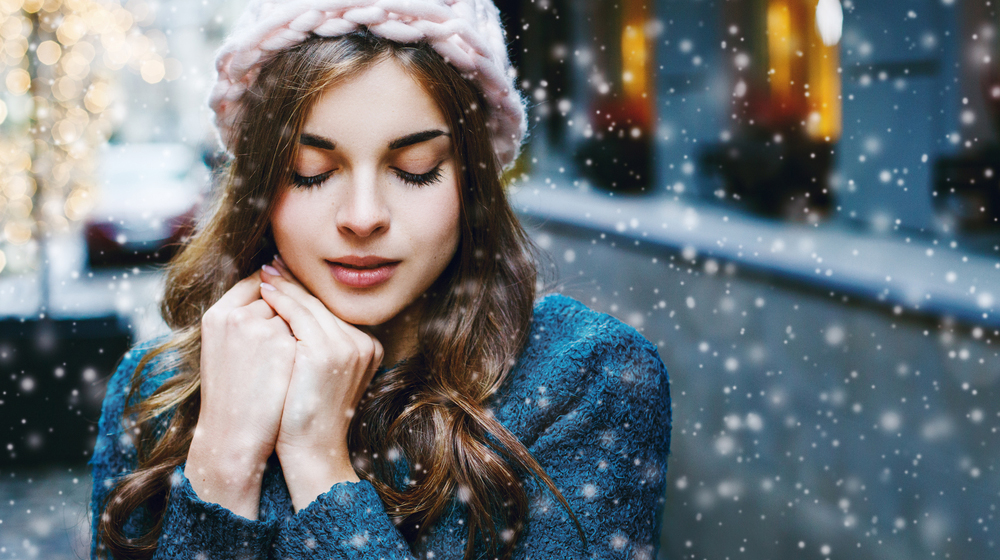 Stage 1 - cleansing
For washing, foam, mousse, gel-foam, cleansing oil or emulsion are suitable. The main thing is to clean the skin as carefully as possible.
Stage 2 - application of horse oil
Only not on the whole face, but on areas that are worried about dryness.
Horse oil
perfectly moisturizes chapped skin (including removing cracks and dry lips). And it also plays the role of a booster, that is, it accelerates the effect of other cosmetic products.
Stage 3 - moisturizing
You need gels, lotions and creams (according to your skin type; we talked about this in more detail above).
What ingredients to look for in winter skincare?
In winter, the skin needs three main things: moisture retention, skin softening and hydration. Look for the following components in the composition of cosmetics - the skin will say "thank you".
To retain moisture:
- Sodium hyaluronate (hyaluronate) - turns moisture inside the skin into a gel, provides deep internal hydration, promotes cell regeneration.
- Ceramides - lipids fill the skin with vital energy, prevent the risk of cell dehydration, protect the dermis from negative external influences.
- Collagen - for moisturizing, elasticity, smoothing the microrelief and tone of the face.
To soften the skin:
- Urea (carbamide) softens the upper keratinized layer of the epidermis, and also exfoliates it well, giving way to young and healthy cells.

For moisturizing:
- Camellia oil is quickly absorbed, nourishes and strengthens the skin's barrier protection.
- Lanolin is a natural alternative to petroleum jelly, has more pronounced moisturizing properties, makes the skin soft and supple, enhances the regeneration of new cells.
- The skin loves olive oil for its high content of vitamin E. It saves from dryness and dehydration, softens, rejuvenates.
Mistakes in winter care
1. You don't use SPF products
Even if the street is overcast and there is not even a hint of the sun. UV rays are active even in winter. Therefore, sunscreen must be applied daily to all exposed areas of the skin - face, neck, ears and hands.
2. You are planning active cosmetic procedures for the winter period
Postpone cosmetic procedures that damage the protective barrier of the skin until warmer times. Namely, dermabrasion, acid and laser peels.
3. You don't use a home humidifier
It favorably affects the condition of the skin. If the air is too dry, the skin loses moisture, the barrier function is disturbed, and inflammatory processes can begin. The humidifier also reduces the risk of catching the disease (at 40-60% humidity, influenza viruses die faster than in dry air).
4. Using the wrong skin masks
Winter is a reason to postpone cleansing masks, as well as clay-based products, or limit their use to 1 time per week.
It is better to focus on the mask for intensive skin hydration. A good example is the
AXXZIA Beauty Force line,
and especially the Treatment Mask line, which contains 3 types of sheet masks with active ingredients. These are stem cells of the eryngium maritime and sea critmum, two types of peptides, kelp algae extract and other top components.