Product description: AXXZIA Beauty Force Treatment Mask AG Anti-aging skin care mask, 7 pcs
AXXZIA Beauty Force is a skin care line for active modern people who love to take care of themselves. Formulated with carefully selected ingredients to give you radiant, beautiful skin.
The Treatment Mask line includes 3 types of sheet masks GK, MW, AG. They solve pressing skin problems that change with the seasons and environmental stressors.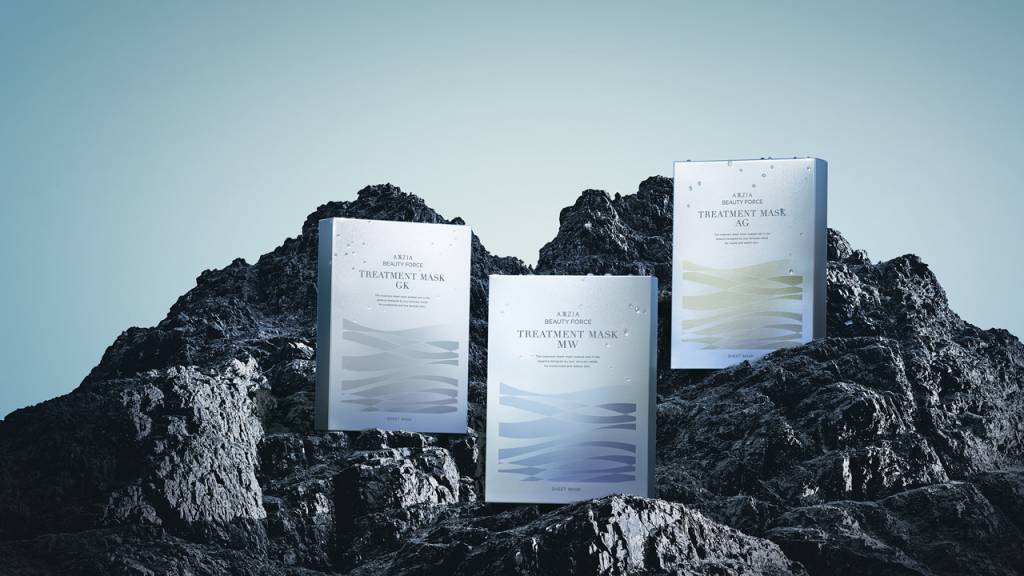 The fabric base of the masks is made of delicate voluminous cotton, which provides a high degree of fluid retention. Each sheet is impregnated with a generous 25 ml of cosmetic essence, which is smoothly absorbed into the skin, reaching the stratum corneum.
Common ingredients for all three masks:

- Stem cells of the eryngium maritime - a plant that grows in harsh coastal areas. They maintain the elasticity, firmness and firmness of the skin.
- A solution of stem cells of the sea critmum, a plant that lives in harsh conditions between sea and land. Protects the skin, gives it radiance and hydration.
- Hydrolyzed conchiolin - a component obtained from pearls and pearl oysters. Keeps the water balance of the skin, restores elasticity and shine.
- Two types of peptides that have a lifting effect, tightening the skin, outlining the oval of the face.
AXXZIA Beauty Force Treatment Mask AG is a sheet mask that not only effectively moisturizes, but also works on all signs of skin aging. Milky white impregnation has the highest moisturizing ability among the three types of masks.
Giving firmness and elasticity, the mask erases signs of withering from the face, such as fine wrinkles and creases, pigmentation and flabbiness.
Active Ingredients:
- Two types of seaweed extract restore water balance, intensively moisturizing the skin, wrapping it in a delicate veil.
- The extract has a rejuvenating effect, eliminates dryness and wrinkles, improves the barrier functions of the skin.
- Astaxanthin, also known as a marine carotenoid, is obtained from red caviar. It fills with moisture, whitens, gives it transparency and has a powerful antioxidant effect.
- Hexapeptide-3 provides amazing firmness and elasticity to the skin.
Application: After washing your face with lotion, remove the sheet and leave on the skin for 10-15 minutes. After removing the sheet, use your palm to absorb the essence left on the skin. It is also recommended to apply a generous amount of serum on the neck, elbows, knees, heels, etc.
Volume: 7 masks in a pack of 25 ml of impregnation each
Manufacturer: AXXZIA
Line: Beauty Force
Country of origin: Japan
There are 4 delivery methods:
- SURFACE MAIL - sea mail (from 2 months).
- AIRMAIL - urgent mail (from 14 days to 2.5 months). Orders over 2 kg are shipped in multiple parcels.

- EMS - courier home delivery (from 7 days).
The shipping cost is calculated automatically by the site.

Delivery times are approximate, and may be increased due to circumstances beyond the control of the store - due to force majeure, the workload of transport companies, customs clearance and other reasons. 36best Kawai does not accept any responsibility for international shipping delays. Thank you for understanding!
Shipping costs
for postage from Japan can be found
here
.

Available delivery methods by country, see the table.
If you do not find your country in the list provided, please contact our consultants, we will try to offer you an alternative delivery method.
Статьи
The cold and the operation of heating devices are a reason to pay special attention to the skin.
Popular with this product